A Snapshot of Head and Neck Cancer
Incidence and Mortality
Cancers of the head and neck, which include cancers of the oral cavity, larynx, pharynx, salivary glands, and nose/nasal passages, account for approximately three percent of all malignancies in the United States. Overall incidence for cancers of the oral cavity and pharynx began decreasing 30 years ago and stabilized in 2003. The overall incidence for cancers of the larynx has been decreasing each year since 1988. Overall mortality rates for head and neck cancers have declined since 2001. Notably, the incidence of head and neck cancers in African Americans has declined over the past two decades and is now lower than that in whites. The mortality rate also has decreased among African Americans but is still higher than that in whites.
Tobacco and alcohol use are the most important risk factors for most head and neck cancers. In addition, infection with certain types of human papillomavirus (HPV), particularly HPV type 16 (HPV16) and HPV type 18 (HPV18), causes more than half of all cases of oropharyngeal cancer, a type of head and neck cancer. There are no standard or routine screening tests for head and neck cancers. Standard treatments for head and neck cancers, which depend on the tumor location, the tumor stage, and the patient's age and overall health, include radiation therapy, surgery, chemotherapy, targeted therapy, or a combination of treatments.
Assuming that incidence and survival rates follow recent trends, it is estimated that $3.6 billion1 will be spent on head and neck cancer care in the United States in 2014.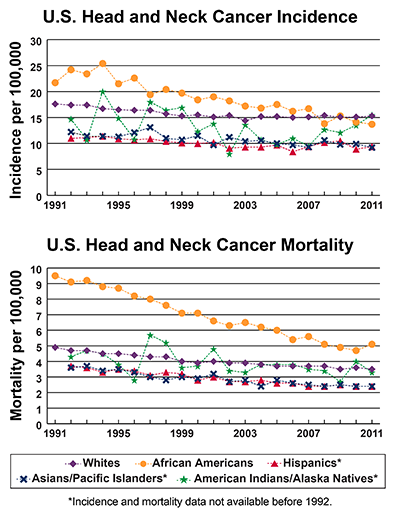 Examples of NCI Activities Relevant to Head and Neck Cancer
Selected Advances in Head and Neck Cancer Research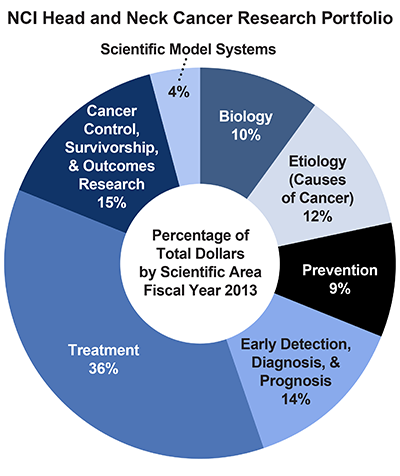 Trends in NCI Funding for Head and Neck Cancer Research
NCI's investment2 in head and neck cancer3 research was $57.6 million in fiscal year (FY) 2013. In addition to the funding described in the graph, NCI supported $13.8 million in head and neck cancer research in FYs 2009 and 2010 using funding from the American Recovery and Reinvestment Act.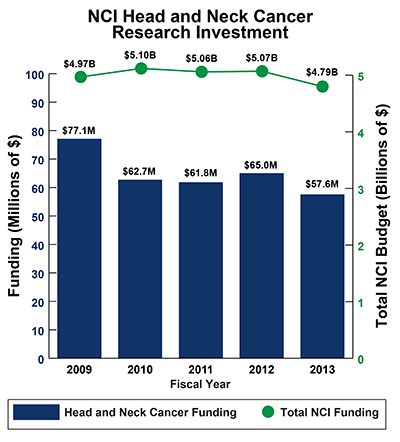 Additional Resources for Head and Neck Cancer
---
1 Cancer Prevalence and Cost of Care Projections, in 2010 dollars..
2 The estimated NCI investment is based on funding associated with a broad range of peer-reviewed scientific activities. For additional information on research planning and budgeting at the National Institutes of Health (NIH), see About NIH.
3 FY 2009 head and neck cancer funding includes thyroid cancer funding.