A Snapshot of Kaposi Sarcoma
Incidence and Mortality
Kaposi sarcoma (KS) is a soft tissue sarcoma that can occur on the skin; the mucous membranes lining the mouth, nose and throat; lymph nodes; and other organs. "Classic" KS is rare and found mainly in older men of Italian or Eastern European Jewish origin. Immunosuppressed individuals are also at increased risk for KS. The incidence of KS rose sharply in the 1980s, with the emergence of acquired immunodeficiency syndrome (AIDS). In the United States, infection with human immunodeficiency virus (HIV), which causes AIDS, is by far the greatest risk factor for KS.
KS is caused by the Kaposi sarcoma-associated herpes virus (KSHV). Most people infected with KSHV do not develop KS or show any symptoms, but in people with weakened immune systems the infection can lead to KS. The incidence of KS began to fall in the late-1980s, with the introduction of the first effective therapies against HIV.  The subsequent introduction, in the mid-1990s, of highly active antiretroviral therapy (HAART), which partially restores immune system function, led to a dramatic drop in the incidence of KS. Incidence has continued to fall, by 1.7% annually, since 1998. Men have a much higher incidence than women, particularly among those between the ages of 25 and 59. Incidence is highest in African Americans.
Standard treatments for KS include radiation therapy, surgery, chemotherapy, and biological therapy. New treatments for KS, including targeted therapies, are currently being tested in clinical trials.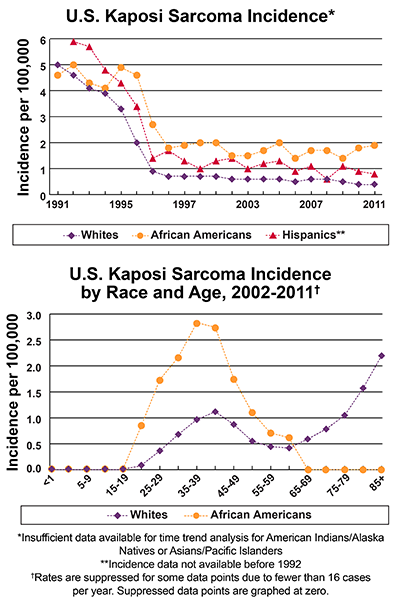 Examples of NCI Activities Relevant to Kaposi Sarcoma
Selected Advances in Kaposi Sarcoma Research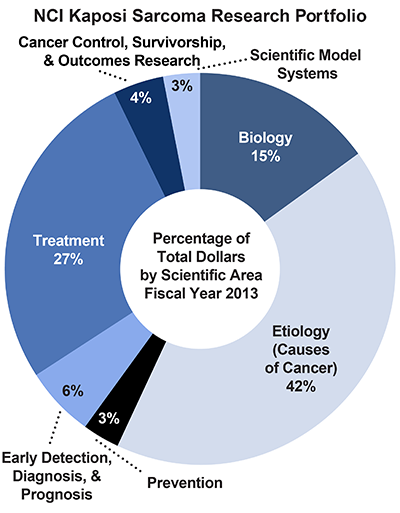 Trends in NCI Funding for Kaposi Sarcoma Research
NCI's investment1 in KS research was $21.8 million in fiscal year (FY) 2013. In addition to the funding described in the graph, NCI supported $11 million in KS research in FYs 2009 and 2010 using funding from the American Recovery and Reinvestment Act.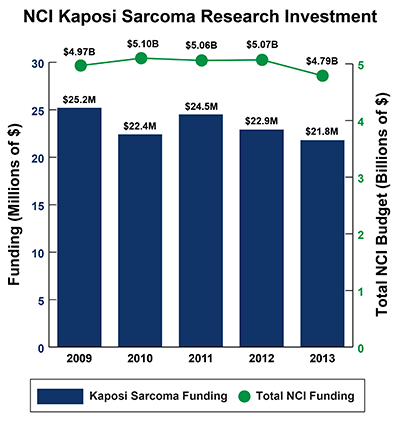 Additional Resources for Kaposi Sarcoma
---
1 The estimated NCI investment is based on funding associated with a broad range of peer-reviewed scientific activities. For additional information on research planning and budgeting at the National Institutes of Health (NIH), see About NIH.