A Snapshot of Liver Cancers
Incidence and Mortality
Primary liver cancer (including intrahepatic bile duct cancer) is the fifth most common cause of cancer death in men and the ninth most common cause of cancer death in women. Over the past two decades, incidence rates for these cancers have increased in people of all races and in both sexes.  Overall mortality rates have been rising an average of 2.6 percent each year over 2002-2011. Men are about three times as likely as women to develop liver and intrahepatic bile duct cancers and more than twice as likely as women to die from these cancers. Asians/Pacific Islanders and American Indians/Alaska Natives have higher incidence rates of these cancers than people of other races/ethnicities.
Almost all cases of liver cancer in the United States occur in people with alcohol-related cirrhosis or who are chronically infected with hepatitis B virus (HBV) or hepatitis C virus (HCV). Obesity, diabetes, and iron storage disease are other risk factors for liver cancer. Vaccinating for HBV provides long-term protection from HBV infection and has been shown to lower the risk of liver cancer in children, although it is not yet known whether it lowers the risk in adults. There is no standard or routine screening test for liver cancer. Standard treatments for liver cancer include surgery, liver transplant, ablation therapy, embolization therapy, radiation therapy, chemotherapy, and targeted therapy.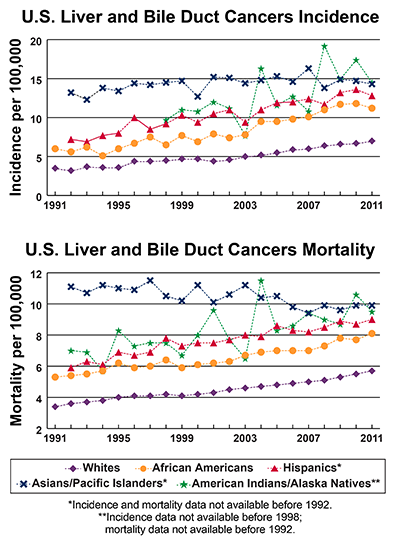 Examples of NCI Activities Relevant to Liver Cancer
Selected Advances in Liver Cancer Research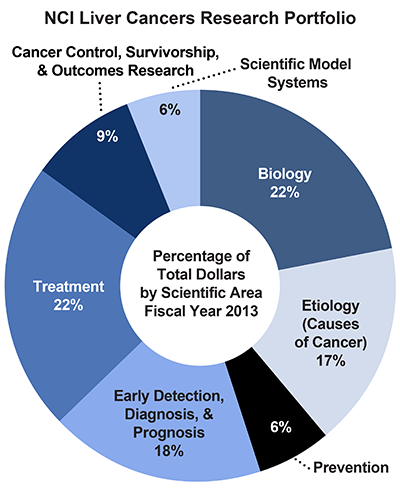 Trends in NCI Funding for Liver Cancer Research
NCI's investment1 in liver and intrahepatic bile duct cancers research was $64.0 million in fiscal year (FY) 2013. In addition to the funding described in the graph, NCI supported $12.2 million in liver and intrahepatic bile duct cancers research in FYs 2009 and 2010 using funding from the American Recovery and Reinvestment Act.
Additional Resources for for Liver and Bile Duct Cancers
---
1 The estimated NCI investment is based on funding associated with a broad range of peer-reviewed scientific activities. For additional information on research planning and budgeting at the National Institutes of Health (NIH), see About NIH.