A Snapshot of Adolescent and Young Adult Cancers
Cancers Affecting Adolescents and Young Adults (AYAs)
An estimated 69,212 adolescents and young adults (AYAs) ages 15–39 were diagnosed with cancer in 2011.1 This is about six times the number of cases diagnosed in children ages 0–14. The incidence of specific cancer types varies dramatically across the AYA age continuum. For example, leukemia, lymphoma, testicular cancer (germ cell tumors), and thyroid cancer are the most common cancer types in younger AYAs (15–24 years old). By ages 25–39, breast and melanoma comprise a growing share of cancers among AYAs.2
Incidence, Mortality, and Survival
In 2010, cancer was the leading cause of disease-related death in the AYA population; among females, it was the most common disease-related cause of death, and among males, it was second only to heart disease.3 Among AYAs, only accidents, suicide, and homicide claimed more lives than cancer.
Incidence rates of cancers in AYAs vary by race and ethnicity. Rates of both cancer incidence and 5-year survival are highest among white AYAs. American Indian/Alaska Native AYAs have the lowest cancer incidence rates. African Americans have intermediate incidence rates and the lowest 5-year survival rates
Unlike improvements seen in younger and older age groups, survival rates for AYAs with some types of cancer have not improved in almost 30 years. Factors that may account for the lack of improved outcomes among AYAs include:
Delayed diagnosis
Limited understanding of the biology and etiology of the cancers in this population
Low access to and participation in clinical trials
Unique psychosocial and supportive care needs.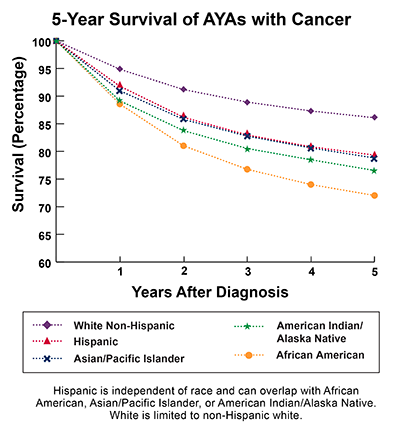 Examples of NCI Activities Relevant to AYA Cancers
Selected Advances in AYA Cancers Research
Selected Adolescent and Young Adult Health Outcomes and Patient Experiences (AYA HOPE) Study advances:

A survey of AYA cancer patients found that perceptions of their cancer care depended on how satisfied they were with communication of information, side-effect management, and expediency and flexibility of treatments.  Financial and health insurance struggles contributed to dissatisfaction with care.  Published January 2014.  [PubMed Abstract]
AYA cancer survivors reported that a lack of health insurance and financial concerns were the biggest barriers to receiving medical care in the first few years after diagnosis.  Published January 2014.  [PubMed Abstract]
In AYA cancer survivors, the likelihood of having health insurance decreased with increasing time since diagnosis.  AYAs who were older age at the time of diagnosis and had lower levels of education were most likely to lack insurance. Published June 2014. [PubMed Abstract]

Cancer death rates for both children and adolescents younger than 20 years declined from 2000 to 2010, particularly for those diagnosed with acute lymphoblastic leukemia, acute myeloid leukemia, non-Hodgkin lymphoma, Hodgkin lymphoma, neuroblastoma, central nervous system cancers, and gonadal cancers.  The rates of decline in cancer mortality in 15- to19-year-olds were equal to or greater that the rates of decline for for younger children. Published May 2014. [PubMed Abstract]
Compared with adults without a history of cancer, AYA cancer survivors have excess medical expenditures of greater than $3,000 per person and excess annual productivity losses of greater $2,000 per person. [PubMed Abstract]
Additional Resources for AYA Cancers
NCI Adolescents and Young Adults with Cancer Portal
Information about cancer in adolescents and young adults: treatment, clinical trials, support options, research, and other topics from the National Cancer Institute.
Cancer in Young People
Information about the most common types of cancer seen in adolescents and young adults.
Cancer in Children and Adolescents
A fact sheet about statistics, types, causes, and treatment of cancers in children and adolescents in the United States.
Focus Under Forty
A series of educational modules developed by American Society of Clinical Oncology and LIVESTRONG with input from the NCI. 
NCI's AYA YouTube Playlist
Three videos where cancer researchers, advocates, and cancer survivors discuss AYA cancers and issues relevant to AYA cancers.
Adolescents and Young Adults with Cancer: Reports, Research, and Literature
Reports and research projects that address the special challenges facing AYAs with cancer and provide details about incidence, outcomes, and survival for this population.
---