Surgical Removal of Primary Tumor for Metastatic Breast Cancer
Name of the Trial
Phase III Randomized Study of Early Local Therapy Comprising Surgery versus Standard Palliative Therapy for the Intact Primary Tumor in Patients with Stage IV Breast Cancer (ECOG-E2108). See the protocol summary.
Principal Investigator
Dr. Seema Khan, Eastern Cooperative Oncology Group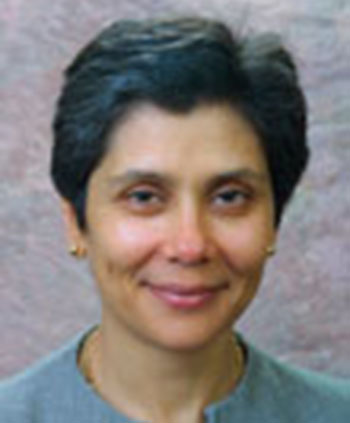 Why This Trial Is Important
Women diagnosed with breast cancer that has already spread (metastasized) to other parts of the body are usually treated with systemic therapy, which may include chemotherapy, hormonal therapy, and targeted therapy.
Conventional wisdom holds that, once the cancer has spread beyond the breast, local therapy—treatment such as surgery or radiation therapy that targets the primary tumor in the breast and nearby tissues—will no longer have a positive effect on survival. Therefore, surgical resection should be carried out only as palliative therapy. However, several retrospective studies suggest that removing the primary tumor in women with previously untreated metastatic breast cancer may help them live longer.
Whether these studies reflect an improvement in survival due to surgery or whether patients who undergo surgery have a better prognosis for other reasons is unclear. Retrospective studies are subject to many biases and uncertainties that can make some treatments appear to be more effective than they are. For example, it is possible that women who were predicted to do well because they were healthier and had less aggressive tumors were selectively offered surgery, and the surgical treatment was not actually responsible for their longer survival.
Moreover, scientists do not yet fully understand the complex relationships between primary tumors and metastatic tumors. Some researchers have suggested that a primary tumor may promote the expansion of metastatic disease by seeding new metastatic tumors more efficiently than existing metastatic tumors. In addition to the retrospective studies of breast cancer mentioned previously, a clinical trial in patients with metastatic kidney cancer lends support to this hypothesis. In the trial, the median survival of patients who underwent surgical resection of their primary tumor (nephrectomy) followed by systemic therapy was 3 months longer than that of patients who received systemic therapy alone.
On the other hand, some animal studies have shown that removing a primary tumor may actually enhance the growth of metastatic tumors. These studies suggest that primary tumors make proteins that are released into the bloodstream and appear to restrain the growth of metastatic tumors. However, this effect has yet to be observed in human studies. Given the conflicting hypotheses generated by these various studies, it is important to address this question in a randomized clinical trial.
In this clinical trial, women with newly diagnosed metastatic breast cancer who are undergoing systemic therapy and whose disease does not progress within 16 weeks of starting that therapy will be randomly assigned to continue systemic therapy or to undergo surgical resection of their primary tumor. Depending on the type of surgery received and other clinical considerations, they may also receive radiation therapy. Women randomly assigned to continue systemic therapy will undergo surgery only if it is deemed necessary to alleviate pain or other symptoms caused by the primary tumor.  Doctors want to see if early removal of the primary tumor will help women live longer.
"Randomized clinical trials are only justified if there are good reasons to think that a particular treatment will be more effective at controlling disease, but there is an almost equal possibility that it will not," said Dr. Khan. "The importance of the treatment of the primary tumor in metastatic breast cancer fits this situation perfectly; there is good reason to think it will help women with stage IV breast cancer, but there are also ways it could harm them, and the only way to find out [if the intervention is truly beneficial] is to conduct a clinical trial.
"The potential for harm comes from the fact that women receiving chemotherapy will need to interrupt this therapy while they receive surgery and radiation, from the possibility that the primary tumor really does restrain the growth of metastases, and from the possible side effects of surgery and radiation, particularly if [local therapy] does not improve patients' survival or quality of life," she added.
For More Information
See the lists of entry criteria and trial contact information or call the NCI's Cancer Information Service at 1-800-4-CANCER (1-800-422-6237). The toll-free call is confidential.