Trastuzumab for Women with HER2-Low Breast Cancer
Name of the Trial
Phase III Randomized Study of Adjuvant Chemotherapy with versus without Trastuzumab in Women with Node-Positive or High-Risk Node-Negative HER2-Low Invasive Breast Cancer (NSABP-B-47). See the protocol summary.
Principal Investigator
Dr. Louis Fehrenbacher, National Surgical Adjuvant Breast and Bowel Project (NSABP)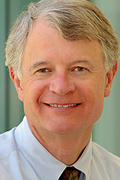 Why This Trial Is Important
Women with breast cancer that tests positive for HER2 overexpression have benefited greatly from the development of trastuzumab (Herceptin). Trastuzumab binds to HER2, a receptor protein found in abundance on some cancer cells, and either prevents it from transmitting growth signals to the cell nucleus or "tags" the cells for destruction by the immune system.
The Food and Drug Administration has approved trastuzumab for use with or without chemotherapy in women with HER2-positive metastatic breast cancer. The drug has also been approved for use as an adjuvant therapy in combination with chemotherapy for women with HER2-positive operable breast cancer. In several adjuvant therapy trials, adding trastuzumab to standard chemotherapy led to significant improvements in disease-free and overall survival.
When researchers involved in one of the trials (NSABP B-31) reanalyzed the results and re-examined tumor tissue from the participants in a central laboratory after the trial's conclusion, they found that nearly 10 percent of the women in the study had breast cancer that should have been classified as HER2-negative or low because their tumors expressed less HER2 protein or had lower HER2 gene copy numbers than the threshold set to be classified as HER2 positive. However, women with these "HER2-negative/low" tumors that had previously tested positive seemed to experience the same benefit from trastuzumab as women whose tumors were "correctly" classified as HER2 positive. Subsequent analyses of available tissue confirmed that the tumors did not express high enough levels of HER2 protein or gene copy numbers to be considered positive and, therefore, eligible for trastuzumab therapy.
The HER2 status of tumor tissue is determined by two different methods: immunohistochemistry (IHC) and fluorescence in situ hybridization (FISH). IHC measures the level (0, 1+, 2+, or 3+) of HER2 protein expression on the surface of cancer cells, whereas FISH indicates whether the HER2 gene is amplified, meaning that the cancer cells have more copies of the gene than is normal. Currently, for breast cancer to be considered HER2 positive (and the patient to be eligible for trastuzumab), the cells must have an IHC expression score of 3+ or gene amplification must be detected.
Nonetheless, many women have breast tumors that are classified as HER2 negative yet still show some level of HER2 overexpression as measured by IHC (scores of 1+ or 2+). Researchers want to find out whether women with these "HER2-low" breast cancers will benefit from adjuvant trastuzumab as women with classically defined HER2-positive tumors do, as the NSABP B-31 study suggested.
In this clinical trial, women who have recently undergone surgical resection for HER2-low breast cancer and are at high risk for recurrence (because of spread of the cancer to the lymph nodes and/or tumor size) will undergo adjuvant chemotherapy and be randomly assigned to 1 year of trastuzumab treatment or no trastuzumab. Doctors will assess participants' disease-free and overall survival, as well as the toxicity of the treatments.
"In a large breast cancer population, we find that only about 15 percent of patients [have tumors that] are HER2 amplified or 3+, while those [with tumors] that are HER2 1+ or 2+ may be as much as 45 percent to 50 percent of the population," Dr. Fehrenbacher explained. "So, this is a study that we really should do because of the potential huge impact of a positive result on the breast cancer burden in the United States."
For More Information
See the lists of entry criteria and trial contact information or call the NCI's Cancer Information Service at 1-800-4-CANCER (1-800-422-6237). The toll-free call is confidential.