Immunotoxin Therapy for Treatment-Resistant Hairy Cell Leukemia
Name of the Trial
A Pivotal Multicenter Trial of Moxetumomab Pasudotox in Relapsed/Refractory Hairy Cell Leukemia (NCI-13-C-0106).  See the protocol summary.
Principal Investigator
Dr. Robert Kreitman, NCI Center for Cancer Research
Why This Trial Is Important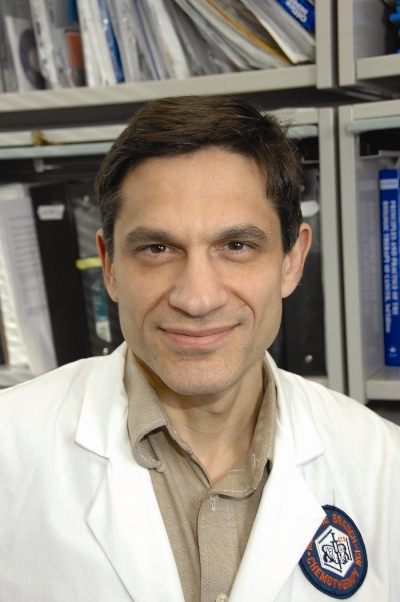 Hairy cell leukemia is a rare type of blood cancer that accounts for approximately 2 percent (roughly 900-1000 cases) of the new leukemia cases diagnosed each year in the United States. The disease gets its name from the "hairy" appearance of the leukemia cells under a microscope.
Treatment for hairy cell leukemia usually consists of chemotherapy with a drug known as a purine analog, such as cladribine or pentostatin. Chemotherapy with these drugs is very effective in decreasing or eliminating cancer cells in the blood, but many patients harbor some remaining cancer cells in their body, a post-treatment condition called minimal residual disease, or MRD. Furthermore, long-term studies suggest that relapse is common with current treatments, and some people living with hairy cell leukemia will eventually succumb to their disease if they do not die from some other cause first. Consequently, doctors are eager to find better treatments for hairy cell leukemia that may either prolong the period before relapse or eliminate the disease altogether.
One promising area of research involves the use of immunotoxins to treat this disease. An immunotoxin is an antibody, or a fragment of one, combined with a cell-killing toxin. The antibody binds to a specific target on the surface of cancer cells and releases the toxin when the antibody is taken up by the cells.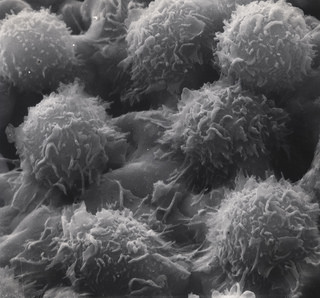 Researchers at NCI and elsewhere are investigating and refining immunotoxin therapy for several types of cancer. Hairy cell leukemia is a good candidate for immunotoxin therapy because the cells are characterized by an overabundance of the cell-surface protein CD22. An early study of BL22, an immunotoxin that targets CD22, demonstrated a high response rate in patients with hairy cell leukemia who had not responded to or had relapsed after treatment with cladribine.
A new immunotoxin called moxetumomab pasudotox is a more potent version of BL22. In a phase I trial, treatment of hairy cell leukemia patients with moxetumomab pasudotox yielded a similarly high complete response rate but without the dose-limiting toxicity of BL22. Researchers are now testing the immunotoxin in a greater number of patients to confirm the results of the previous study.
In this trial, patients with hairy cell leukemia who have relapsed multiple times or not responded to prior chemotherapy will be treated with intravenous moxetumomab pasudotox on days 1, 3, and 5 of 28-day cycles. Treatment will continue until the patients experience disease progression or unacceptable toxicity, choose to start a different treatment regimen, or experience a complete response. Those who have complete responses will receive two additional cycles of treatment. The study's primary endpoint is complete response as determined by normalized blood cell counts lasting at least 6 months.
"Hairy cell leukemia tends to respond very well to first- and second-line chemotherapy," Dr. Kreitman said. "But for patients whose disease has relapsed multiple times,chemotherapy often no longer works and the toxicity of chemotherapy is cumulative, so the benefit may no longer outweigh the risks.So, there's a real clinical need for nonimmunosuppressive, nonchemotherapy treatments.
"Moxetumomab is a nonchemotherapy treatment that can produce MRD-negative complete remissions where patients have a chance to be free of disease for a long duration," he explained. "We have patients who have been free of MRD for more than 5 years now on moxetumomab, and more than 10 years on the parent drug, BL22."
This multicenter trial is taking place at the NIH Clinical Center in Bethesda, MD, the Ohio State University Comprehensive Cancer Center in Columbus, and the University of Texas M. D. Anderson Cancer Center in Houston.
For More Information
See the lists of eligibility criteria and trial contact information, call the NCI Clinical Trials Referral Office at 1-888-NCI-1937 (the call is toll free and confidential), or email Dr. Kreitman at rk21n@nih.gov.