Targeted Therapy for Mantle Cell Lymphoma
Name of the Trial
Phase II Randomized Study of Single-Agent Bortezomib Followed by Induction Therapy Comprising Bortezomib in Combination With Dose-Adjusted Etoposide, Prednisone, Vincristine, Cyclophosphamide, Doxorubicin, and Rituximab (DA-EPOCH-R) and Maintenance Therapy Comprising Bortezomib Versus Observation in Patients With Previously Untreated Mantle Cell Lymphoma (NCI-05-C-0170). See the protocol summary.
Principal Investigator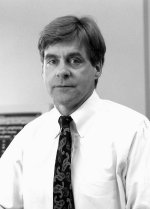 Dr. Wyndham Wilson, NCI Center for Cancer Research.
Why Is This Trial Important?
Mantle cell lymphoma (MCL) is an aggressive cancer of the immune system. MCL usually responds well to induction chemotherapy (treatment to induce disease remission) but then progresses in most patients. The average survival of patients diagnosed with MCL is three to four years.
In this trial, researchers will treat MCL patients with a drug called bortezomib, followed by induction therapy with bortezomib and a chemotherapy combination known as DA-EPOCH-R, along with the drug filgrastim to stimulate white blood cell production. Half of the patients will then receive maintenance therapy with bortezomib, while the other half will not receive bortezomib unless their disease progresses.
Bortezomib is a new type of drug that blocks the activity of proteins important for cell proliferation, tumor survival, and angiogenesis (the formation of new blood vessels to tumors). The NCI-developed DA-EPOCH-R combination has been effective against other difficult-to-treat, aggressive lymphomas. Researchers hope that combining bortezomib with the DA-EPOCH-R regimen will lead to lasting remission of MCL.
"We are exploring the use of targeted therapy combined with very active chemotherapy in hopes of improving the survival of patients with MCL," said Dr. Wilson. "Furthermore, we hope to prolong the period of remission by administering long-term bortezomib maintenance therapy."
Who Can Join This Trial?
Researchers seek to enroll 80 patients aged 18 or over with previously untreated mantle cell lymphoma. See the list of eligibility criteria.
Where Is This Trial Taking Place?
This study is taking place at the NIH Clinical Center in Bethesda, Md., and the Dana Farber Cancer Institute in Boston, Mass.
Contact Information
Call the NCI Clinical Studies Support Center (CSSC) at 1-888-NCI-1937 or the Dana Farber Cancer Institute at 1-800-790-4500. The toll-free call is confidential.