Radiation Therapies to Treat Brain Metastases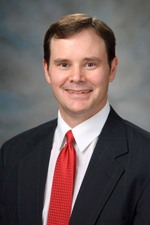 Name of the Trial
Phase III Randomized Study of Stereotactic Radiosurgery With Versus Without Whole-Brain Radiotherapy in Patients With Cerebral Metastases (NCCTG-N0574). See the protocol summary.
Principal Investigators
Dr. Paul Brown, Dr. Kurt Jaeckle, Dr. Richard Deming, Dr. Elana Farace, and Dr. Bruce Pollock, North Central Cancer Treatment Group; Dr. Anthony Asher and Dr. Fred Barker, American College of Surgeons Oncology Group; Dr. Anthony Asher, Radiation Therapy Oncology Group.
Why This Trial Is Important
The spread of cancer to the brain (brain metastases) is common in many types of adult cancer. For patients with brain metastases that can be treated, life may be prolonged significantly.
Whole-brain radiotherapy and stereotactic radiosurgery are methods that have proven useful in treating brain metastases. In whole-brain radiotherapy, radiation is delivered to the entire brain in incremental doses over the course of a few weeks. In stereotactic radiosurgery, radiation is delivered in a higher single dose directly to the tumor, minimizing the exposure of normal brain cells to harmful radiation.
In this trial, doctors are comparing stereotactic radiosurgery alone against stereotactic radiosurgery followed by whole-brain radiotherapy. They want to determine whether adding whole-brain radiotherapy provides any benefit in terms of preventing additional metastases and how whole-brain radiotherapy affects patient quality of life and cognition.
"Upfront whole-brain radiotherapy is a proven method of preventing brain metastases, but its benefits may come at the cost of reduced cognitive abilities and quality of life," said Dr. Brown. "So the role of whole-brain radiotherapy in this setting remains controversial. With this trial, we hope to define its use in the treatment of brain metastases following radiosurgery.
"One recent development that we're excited about is a trial amendment that allows the use of pinless head systems to deliver the radiosurgery, which will open the study up to many more treatment centers."
Who Can Join This Trial
Researchers will enroll 528 patients age 18 and older with one to three brain metastases from cancer elsewhere in the body. See the list of eligibility criteria.
Study Sites and Contact Information
Study sites in the United States are recruiting patients for this trial. See the list of study contacts or call the NCI's Cancer Information Service at 1-800-4-CANCER (1-800-422-6237) for more information. The toll-free call is confidential.