Overcoming Age Limits in Cancer Clinical Trials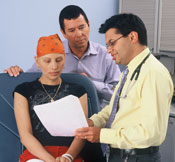 More than 90 percent of children younger than 5 who are diagnosed with cancer participate in clinical trials. Perhaps not surprisingly, the greatest improvements in cancer therapeutics in the past 2 decades have been in childhood cancers. Meanwhile, two groups—adolescents and young adults (AYA) between the ages of 15 and 39 and the elderly (see the sidebar)—continue to lag far behind when it comes to clinical trials participation.
AYAs are far less likely to enroll in trials than children and middle-aged adults. The reasons include inadequate health insurance, lack of access and referrals to specialized cancer treatment centers, and the fact that clinicians don't know of trials for people who fall outside of the age groups for which trials and treatments have traditionally focused. Nonetheless, AYA participation in clinical trials is crucial to the advancement of effective therapies for that age group.
"Twenty-five-year-olds need to participate in clinical trials if we are going to make progress for 25-year-olds," said Dr. Karen Albritton, director of AYA Oncology at the University of North Texas and Cook Children's Hospital. 
Understanding Age-specific Tumor Biology
Evidence has shown that, for some cancers, it can be more efficacious to treat AYAs with pediatric treatments instead of adult treatments, said Dr. Nita Seibel of the Clinical Investigations Branch in NCI's Cancer Therapy Evaluation Program (CTEP).
"We know that for acute lymphoblastic leukemia, if you treat patients ages 16 to 21 with the same treatments as children, the outcome is much better than using treatments for adults," she said. That might not be the case for all cancers, though. "Particularly when you look at young adults, there are different factors that could influence how their bodies metabolize the chemotherapy that may have an effect on the cancer or cause more side effects," said Dr. Seibel.
But understanding those biological differences is a bit of a Catch‑22, since that knowledge relies on doing more trials. "The problem is we don't have a huge repository of tissue samples to detect different gene patterns," Dr. Seibel explained. "The way to get samples is to collect them when patients enroll in clinical trials. So if they are not enrolled in trials we can't do the research to find the differences."
NCI is sponsoring clinical trials specifically for patients aged 21 to 39 to make sure pediatric treatments are not too toxic for them. "Children are treated more aggressively than adults," Dr. Seibel said. "In pediatric oncology we tend to push harder. We accept some toxicity if it's for the benefit of a cure. Oftentimes we will accept a lower white blood count or platelet level than in adults, because they will bounce back quickly." Also, adults may have other health issues that complicate cancer treatment, she added.
Making the Right Referrals
Making sure that AYAs are referred to specialized cancer care facilities following diagnosis is another challenge. "The doctors and nurses at cancer centers are knowledgeable and excited about clinical trials and communicate their importance to patients," said Dr. Ted Trimble, also with CTEP.
Yet, as Dr. Seibel points out, AYAs are often referred to a community oncologist rather than a comprehensive cancer center, university medical center, or a pediatric center, where they could either enroll directly in trials or be referred to them.
Pediatric cancer centers typically enroll their patients in clinical trials, and the gains made in childhood cancers have mostly taken place at academic centers with government-funded trials. Pharmaceutical companies have generally seen little incentive to invest heavily in drugs for pediatric cancers because the patient pool is very small. And even though the AYA age group represents about six times as many patients as children under the age of 15, there is still little perceived economic incentive for pharmaceutical companies to invest in trials, said Dr. Albritton.
"There's got to be some sort of carrot, because AYA trials are not going to pay for themselves," Dr. Albritton said. "Should we have an AYA hospital or incentives like making adult cancer facilities centers of excellence if they have clinical trials for AYAs?" she continued. "Because when you have a population in which cancer is rare, and scatter them across 20 hospitals, no one site is going to open a trial protocol."
Hope in Health Care Reform
Dr. Seibel is hopeful that health care reform might improve the situation, particularly the provision allowing for some AYAs to be insured under their parents' coverage until age 26. That is encouraging, but changing the mentality of young people who are not used to seeing a doctor regularly, or when they first notice something wrong, might be challenging, Dr. Seibel cautions.
"Older teens and young adults tend to have sporadic medical care," she explained. "Part of the problem is that people in this age group think that they will never get sick, and so they don't want to think about the need for insurance or having to pay for it."     
Children, on the other hand, have parents who oversee their care. "Once AYAs become more independent, they don't show the same persistence in maintaining medical care," Dr. Seibel explained.
And that kind of care is built on trust, which is essential for patients considering clinical trials.
Increasing Interest in Studying AYA Cancers
"By and large, if a patient and his or her family trust the health care team looking after them, then they are willing to consider a clinical trial that is appropriate for them," Dr. Trimble said.
Doctors, of course, first have to be aware of the trials, and there is evidence of growing interest among researchers and physicians in studying AYA cancers.
According to Dr. Archie Bleyer, medical advisor to CureSearch and LIVESTRONG, there has been "an explosion" of articles on PubMed on AYAs and cancer. In 2009, there were 4,045 peer-reviewed publications on AYA cancer, said Dr. Bleyer, compared with 100 to 200 articles per year a couple of years ago.
"I think the hope is that if everyone is starting to think about studying AYA cancer, we'll see more clinical trials and translational research," said Dr. Bleyer. "To me, this is the most impressive news in the past decade."
NCI's Cancer Trials Support Unit is also creating a system by which members of adult and pediatric cooperative groups can access each other's trials.
"Because AYA tumors are often more adult-like, this will be a boon for pediatric oncologists to get adult trials for their older patients," said Dr. Bleyer. "Conversely, adult cooperative groups with younger patients with pediatric-type cancer can access a pediatric-type trial."
LIVESTRONG and NCI's long-standing efforts are a strong support and a response to the "moral imperative" of this issue, said Dr. Albritton: "I feel encouraged by the permanence of this topic. There are a lot of good players at the table."
The Other End of the Spectrum: Older Adults
Limited clinical trials data is a problem for adults over the age of 65 as well. Like AYAs, older adults are typically treated at community health centers, where doctors might not know about clinical trials, rather than at specialized clinics, where knowledge and enthusiasm for trials tends to be high. Older patients might also be less likely to go for second opinions or get referrals to those clinics.
"An 80‑year‑old might be less encouraged to drive 3 hours to a specialized clinic," Dr. Trimble said. "The perception is that they've already lived a long life and going for the best cancer care is less important than for someone younger."
Older patients may not receive potentially beneficial treatments because there isn't enough data showing that such treatments improve survival or out of concern that a treatment may cause more adverse events in older patients. But these patients could also benefit from clinical trials focused on palliative care, said Dr. Martine Extermann, an oncologist with the Senior Adult Oncology Program at Moffitt Cancer Center. "The fact that you cannot do chemo does not mean you cannot do something for patients," she said. "Supportive care is also care."
Indeed, a major obstacle to enrolling adults over the age of 65 in trials is that they often have other health problems that make them ineligible to participate.
"They aren't coming with a clean slate," said Rose Mary Padberg, a clinical trials nurse specialist at NCI. "By the time you are 65 or older, you usually have something that might cause you to be ineligible for a trial, like hypertension, diabetes, or medications for those conditions."
According to Dr. Trimble, NCI is working on expanding trial eligibility to include older patients with those kinds of comorbidities or to design new trials that take older patients into account.
"In a lot of cases, we have to establish if a standard chemotherapy dosage can be safely delivered to elderly patients with comorbidities. If we find we can't deliver the standard dose safely, we have to design separate trials," he said.
Specifically, trials that test various levels of comorbidities would be helpful, said Dr. Extermann. "Transfer the concept of a phase I/II trial to these patients. Instead of increasing the dose of a drug, increase the level of comorbidity," she said. "You take sicker and sicker patients and see how much they can tolerate. Then you will have a good estimate of what you can do in a particular subset of patients."
Prior malignancies are another obstacle to enrollment of older adults, said Dr. Extermann. "Trials shouldn't exclude prior malignancies if there is no reason not to do it. That's one in five over the age of 70," she said.