Professional Judgment Budget Proposal Fiscal Year 2020
This Fiscal Year 2020 Professional Judgment Budget Proposal includes investments in six areas needed to advance cancer research. Included in this investment is a significant increase to the Research Project Grants (RPG) pool, one of the best ways to support investigator-initiated science. Early-stage investigators will continue to be a high priority within the RPG pool.
NCI will also increase funding to support clinical trials through meaningful investments in the National Clinical Trials Network and the NCI Community Oncology Research Program. NCI will support additional funding for training grants and professional development opportunities to support the next generation of diverse researchers throughout their careers. Other increases include those for the Specialized Programs of Research Excellence and the NCI Cancer Research Data Ecosystem.
This budget proposal also includes Cancer Moonshot℠ funding authorized in the 21st Century Cures Act. As funding for the Cancer Moonshot peaks in FY 2019 and declines by more than half in FY 2020, an increase to the overall budget will ensure that research keeps pace with the progress made so far through the Cancer Moonshot. This budget proposal lays the foundation for promising advances in cancer research. However, further investments will need to be made to ensure this progress is sustained.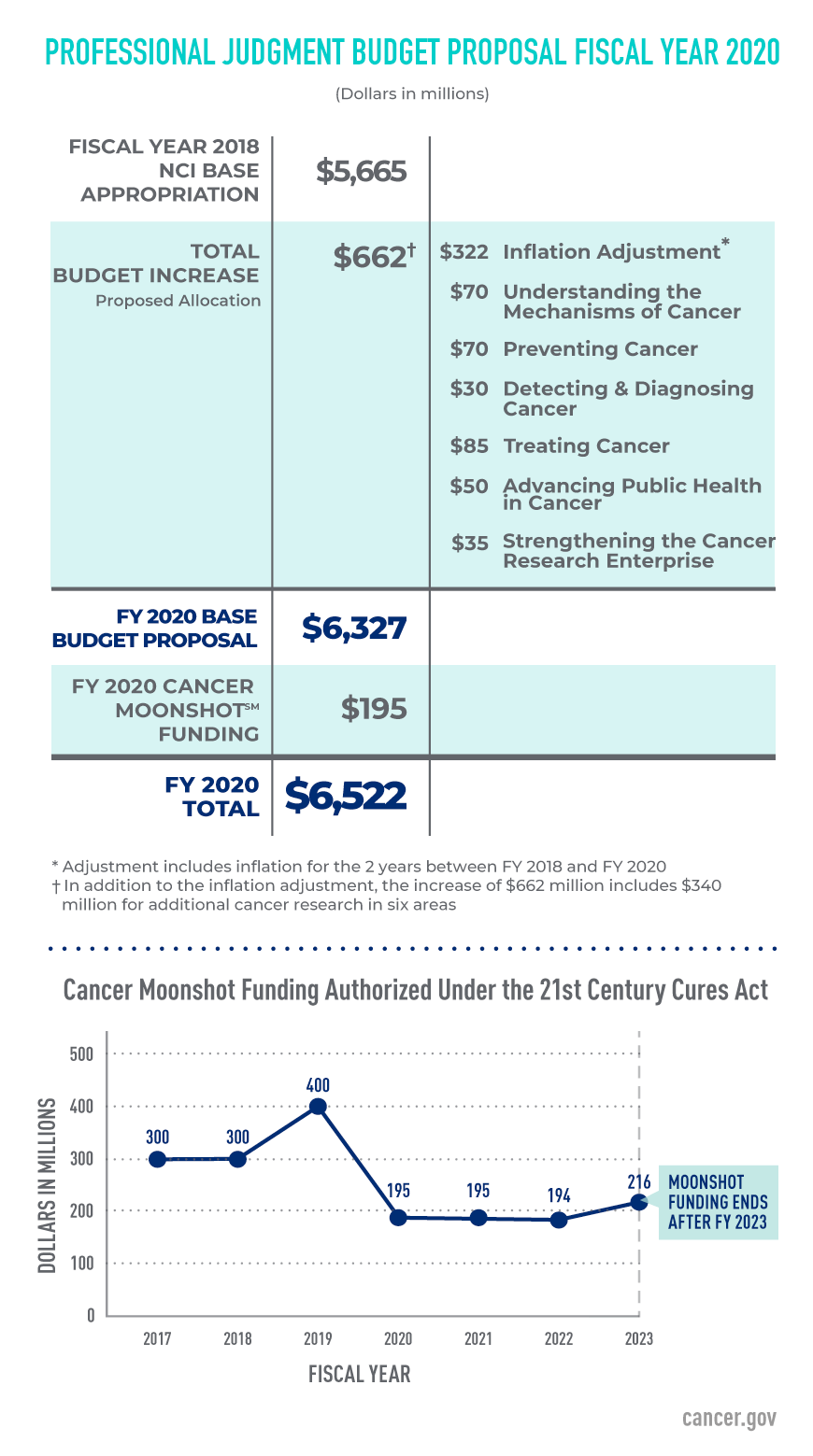 The Cancer Moonshot, announced in December 2016, is a national effort to accelerate the pace of cancer research by breaking down barriers to progress by enhancing data sharing and facilitating collaborations. A Blue Ribbon Panel (BRP) convened by NCI as a working group of the National Cancer Advisory Board recommended 10 of the most compelling research opportunities that were poised for acceleration.
The passage of the 21st Century Cures Act that same year authorized a total of $1.8 billion to fund the Cancer Moonshot over 7 years, from FY 2017 through FY 2023, at varying annual amounts. Since then, teams consisting of more than 250 scientific experts and staff from NCI and across the National Institutes of Health have been formed to implement the BRP recommendations.
The $300 million made available for FY 2017 enabled NCI to support research that aligned with the BRP recommendations. In FY 2018, NCI began funding new research networks to advance adult and pediatric immuno-oncology, generate human tumors atlases, increase screening for inherited cancers, and other initiatives.
In just the first 2 years, the Cancer Moonshot has provided the research community with important new opportunities to pursue critical cancer research. NCI is currently planning activities for FY 2019 through the last year of authorization, FY 2023.