Leading the Nation's Progress against Cancer
NCI's mission is to lead, conduct, and support cancer research across the nation to advance scientific knowledge and help all people live longer, healthier lives. As the largest funder of cancer research in the world, NCI advances a broad portfolio of research—from basic science to the development of prevention, early detection, and treatment approaches to interventions to improve public health and survivorship.
The Return on Cancer Research Investment
Federal investments in research have led to a substantial reduction in the burden of cancer in the United States. Today, people diagnosed with cancer live longer and enjoy a better quality of life than has ever been possible. Because of better prevention and screening, the age-adjusted rate of new cancer cases is also declining.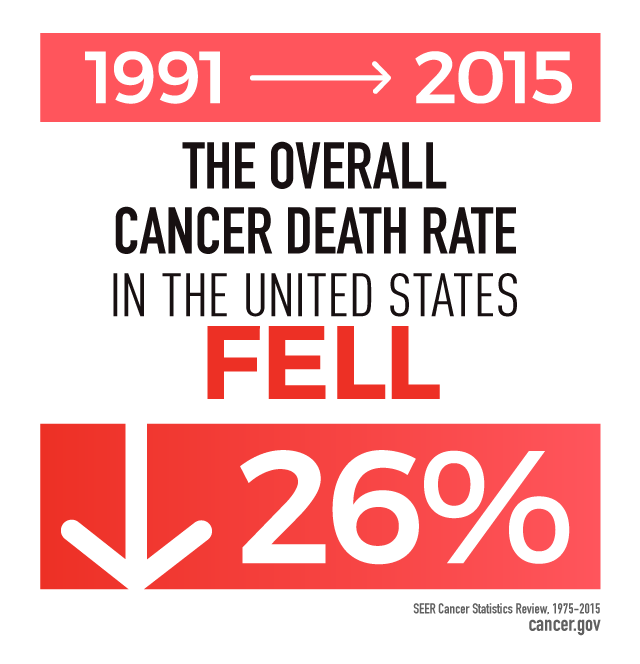 NCI collects and analyzes statistics on cancer incidence, mortality, and survivorship, so the progress we have made in reducing the burden of cancer among Americans can be measured. For example, these age-adjusted statistics show:
The rates of death for all cancer types combined are declining among men, women, and children of all major racial and ethnic groups. From 1991 through 2015, the overall cancer death rate fell by 26.2%. In 2016 alone, the death rate from cancer was 1.7% lower than the rate in 2015.
The rate of new cancer cases is falling. From 2006 through 2015, the rate of new cancer cases fell by more than 1% each year. This trend stands in sharp contrast with the rising rate of cancer incidence before the beginning of the 21st century. However, the reduction in cancer incidence has not been equivalent for men and women. From 2006 through 2015, the rate of new cancers declined for men but was stable for women.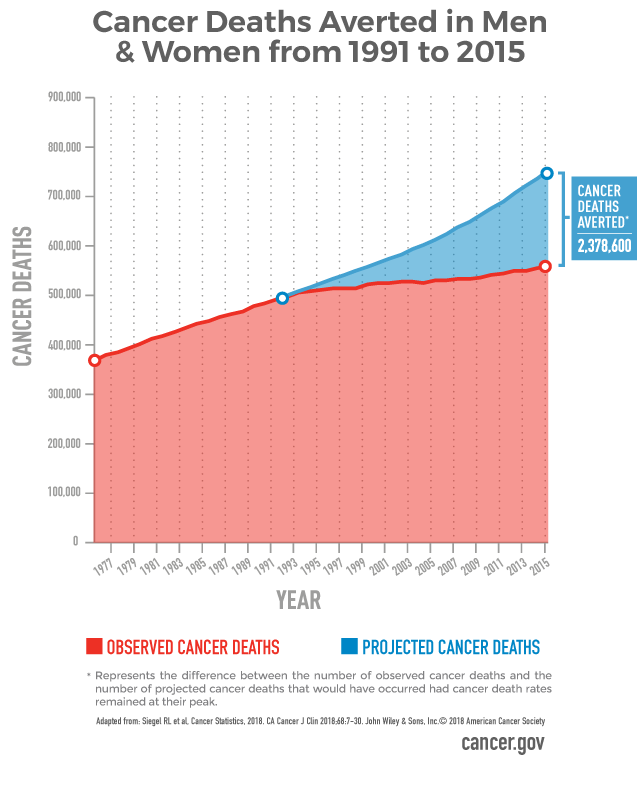 The incidence and mortality rates of several cancer types have fallen significantly over time. These improvements vary by sex and race/ethnicity. For example, from 2011 through 2015, the decline in lung and bronchus cancer incidence among black men was 40% greater than that among white men. Among women, American Indians/Alaska Natives had the largest decline in lung and bronchus cancer incidence, with a decline 80% greater than that observed among white women. During the same period, the decline in lung and bronchus cancer mortality among black men was 63% greater than that among white men. Black women also had the largest decline in lung and bronchus cancer mortality, with a decline 50% greater than that observed among white women.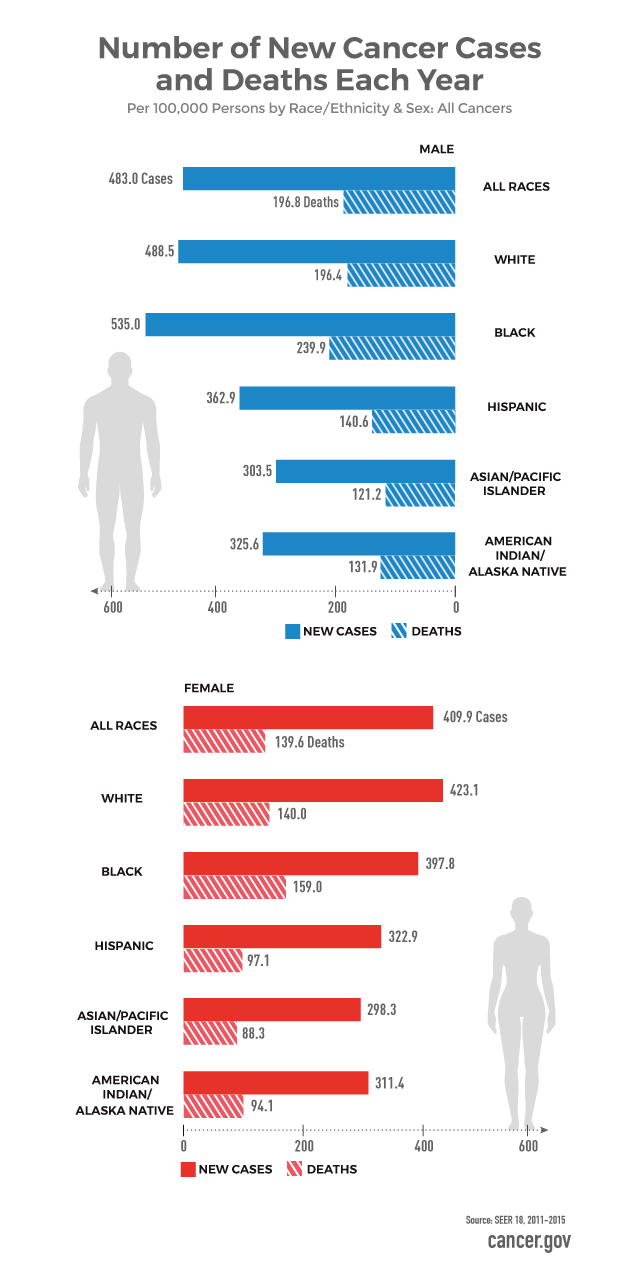 The Need for Greater Progress
These trends are encouraging, but important work remains. Too many people are still diagnosed with cancer and die from it. Many survivors of cancer experience serious late effects of the disease and its treatment. Progress has not been uniform for all types of the disease, and not all groups of people have benefited equally from advances in cancer care. Some indicators of the need for greater progress are described below.
It is estimated that more than 1.7 million adults in the United States will be diagnosed with cancer in 2018, and more than 600,000 (i.e., more than one person every minute) will die from it. As the population ages, the numbers of new cancer cases and deaths among adults will continue to grow.
Cancer is the most common cause of death from disease in children and adolescents ages 1 to 19 in the United States. While deaths from childhood cancer have been declining steadily since the 1970s, the incidence of childhood cancer has been slowly increasing over the same period. In 2018, nearly 16,000 new cases of cancer and approximately 2,000 cancer deaths will occur among US children and adolescents.
Too many cancers are still not preventable, readily detectable, or curable. Several deadly types of cancer, including pancreatic, ovarian, and lung and bronchus cancers, are often diagnosed at late stages because they do not cause early symptoms, and no effective screening tests are available to detect them early. In addition, current treatments for some cancer types, such as pancreatic, liver, and high-grade brain cancer, are not very effective. The death rates for some cancers, such as liver and uterine cancer, are increasing in the United States.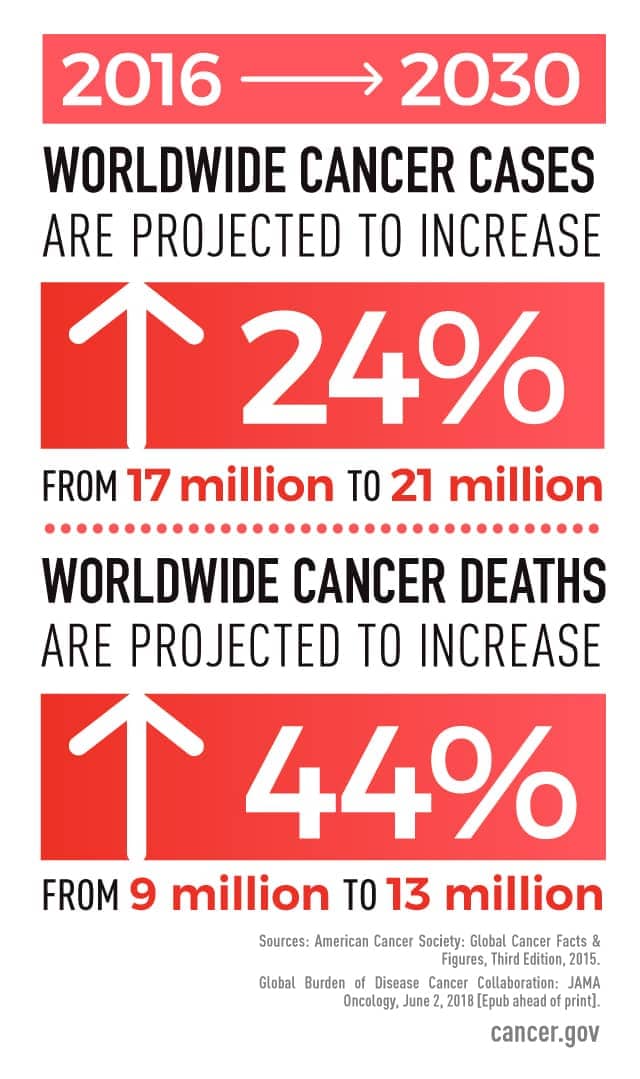 Specific populations, including certain racial/ethnic groups and rural populations, suffer disproportionately from some cancers. Reasons for these disparities include inadequate access to cancer screening tests and quality cancer care. Research indicates that genetics, modifiable risk factors (e.g., tobacco smoking and excess body weight), and environmental exposures are also important. More research is needed to better understand and mitigate the effects of both biological and nonbiological factors that contribute to cancer disparities. Read how NCI-funded researcher Edith Mitchell from Pennsylvania is working to reduce cancer disparities.
Cancer is a growing global health burden. Worldwide, more than 21 million new cases of cancer are predicted to occur in 2030, an increase of 24% over the 17 million cases that occurred in 2016. It is also predicted that 13 million cancer deaths will occur in 2030, an increase of nearly 44% over the 9 million cancer deaths reported in 2016. Most of this growing burden of cancer incidence and mortality will be borne by low- and middle-income countries.