Advancing Public Health in Cancer
Cancer and the many issues associated with it have a significant impact on public health in the United States. Researchers are addressing them by studying cancer and its burden on a population-wide scale. NCI-funded research findings are used to protect the health of people and their communities and to inform the development and implementation of policies and programs to reduce the burden of cancer. NCI's investments in cancer control, population health, and survivorship are aimed at reducing cancer risk, incidence, and mortality and on improving the quality of life of cancer survivors and the general population.
NCI-funded research findings are used to protect the health of people and their communities.
Colorectal cancer screening is one example of a public health measure that has contributed to the decrease in cancer incidence and mortality rates. Wider dissemination could result in even greater improvements in public health, and NCI is supporting research toward this goal. NCI funds a wide range of studies to enhance the delivery of high-quality cancer care and to develop and implement new and proven interventions targeted at the individual, institutional, and population levels.
Progress in Advancing Public Health in Cancer
NCI funds basic and applied research in the behavioral, social, and population sciences to develop or enhance interventions that help reduce the burden of cancer in the United States. As part of this effort, NCI collaborates with other federal agencies and organizations at the global, national, state, and local levels to share evidence-based interventions for cancer control. Recent accomplishments in this area are listed below.
Tracking Treatment Trends, Costs, and Outcomes for Elderly Patients with Cancer
Public health professionals need reliable sources of data to inform their cancer control efforts and to improve cancer outcomes in the United States. To meet this need, NCI has made high-quality cancer incidence, mortality, and survivorship data available through its Surveillance, Epidemiology, and End Results (SEER) Program since 1973. These data are widely used by researchers and the public for describing and understanding cancer trends in the United States and for identifying emerging issues of importance to public health.
NCI has made high-quality cancer incidence, mortality, and survivorship data available through its Surveillance, Epidemiology, and End Results Program since 1973.
For example, NCI-supported researchers used data from the SEER–Medicare Linked Database to examine the trends, costs, and outcomes of cancer treatment for older Americans (age 65 and older) diagnosed with metastatic colon cancer from 2000 through 2009. The researchers found that the percentage of patients older than age 75 who received three or more cancer therapies increased from 2%–53% during this period. They also found that the 1-year cost of treating these patients increased by 32%, but their median survival improved by only 1 month. In addition, many of the administered drugs are associated with substantial toxic side effects that may reduce a patient's remaining quality of life. This study is an example of the usefulness of SEER data in determining clinical care patterns and patient outcomes. Research like this is necessary to inform improvements in clinical practice.
Reducing Tobacco Use among Patients with Cancer
Patients with cancer who quit smoking at the time of their diagnosis may reduce their risk of dying by up to 40%. Studies have also shown that smoking cessation can increase the effectiveness of cancer treatments and improve the body's ability to heal. Therefore, NCI continues to support research on ways to reduce tobacco use by patients with cancer in the United States and globally.
One ongoing NCI-funded clinical trial at the University of Pennsylvania and Northwestern University is evaluating the effectiveness of extended use of varenicline (Chantix) for 24 weeks compared with the standard 12 weeks of therapy. Preliminary findings from this study showed that varenicline can yield quit rates of about 40% in patients with cancer, which mirrors the rates reported in the general population. In addition, varenicline did not increase adverse psychiatric or cardiovascular side effects in these patients, and smoking cessation improved patients' cognitive function and mood over time. Furthermore, the rate of varenicline adherence among patients with cancer was about equal to that seen in the general population and was strongly predictive of tobacco cessation.
To increase tobacco cessation among patients with cancer, NCI launched the Cancer Center Cessation Initiative in 2017. Under this initiative, 42 NCI-Designated Cancer Centers are integrating science-based smoking cessation treatment services into daily clinical care and are helping patients and physicians overcome barriers to cessation treatment services. Read about how cancer survivor Tony from Tennessee has benefited from one of these programs.
Cancer Center Cessation Initiative Video (Audio Described Version)
Reducing the Risk of Oral Cavity and Oropharyngeal Cancers
Recent studies have shown that approximately 70% of cancers of the oropharynx (the part of the throat at the back of the mouth) may be linked to human papillomavirus (HPV) infection. It has been estimated that more than 16,000 cases of this cancer are diagnosed annually in the United States.
To determine the impact of HPV vaccination on oral HPV infections, NCI intramural researchers and their collaborators at Ohio State University and MD Anderson Cancer Center studied 2,627 men and women aged 18–33 who participated in the Centers for Disease Control and Prevention's (CDC) National Health and Nutrition Examination Survey (NHANES), 2011 to 2014. This group included individuals who had received at least one dose of the HPV vaccine 4 years earlier on average and unvaccinated individuals.
The researchers found that the rate of oral HPV infections was 88% lower in vaccinated versus unvaccinated individuals. Because HPV vaccination rates in this country are low, the estimated population-wide effect in reducing oral HPV infections was only 17%. Increasing vaccination rates would substantially lower the rate of oral HPV infections and the incidence of oropharyngeal and other HPV-associated cancers.
Increasing vaccination rates would substantially lower the incidence of HPV-associated cancers.
Improving Colorectal Cancer Screening Rates with a Digital App
Colorectal cancer (CRC) remains the second leading cause of cancer death in the United States. Screening tests can prevent CRC by finding precancerous polyps that can be removed before they progress to cancer. Screening can also detect CRC at early stages when it is treatable and has a high cure rate. Despite these benefits, more than one-third of eligible adults in the United States (those age 50–75) do not get screened.
In an effort to improve the rate of CRC screening, NCI-funded researchers developed and tested an interactive computer app and found that it successfully encouraged patients to get screened. In a clinical trial involving 450 patients, about half of those who were randomly assigned to use the Mobile Patient Technology for Health-CRC (mPATH-CRC) app self-ordered a CRC screening test. Approximately one-third of the mPATH-CRC user group followed through with the screening test, a two-fold increase over individuals in the control group, who watched videos about diet and exercise but did not receive the option to self-order a screening test.
Opportunities for Greater Progress
Cancer has a major impact on public health in the United States, and its effects will continue to grow as the population ages. Despite the advances we have made to date, too many people still die from cancer and too many survivors continue to suffer from the aftereffects of cancer and its treatment. This burden is of particular concern for pediatric cancer survivors, who often suffer from severe or chronic health conditions into adulthood.
In addition, the financial costs of cancer on individuals, their families, and society are increasing rapidly. These facts underscore the need for additional research and more discoveries that will benefit everyone. Additional investments in the areas of opportunity described below will enable further progress.
Improving Cancer Prevention, Diagnosis, and Treatment in Rural America
People who live in rural communities comprise approximately one-sixth of the US population. Compared with people living in urban areas, those residing in rural areas experience a lower incidence of cancer but a higher cancer mortality rate. In addition, the decreases in cancer mortality rates observed in recent years have been smaller in rural areas than in urban areas. Specifically, from 2006 through 2015, cancer deaths declined by 10% in rural areas, whereas, in urban areas, they declined by 16%.
These differences can be attributed to many factors, including higher rates of poverty and modifiable risk factors, such as cigarette smoking and an unhealthy body weight, in rural populations, as well as reduced access to high-quality health care due to transportation barriers, limited availability of specialist physicians and clinical trials, and lack of cancer support services.
Increased funding to develop and implement effective programs for rural cancer control are greatly needed. To lay the groundwork, NCI is supporting implementation research conducted by NCI-Designated Cancer Centers geared toward improving cancer control in rural areas. In addition, NCI is collaborating with other government agencies and other organizations to share information and ideas to address this area of unmet need.
Effective programs for rural cancer control are greatly needed.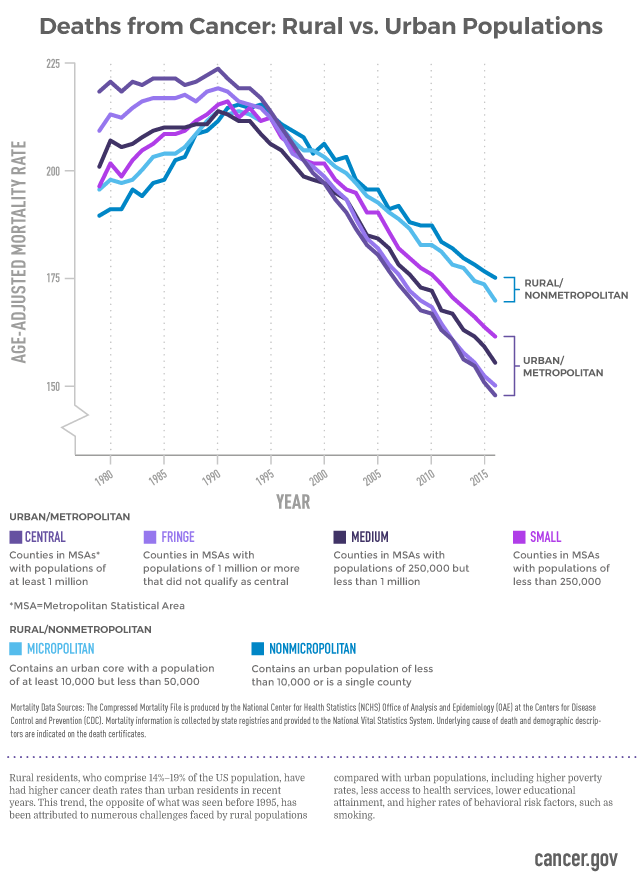 Studying Biological and Nonbiological Factors to Reduce Cancer Disparities
Although progress has been made in reducing the overall burden of cancer in the United States, certain groups of people suffer disproportionately from higher incidence and mortality rates for some cancers than the general population. For example, African American men are more likely than white men to develop prostate cancer in their lifetimes, and they are more likely to be diagnosed with aggressive disease. As a result, their risk of dying from prostate cancer is twice that of white men.
To address this cancer disparity, NCI, the National Institute on Minority Health and Health Disparities (also part of NIH), and a nonprofit foundation are supporting the RESPOND study (Research on Prostate Cancer in Men of African Ancestry: Defining the Roles of Genetics, Tumor Markers, and Social Stress), which was launched in 2018.
RESPOND is the largest coordinated research study investigating environmental and genetic factors related to the aggressiveness of prostate cancer in African American men. The results of this study and other research focused on cancer disparities supported by NCI should inform the development of better ways to prevent and treat cancers that disproportionately impact some populations.
Optimizing Symptom Management for Cancer Survivors
Cancer survivors frequently experience many short- and long-term adverse effects from cancer and its treatment. Common conditions and symptoms associated with cancer therapy include nausea and vomiting, peripheral neuropathy (nerve damage), cardiotoxicity (heart damage), hearing loss, cognitive challenges, depression, pain, and prolonged fatigue. Other problems can include an increased risk of developing another cancer (a second primary cancer), loss of fertility, financial difficulties due to the high cost of cancer treatment, difficulties with employment, and increased insurance costs. Some of the adverse effects of cancer treatment may reduce a patient's willingness to adhere to recommended therapies.
The Cancer Moonshot℠ is currently supporting research on patient-reported symptoms to improve patients' quality of life and adherence to treatment. This research focuses on standardizing patient-reported symptoms, assessing how patients tolerate different cancer treatments, and improving how doctors manage patient symptoms during treatment. With more research in this area, we will develop a better understanding of how to improve the quality of life of cancer survivors.
With more research, we will develop a better understanding of how to improve the quality of life of cancer survivors.
Monitoring Survivors' Recurrent and Second Cancers
Two of the most difficult circumstances following cancer treatment are disease recurrence and the diagnosis of a second cancer. Nearly one in five cancers diagnosed today occurs in a person with a previous diagnosis of cancer. These second cancers are a leading cause of morbidity and mortality among survivors. Post-treatment surveillance guidelines provide the best evidence for monitoring patients after cancer therapy, but they are not available for all cancer types or may not be based on the latest evidence.
NCI supports research on more precise screening and diagnostic tests for the earlier detection of recurrent and second cancers and on survivorship care planning, including adherence to post-treatment surveillance and other follow-up care. Research into the causes, prevention, detection, and treatment of recurrent disease and second cancers will help improve how doctors manage the care of survivors and provide further insights into cancer biology.