Improving the Quality of Life of Cancer Survivors
The number of long-term cancer survivors has grown dramatically over the past several decades, a trend that is expected to continue as diagnosis and treatments improve. Today, approximately 70% of people live 5 years or more following a cancer diagnosis, compared with about 50% in the 1970s. In 2016, the estimated number of cancer survivors in the United States exceeded 15 million, more than twice the estimated 7 million in 1992.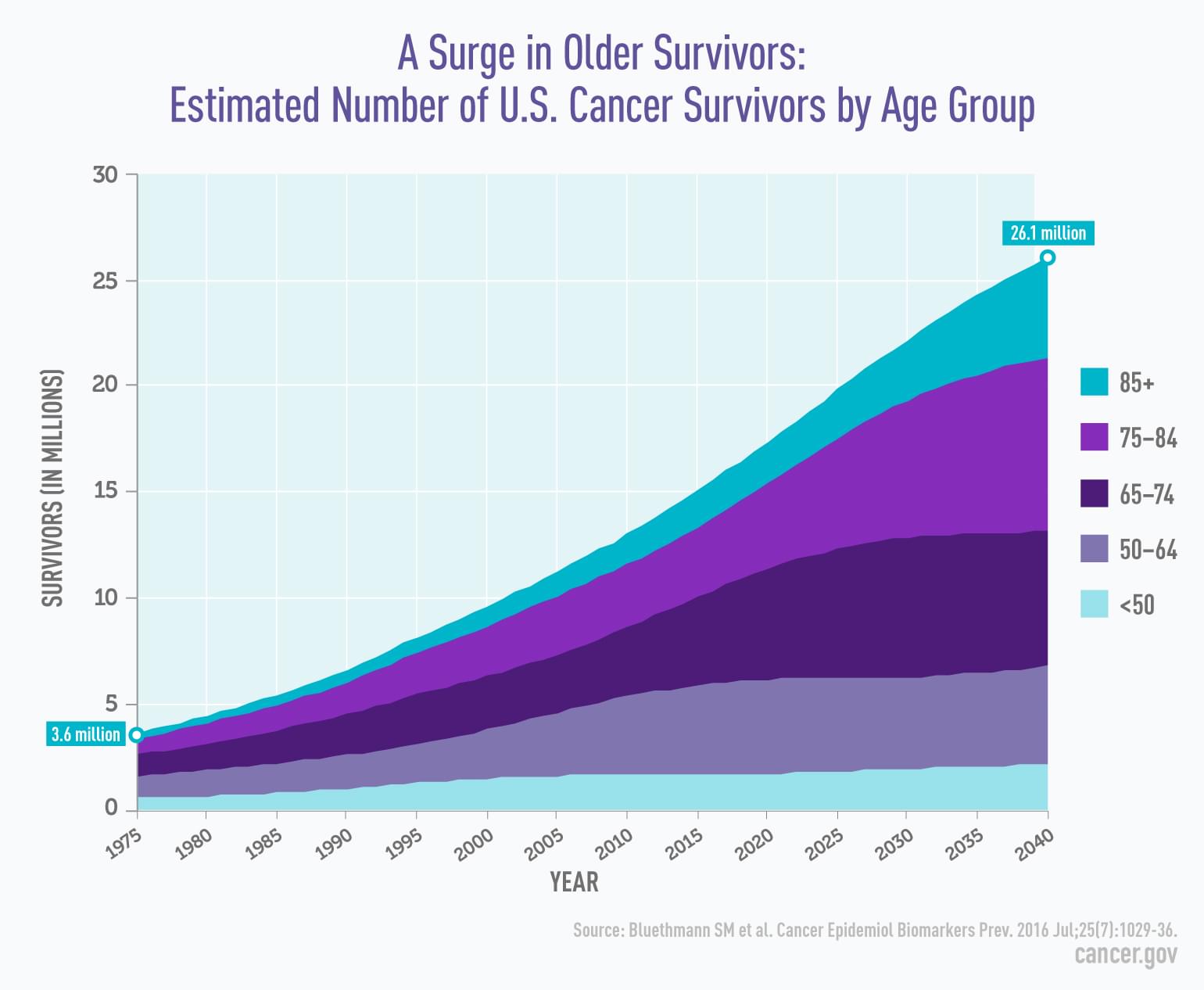 In addition to the growing number of survivors, the proportion who are age 65 years or older will expand rapidly as the U.S. population continues to age. By 2040, it is estimated that nearly half of cancer survivors will be age 75 or older.
With this increase in survivorship has come an awareness that many cancer survivors have health problems, caused by their cancer or its treatment, that may require additional and, perhaps, ongoing care. Satisfactorily addressing these health problems in older survivors may be complicated by the development of other conditions associated with aging. Meanwhile, all of this is occurring against a backdrop of projected shortages of oncologists and primary care physicians, who are the main providers of medical care for cancer survivors.
Consequently, research to understand and find ways to address the unique needs of cancer survivors, especially older survivors, is critical and a high priority for NCI.
Research Priority
Identify and Alleviate the Adverse Effects of Cancer and Its Treatment
Cancer and its treatment are associated with substantial short-term and long-term adverse side effects that can diminish the well-being of survivors. NCI funds research to develop new treatments that cause fewer adverse effects. In addition, NCI supports research to identify factors that cause or increase susceptibility to the harmful effects of cancer and its treatment and to develop interventions to reduce or prevent their occurrence.
Several examples of NCI's accomplishments and efforts include:
NCI's portfolio of symptom management clinical trials is coordinated through the NCI Community Oncology Program (NCORP). NCORP sponsored a clinical trial testing duloxetine (Cymbalta®) in breast cancer survivors who were taking aromatase inhibitors. Findings from the trial, reported in 2017, showed that duloxetine, which is approved to treat depression and anxiety, fibromyalgia, and nerve pain caused by diabetes, reduced musculoskeletal pain by an average of 46%. These findings are important because musculoskeletal symptoms lead some patients to discontinue life-saving aromatase inhibitors.
The Detroit Research on Cancer Survivors study, launched in 2017, is the largest study to date of African-American cancer survivors in the United States. It will include 5,560 participants and investigate major factors that affect cancer recurrence, mortality, and quality of life among these cancer survivors.
NCI's National Clinical Trials Network (NCTN) is developing more trials targeted at older patients, particularly those with other health conditions, such as heart disease or diabetes. The results of these trials should help doctors develop age-appropriate treatment plans and potentially reduce long-term treatment-related side effects. They may also provide much-needed information about resources and programs necessary for cancer survivors in long-term recovery.
NCI also supports survivorship research conferences and the development of online tools for survivors, including the Springboard Beyond Cancer website. The website is a joint venture of NCI and the American Cancer Society, designed to improve survivors' self-management of cancer-related symptoms and treatment side effects, with a focus on identifying strategies and skills training. The development of this website was informed by cancer survivorship research and health behavior interventions.
Key Takeaways
NCI sponsors research to identify and understand factors that cause or increase susceptibility to the adverse effects of cancer and its treatment.
NCI-funded researchers are striving to develop effective interventions to reduce or prevent these harmful effects and improve the well-being and quality of life of cancer survivors.