Strengthening the Cancer Research Enterprise
The National Cancer Act of 1971 authorized NCI to coordinate cancer research across the United States. In the ensuing decades, NCI has built and supported an infrastructure, comprising people working in science and the places at which they work, that has become known as the cancer research enterprise. Training the next generation of cancer researchers, coordinating the research and clinical trials infrastructure, and providing shared resources are some of the ways NCI strengthens the cancer research enterprise. Through basic and applied research, the efforts of researchers and organizations continue to advance progress in cancer prevention, detection, and treatment to produce better outcomes for patients and for those at risk for cancer.
Supporting Scientists at Every Career Stage
NCI supports a talented scientific workforce over the course of their careers—from students just starting to explore a career path to established investigators. The goal of this support is to foster a community of scientists from diverse backgrounds that strengthens cancer research and its translation to patients.
A large portion of NCI's budget funds investigator-initiated research proposals that have undergone a rigorous peer review process. This funding provides support to highly skilled scientists, working in their areas of expertise, who have submitted encouraging preliminary data. Much of the progress we have made against cancer to date had its origins in investigator-inititated research.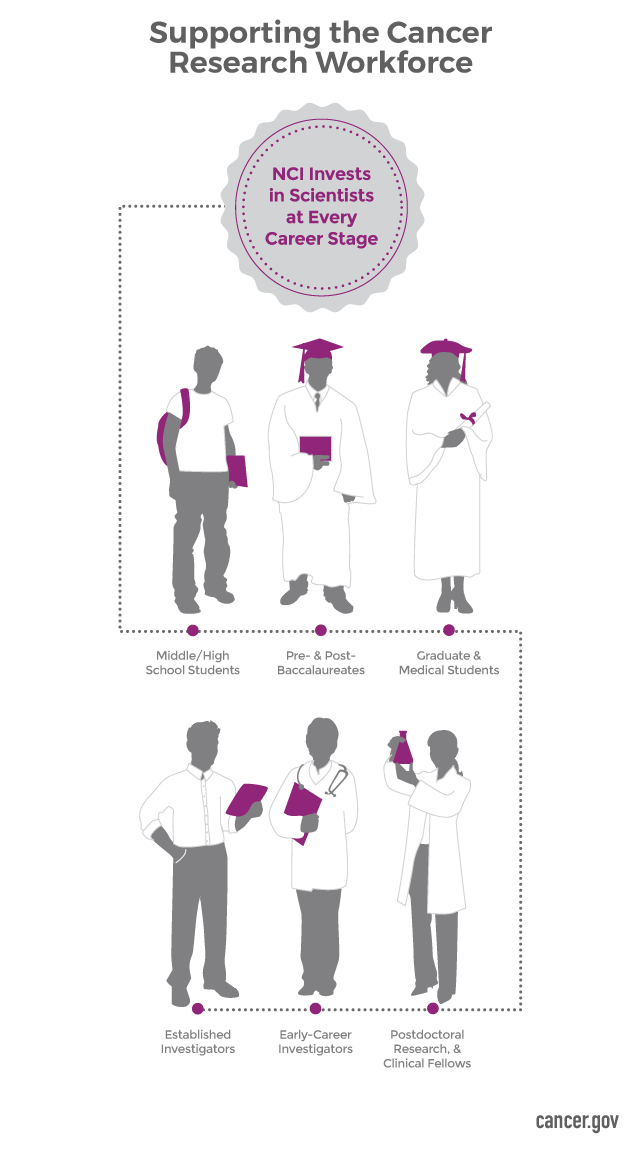 Training the Next Generation of Cancer Researchers
NCI helps prepare individuals for careers in cancer research through training, career development, and mentored research opportunities for younger scientists on NCI's campuses in Maryland and across the nation. In 2017, NCI trained more than 3,800 scholars and early-career scientists, ranging from high school students through postdoctoral students and fellowship recipients. Specific examples of support included the following programs:
Since 1992, the Cancer Prevention Fellowship Program has trained postdoctoral fellows in the principles and practice of cancer prevention and control. Thirty-seven fellows participated in the program in 2017. Most program alumni have continued careers in cancer research.
In 2017, NCI funded 665 trainees and investigators through the Continuing Umbrella of Research Experiences (CURE) program, which promotes diversity in the cancer research workforce by supporting underrepresented minorities. Since its inception in 2001, more than 4,000 students and investigators have benefited from CURE training and support.
In 2017, the Partnerships to Advance Cancer Health Equity (PACHE) program, in which institutions that provide care to underserved populations affected by cancer disparities are paired with NCI-Designated Cancer Centers, helped nearly 750 trainees from diverse backgrounds conduct cancer research.
Increasing Investment in Early-Career Investigators
Scientists embarking on independent careers may face challenges that impede their success and make it difficult to remain in research. To address this issue, NCI supports early-career investigators in many ways. For example, in 2018, NCI retooled the Method to Extend Research in Time (MERIT) award to provide up to 7 years of support for early-stage investigators with their first R01 grant, compared with 5 years of support for the traditional R01 grant. The MERIT award offers investigators more stability to launch their careers, enables creativity and innovation, and provides a longer amount of time during which they can apply to renew their current grant and/or apply for new grants. Read about the impact this additional support will have on early-stage investigator Victoria Bae-Jump from North Carolina.
NCI is supporting more earlystage investigators than in the past with the goal of ensuring a robust pipeline of future cancer research leaders.
Supporting Established Investigators
NCI continues to support scientists who have an established record of productivity through a variety of funding mechanisms, such as investigator-initiated research project grants, and collaborative funding mechanisms, such as Specialized Programs of Research Excellence (SPORE) grants and Cancer MoonshootSM funding. Most awards made from NCI's research project grant pool are awarded to established investigators following a rigorous peer-review process.
Providing Infrastructure and Resources for Cancer Research and Patient Care
NCI supports the cancer research community through an infrastructure that connects investigators in academia, community settings, and the private sector. By ensuring that scientists are equipped to test ideas and make discoveries that advance cancer research and clinical care, NCI puts patients at the forefront.
This infrastructure has been key to enabling rapid accrual to the NCI Molecular Analysis for Therapy Choice (NCI-MATCH) trial, in which patients are assigned to treatment based on the genetic changes found in their tumors through genomic sequencing and other tests. In fiscal year 2017, approximately 30,000 new patients enrolled in NCI-sponsored or -supported clinical trials. Key infrastructure components include research centers, networks, and programs.
Supporting Cancer Researchers and Centers around the United States
NCI-Designated Cancer Centers serve as a foundation of our nation's cancer enterprise. There are 70 cancer centers in 36 states and the District of Columbia, many of which are affiliated with university medical centers, enabling scientific research and clinical practice to better inform each other. At any given time, hundreds of research studies are underway at the cancer centers, from basic research to clinical studies. Approximately 250,000 patients receive their cancer diagnosis at an NCI-Designated Cancer Center each year.
NCI-Designated Cancer Centers serve as a foundation of our nation's cancer enterprise.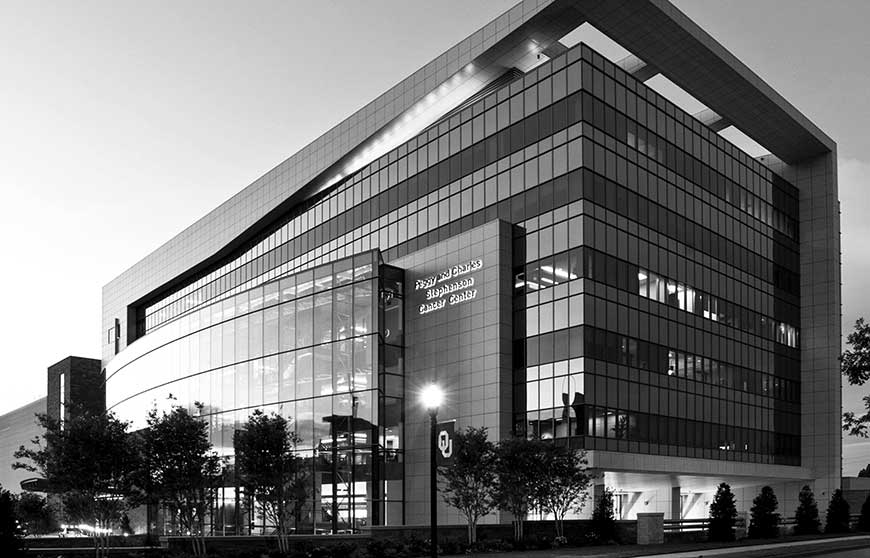 Enrolling Patients with Cancer in Clinical Trials across the United States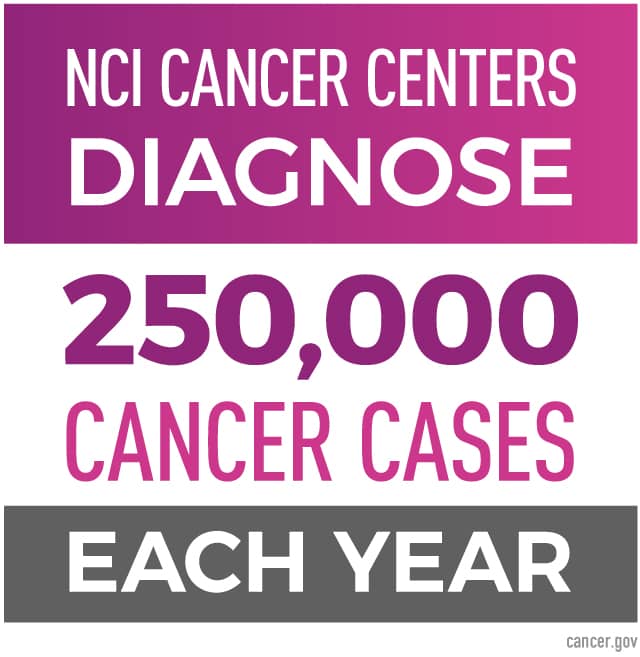 NCI has a long history of supporting clinical trials, many of which have led to changes in standard medical practice. NCI's National Clinical Trials Network (NCTN), which is comprised of six clinical research groups (five in the United States and one in Canada), provides access to clinical trials at 2,400 sites across North America. The NCI Community Oncology Research Program (NCORP) brings cancer clinical trials to the communities where patients live, making it easier for them to access cancer care. The program includes 34 community sites and 12 minority/underserved community sites that are associated with 930 public hospitals, physician practices, academic medical centers, and other groups across the nation.
Through NCTN, NCORP, and the NCI-Designated Cancer Centers, NCI is increasing support for clinical trials and working to boost patient and physician participation. For example, approximately 44% of NCI-MATCH trial participants enrolled through NCORP.
NCI is increasing support for clinical trials and working to boost patient and physician participation.
Making Cancer Research Resources Available
NCI develops and maintains resources—such as databases, specimen repositories, and tools—that are available through a portal on NCI's website. Just one example of an NCI resource is the Surveillance, Epidemiology, and End Results (SEER) program, an authoritative source for cancer statistics in the United States, covering nearly 35% of the US population. This coverage includes more than 49% of American Indians/Alaska Natives, 57% of Asians, and 68% of Native Hawaiian/Pacific Islanders.
Researchers and policy makers use SEER data to understand and monitor changes in cancer incidence and mortality over time. In 2017, NCI and the American Society of Clinical Oncology's CancerLinQ announced a partnership to enhance patient care and strengthen cancer surveillance through data sharing. Other examples of NCI resources that encourage data sharing include the Genomic Data Commons and The Cancer Imaging Archive.
Strengthening Small Business Innovation and Commercialization
NCI provides support to US-owned small businesses aiming to develop and commercialize technologies that can be used to diagnose, treat, and prevent cancer. This support is provided through the congressionally mandated NCI Small Business Innovation Research (SBIR) and Small Business Technology Transfer (STTR) programs.
Successful commercialization of innovations developed with NCI SBIR funding means that doctors and their patients can access cutting-edge cancer-related technologies. In the past several years, such technologies have included the following:
LumaGEM, a molecular breast imaging (MBI) technology, approved by the Food and Drug Administration (FDA) as an adjunct to mammography, to detect breast cancer in women with dense breasts. (Read more in Detecting and Diagnosing Cancer.)
Percepta, the first genomics-based diagnostic test for lung cancer to receive Centers for Medicare and Medicaid Services coverage.
SoftVue, a 3-dimensional ultrasound breast cancer imaging technology that uses sound waves to image the entire breast without compression and helps physicians distinguish normal tissues from areas of concern.
Iobenguane I 131 (Azedra), the first FDA-approved intravenous cancer treatment that targets rare tumors in the adrenal gland. It is approved for adults and children age 12 or older whose tumors cannot be surgically removed, have spread beyond the original tumor site, or require systemic cancer therapy.
De Las Mías, a mobile phone app developed for Spanish-speaking women that provides information on healthy living, with the goal of reducing cancer disparities.
NCI SBIR-funded technologies were used in more than 90 clinical trials in 2017 alone. Among these is an agent that received an orphan drug designation from FDA to treat glioblastoma multiforme, a cancer that has a 5-year survival rate of 15% or less among adults.
Collaborations and Partnerships
NCI collaborates with institutes and centers across the National Institutes of Health, the US Department of Health and Human Services, and other federal agencies, nonprofit organizations, and companies to coordinate and leverage research activities, thereby accelerating cancer research advances and translating the findings to patients.
Collaborating with Federal Agencies to Advance Cancer Research
NCI has collaborated extensively with multiple federal agencies to advance cancer research, including efforts to improve the drug development process and data sharing. The following examples are initiatives that demonstrate how different parts of the federal government can leverage each other's knowledge, resources, and infrastructure and operate more efficiently than if each organization worked in separate silos:
NCI is partnering with the nation's two largest health systems, the US Department of Defense (DoD) and US Department of Veterans Affairs (VA), to incorporate proteogenomics (the activity and expression of the proteins that the genome encodes) into patient care through the Applied Proteogenomics OrganizationaL Learning and Outcomes (APOLLO) network.
NCI and VA are also partnering to facilitate the enrollment of US veterans with cancer in NCI-sponsored clinical trials through the NCI and VA Interagency Group to Accelerate Trials Enrollment (NAVIGATE) program.
NCI and FDA are working together on a variety of activities, including implementation of the Research to Accelerate Cures and Equity (RACE) for Children Act, which requires that a novel drug developed for an adult cancer be considered for pediatric cancer when the molecular target of the drug is relevant to a childhood cancer.
NCI and the Centers for Disease Control and Prevention (CDC) collaborate with the American Cancer Society and the North American Association of Central Cancer Registries to produce the Annual Report to the Nation on the Status of Cancer, a yearly report describing recent cancer incidence and mortality trends.
NCI also works with CDC on other cancer-related topics, including tobacco control, cancer vaccine programs, and cancer screening
Facilitating Access to Promising Agents
The NCI Formulary provides rapid access to therapeutic agents through partnerships with industry with the goal of accelerating cancer research by shortening the amount of time needed to start clinical trials that use drugs from more than one company. To date, the formulary contains 29 agents provided by 9 companies. Investigators at more than 300 sites can access these agents for research at no cost.
Conducting Research at NCI
Investigators in the NCI intramural research program (IRP) conduct research across the cancer continuum. The IRP provides the flexibility to respond to unmet or emerging public health needs, provides a rich environment for collaboration, and is committed to training the next generation of researchers.
In addition, high-risk research and clinical trials that would be more difficult for the extramural community or industry to conduct are performed at NIH's Clinical Center, where compassionate patient care is combined with unparalleled opportunities for research. Examples of IRP activities are described throughout this plan and below.
Pioneering Cancer Immunotherapies
NCI researchers have pioneered the development of cancer immunotherapies over the last 40 years. Research by IRP scientists was integral to the development of the CAR T-cell immunotherapies that were approved by FDA for certain types of leukemias and lymphomas in 2017. (Read more in Treating Cancer.) IRP scientists have also developed innovative methods to identify and test other types of adoptive cell transfer immunotherapies. This latter work has demonstrated promise in difficult-to-treat solid tumors, including in a patient with metastatic breast cancer and a patient with metastatic KRAS-driven colorectal cancer.
Intramural scientists and their collaborators have also identified ways in which tumors suppress the immune system's ability to fight them (read more in Understanding the Mechanisms of Cancer) and discovered genes that drive resistance to cancer immunotherapies.
Developing Tools against Human Papillomavirus
Intramural NCI scientists have made critical discoveries about the biology of human papillomaviruses (HPV), leading to effective approaches that reduce the risk of several HPV-associated cancers. These approaches include HPV vaccines and HPV tests for use in cervical cancer screening. (Read more in Preventing Cancer.) Recently, IRP scientists demonstrated that a specific portion of the genome of HPV16, the most common type of HPV found in human cancers, is critical for the virus's ability to initiate tumor formation. The protein encoded by this genetic sequence may be a viable target for therapeutic intervention.
Determining the Harms of Tobacco Use
NCI has a long history of studying the associations between tobacco use and cancer to inform public health decisions and interventions aimed at reducing the burden of tobacco-related disease. In addition to investigating the effects of cigarette smoking on cancer risk, IRP researchers are assessing the health risks of other tobacco and tobacco-related products, including smokeless tobacco, flavored cigarillos, electronic cigarettes, and hookahs (water pipes). Recently, IRP and FDA scientists showed that "low-intensity" smoking—fewer than 10 cigarettes per day—is associated with a significantly higher risk of death, including death from lung cancer, than never smoking. This study provides further evidence that there is no safe level of tobacco smoking.
Advancing Cancer Genomics
NCI's IRP has advanced our understanding of the genetic basis of cancer--from identifying genomic markers of cancer risk in population studies to characterizing the biological mechanisms of cancer at the genetic level in the laboratory.
For example, in a study of nearly 3,000 female survivors of childhood cancer who had been treated with radiation to the chest, IRP researchers identified a genomic marker associated with an increased risk of breast cancer later in life. In addition, IRP scientists have been leaders in studying the genetic basis of renal cell carcinoma (kidney cancer), elucidating the genetic subtypes of this cancer and translating that knowledge into new ways to treat patients.
NCI intramural scientists also led a recent study that identified four distinct genetic subtypes of diffuse large B-cell lymphoma, pointing the way toward future precision medicine strategies.
Another group of IRP investigators recently found that the Klf4 gene is involved in promoting the metastasis (spread) of melanoma, breast cancer, and pediatric rhabdomyosarcoma tumors. Understanding the metastatic process is necessary to develop approaches to limit the spread of cancer.
Addressing the Challenge of Rare Tumors
NCI's IRP is committed to making progress against rare cancers and diseases. Leveraging the unique resources of the NIH Clinical Center, IRP investigators bring patients with these diseases from around the world to Bethesda, MD, to participate in clinical trials.
For example, IRP investigators are leading the development of a targeted therapy for children with neurofibroma tumors. Recently, IRP researchers demonstrated the feasibility of using whole-body MRI as a comprehensive cancer screening method for patients with Li-Fraumeni syndrome (LFS), a rare inherited disorder that leads to a higher risk of certain cancers. Individuals with LFS have an approximately 50% chance of developing cancer by age 40 and up to a 90% chance by age 60. Many patients with LFS develop more than one primary cancer during their lifetimes.
To make additional progress, NCI launched the Rare Tumors Initiative in 2013 and the Rare Tumor Patient Engagement Network in 2018 as part of the Cancer Moonshot℠.
Frederick National Laboratory for Cancer Research
The Frederick National Laboratory for Cancer Research (FNLCR) is the only national laboratory in the United States dedicated exclusively to biomedical research. As a government-owned, contractor-operated facility, it offers unique partnership opportunities for academia, government, and the private sector to address the most difficult challenges in cancer prevention, treatment, and control. Among its many initiatives, FNLCR is integral to the cancer research activities described below.
Finding Better Treatments for RAS-Driven Cancers
More than 30% of all human cancers—including 95% of pancreatic cancers and 45% of colorectal cancers—are driven by mutations in RAS genes. Yet, we do not have effective approaches for targeting mutant RAS. For this reason, understanding the biology of RAS proteins is critical to finding better treatments for patients with many different types of cancers. Through the NCI RAS Initiative, FNLCR has distributed RAS research reagents to more than 150 laboratories worldwide and has helped identify new compounds that might be used against RAS-driven cancers.
Using High-Resolution Imaging to Acquire the Best Quality Data
Through the National Cryo-Electron Microscopy (cryo-EM) Facility, operated by FNLCR, NCI assists cancer researchers who are engaged in structural biology studies but lack access to the latest technologies at their own institutions to capture exceptional imaging at resolutions near the atomic level. The facility has completed more than 70 projects for research laboratories across the country since it opened in 2017.