Developing New Treatments for Children with Cancer
Cancer is the leading cause of death from disease among children and adolescents in the United States, with approximately 15,000 new cases and 2,000 deaths among those ages 19 and younger each year. Fifty years ago, many childhood cancers were virtually incurable. However, NCI's investments in research have led to effective treatments for several types of pediatric cancer, including acute lymphoblastic leukemia (ALL) and Hodgkin lymphoma. Today, the 5-year overall survival rate for childhood cancer has increased to more than 80%, together with substantial decreases in overall mortality for children with cancer.
Nevertheless, progress against all cancers that affect children and adolescents is urgently needed, especially against those for which effective treatments do not currently exist, such as diffuse intrinsic pontine glioma (DIPG) and malignant rhabdoid tumor.
Treatment regimens for children and adolescents with cancer are often associated with substantial short-term toxic side effects. In addition, childhood cancer treatments may cause serious health problems for survivors months or years later, including higher risks of heart disease, stroke, infertility, and second cancers. More research is needed to understand these adverse side effects of treatment and how to prevent or mitigate them.
The rarity of childhood cancers—less than 1% of all cancers diagnosed in the United States each year—makes them difficult to study and discourages pharmaceutical companies from developing treatments. Consequently, NCI's leadership and funding are critically important for continued progress against childhood cancers.
Research Priorities
NCI supports research ranging from the biology of childhood cancer to clinical trials that test new cancer treatments in children and adolescents in clinical trials. Two areas of focus are molecularly targeted therapies and immunotherapies.
Support the Development of Targeted Therapies for Childhood Cancers
Cancers that arise in children and adolescents often differ from those that arise in adults. For example, they generally have fewer genomic alterations than adult cancers. To address this, NCI supports several initiatives to identify the genomic changes that drive childhood cancers, develop new treatments to target those changes, and test the treatments in precision medicine clinical trials.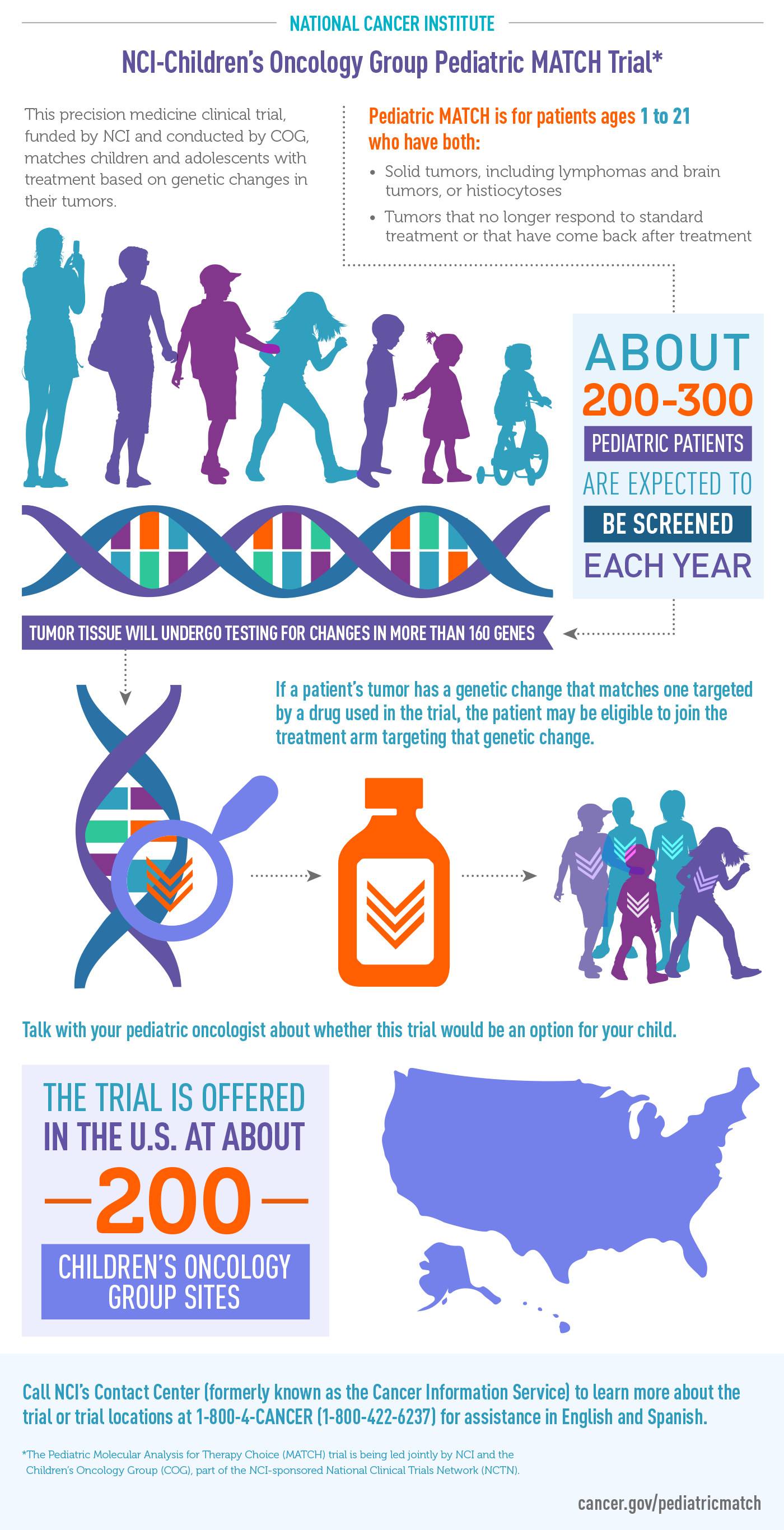 Advance Immunotherapies for the Treatment of Children with Cancer
Despite the remarkable progress made in immunotherapy against adult cancers, some immunotherapy approaches have yet to be evaluated for the treatment of childhood cancers. With this in mind, NCI will fund research aimed at advancing more immunotherapies for childhood cancers to the clinic.
Major progress in treating childhood acute lymphoblastic leukemia (ALL) with genetically modified immune cells called chimeric antigen receptor (CAR) T cells has researchers hopeful that this type of treatment will represent another major approach for children with cancer. FDA approved the first CAR T-cell therapy, tisagenlecleucel (Kymriah™) for childhood ALL, in 2017, and NCI is sponsoring nearly a dozen clinical trials of CAR T-cell therapy in pediatric patients with several other types of cancer.
In 2017, for the first time, FDA approved several immune checkpoint inhibitors for children with cancer. The checkpoint inhibitor pembrolizumab (Keytruda®) was approved for pediatric (and adult) patients with classical Hodgkin lymphoma that cannot be cured with existing treatments, as well as pediatric (and adult) patients with solid tumors that have specific genetic features. (See the story.) Avelumab (Bavencio®) was approved for patients age 12 or older who have metastatic Merkel cell carcinoma. FDA expanded its approval of ipilimumab (Yervoy®) to include patients age 12 or older who have advanced melanoma. NCI supported much of the preclinical and early clinical research that led to the approval of ipilimumab. The NCI Experimental Therapeutics Program (NExT) supported the early development of pembrolizumab. NCI is also sponsoring early-phase clinical trials of pembrolizumab in children with aggressive brain tumors and ipilimumab in combination with another immune checkpoint inhibitor in pediatric patients with advanced solid tumors or sarcomas.
As part of the Cancer Moonshot, NCI is establishing a Pediatric Immunotherapy Discovery and Development Network to establish a collaborative research network to identify and advance research opportunities for translating immunotherapy concepts for children and adolescents with cancer toward clinical applications. As stated in the Developing Precision Immunotherapies section, the goals of the network are to identify new targets for immunotherapies, developing new pediatric immunotherapy treatment approaches, and defining the biological mechanisms by which pediatric tumors evade the immune system.
Improve the Long-Term Quality of Life of Survivors of Childhood Cancer
NCI works to reduce the severity of treatment side effects for childhood cancer and to identify and address the health problems that may develop many years later, called late effects. The Childhood Cancer Survivor Study, funded in part by NCI, has led to a better understanding of the late effects of childhood cancer treatments and strategies to reduce these adverse effects. More than 35,000 survivors have participated in this study. Among the study's accomplishments was finding that using less cranial radiation to treat acute lymphoblastic leukemia (ALL) improves the cognitive abilities of survivors. (Read about the experience of childhood cancer survivor and pediatric oncologist Greg Aune, M.D., Ph.D., of the University of Texas Health Science Center, San Antonio.)
Stories of Impact
Novel NCI-supported research approaches herald new ways to treat young patients and improve their long-term quality of life.
Key Takeaways
NCI funds cutting-edge initiatives in childhood cancer research, including efforts to develop precision medicine and immunotherapy treatments, as well as efforts to improve the health and well-being of childhood cancer survivors.
NCI advances research and facilitates collaboration against childhood cancers, filling an important gap resulting from the substantial challenges in conducting this research.
NCI's efforts help produce more-effective, less-toxic therapies for all childhood cancers so patients not only survive, but thrive.
NCI's longer-term goal is to use all data generated from childhood cancer research to identify children and adolescents at risk of cancer, detect cancer at the earliest stage, or prevent its development altogether.