Global Health Diplomacy Begins at Home
February 27, 2015, by Ted Trimble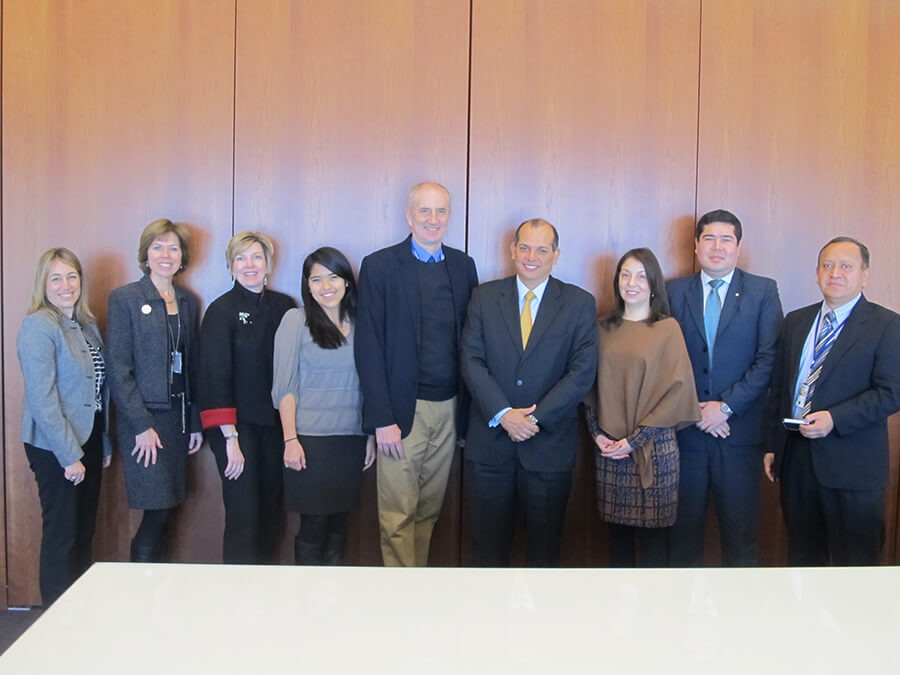 I often hear the phrase 'Global Health Diplomacy', and at times even use it myself, but what do these words really mean? In a world where cancer knows no borders, Global Health Diplomacy plays an essential role in all of CGH's activities as we work to strengthen relationships with our neighbors, and seek to reduce the burden of cancer worldwide. Partnership – that is what Global Health Diplomacy means to me.
Today I had the pleasure of meeting with Dr. Luis Miguel Castilla, Ambassador of Peru to the United States. I was honored to learn that the Center for Global Health was one of his first stops following the Ambassador Credentialing Ceremony with President Obama just last Sunday. Joined by First Secretary, Juan Montoya and Counselor of Economic Affairs, Erika Lizardo, Ambassador Castilla shared our Center's enthusiasm for Global Health Diplomacy, and discussed with us his ideas for partnership and the pivotal role the Embassy could play in supporting CGH expand current collaborations in Peru, as well as develop new ones across the region.
Ambassador Castilla brings a wealth of experience to his position, having served as Minister of Economy and Finance of Peru from July 2011 to September 2014. During his service, he implemented major reforms that brought considerable economic growth to Peru, and laid the groundwork for successful public-private partnerships. Cancer, too, has long been a priority for Dr. Castilla, and in his role as Minister was the first to secure funds dedicated specifically for cancer prevention efforts. Dr. Castilla continues his unwavering service to his country, now as Ambassador, focusing on ways to facilitate increased collaboration between the US and Peru.
For many years, NCI has worked closely with Peru. We are grateful for the many contributions of Dr. Elmer Huerta, Director of the Cancer Preventorium at MedStar Washington Hospital Center's Washington Cancer Institute, and native to Peru. Dr. Huerta has generously offered his expertise and general guidance to the NCI, and to Dr. Harold Varmus in the establishment of the Center for Global Health. CGH has continued this tradition, and maintains successful relationships with the Ministerio de Salud del Perú, Instituto Nacional de Salud, and Instituto Nacional Enfermedades Neoplásicas (INEN). Dr. Tatiana Vidaurre, Director of INEN and former NCI post-doctoral fellow, now collaborates with us on a variety of initiatives including the United States – Latin America Cancer Research Network, through which our partnership with Peru, Argentina, Brazil, Chile, Colombia, Mexico, Puerto Rico, and Uruguay has advanced cancer research across the region. Similarly, our coordinated efforts with the Ministerio de Salud del Perú to host the Women's Cancer Program Summit in Lima next week have highlighted cancer control and prevention as a priority in Latin America.
Global Health Diplomacy is not something that is created effortlessly, but rather with purposeful intention. It stems from a common goal, and is forged by a resolute commitment to bettering the lives of people in every country. Ambassador Castilla and I share this vision; value the strong relationship between our countries; and look forward creating new, successful partnerships that will last well into the future.