Twitter Chat on Non-Communicable Diseases and Global Health
February 12, 2015, by Isabel Otero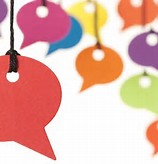 Non-communicable diseases (NCDs) account for 63 percent of deaths in the world today, or more than 36 million deaths each year. The largest burden due to NCDs (80 percent or 28 million) occurs in low and middle-income countries (LMICs). NCDs are a major cause of poverty in these countries.
The four main types of NCDs are cardiovascular diseases (e.g., heart attacks, stroke), cancer, diabetes, and chronic respiratory diseases (e.g., chronic obstructed pulmonary disease, asthma). Recently, the World Health Organization added mental health to the group to address the rapid rise of mental disorders, injuries, and violence.
Last month, Dr. Edward Trimble, Director, Center for Global Health (CGH) at the National Cancer Institute interviewed NCI's new Non-Communicable Diseases Coordinator, Dr. John Flanigan, in a special Twitter Q&A. Among may other initiatives, Dr. Flanigan will be focusing his work on the rising burden of NCDs worldwide. They discussed the rising global health burden of NCDs and possible strategies CGH might take to address the issue.
It is estimated that 8 million people living in LMICs under the age of 60 died of an NCD in 2013. One of the biggest obstacles to taking on NCDs is the number of diseases it includes and the variety of associated risk factors. There are several modifiable risk factors that increase an individual's chances of getting an NCD. These include alcohol use, high-caloric/unhealthy diets, and physical inactivity. NCI has been leading several efforts in tobacco control, which Dr. Flanigan pointed to as an area of opportunity.
Despite the challenges, it is in the best interest of all to seek out ways to reduce the growing burden of NCDs in LMICs. Illness, and the financial burden which it brings to households, further contributes to social inequities. NCDs occur everywhere, but on average the lower a country's GDP, the faster NCDs are on the rise. Presently, the USG invests 2 cents per life saved from NCDs. This is a very small investment for a large return.
During his Twitter Chat with Dr. Trimble, Dr. Flanigan touched on the role of technology in bridging the gap between collecting health data on NCDs and putting that information into a narrative for policy-makers. NCI's expertise in cancer registration already supports NCDs surveillance, which he identified as another area of opportunity to better inform policy-makers.
After having worked with Dr. Flanigan for the past few months, it is clear to see his enthusiasm for working to address NCDs not only on a global level, but in every setting. His prior experience brings to CGH a wealth of knowledge, evident in this lively Twitter Chat with our Director.
I invite you to keep an eye out for upcoming Twitter Chats hosted by CGH in the coming months!
Sources: The NCD Alliance (http://www.ncdalliance.org/); WHO Global Action Plan for the Prevention and Control of NCDs 2013-2020 (http://www.who.int/nmh/events/ncd_action_plan/en /)