What an Indian Proverb Can Teach Us About Communication
November 20, 2015, by Catherine Hidalgo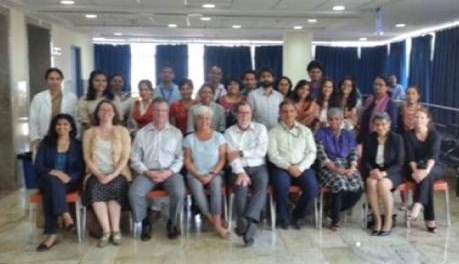 If a tree falls in the woods and no hears it, did it really happen? Rather, in India, if a peacock spreads its feathers and no one is around to see it, is its beauty lost on the world? These colloquial sayings deeply resonate with participants of NCI's most recent Cancer Research in the Media: International Workshop for Scientific Journalism (CRiM), held last month in India. A partnership of the NCI Office of Communications and Public Liaison (OCPL) and NCI Center for Global Health (CGH), CRiM is designed to educate reporters on accurate interpretation and reporting of scientific research. In response to needs and challenges raised by research organizations and journalists from select countries, CRiM bridges the gap between the scientific community and the public through educational workshops aimed at improving evidence-based scientific journalism.
In mid-October, CGH and OCPL hosted CRiM workshops in New Delhi and Mumbai, India, in collaboration with the Institute of Cytology and Prevention Oncology and the Public Health Foundation of India, and Tata Memorial Centre, respectively. CRiM convened journalists from a variety of media outlets in these regions, including the Hindustan Times; the Times of India; and the Indian Science Journal, with experts in air pollution, cervical cancer and HPV, clinical trials, and tobacco control. The workshops offered a unique, two-day opportunity for journalists and researchers to engage in discussions on barriers to effectively and accurately communicating health and scientific information to the public, and solutions for breaking down those barriers.
Training and capacity building are the cornerstones of CRiM, and workshop sessions were developed to increase awareness on the burden of cancer in India, provide methods for gathering and interpreting scientific data, and share best practices for unbiased and evidence-based reporting. Interactive activities were incorporated throughout the workshops, giving journalists an opportunity to implement recommended strategies and access resources.
In addition to the CRiM workshops for journalists, OCPL and CGH also facilitated the International Communications Skills Training (ICST) for approximately 30 scientific researchers and program staff in both locations. The one-day training provided scientists effective ways to present their programs and research results to stakeholders, policy makers, the media, and other organizations. By pairing this training with CRiM, it allowed researchers to gain better perspective on the feedback they received from local journalists about the critical role institutions and scientists play in providing information for stories on cancer, and consider how they could apply the skills they learned during ICST in responding to future media inquiries.
As the age-old Indian proverb teaches us, the magnificence of a peacock's plume is in vain if no one is there to appreciate it. Likewise, the magnificence of science and the significance it plays in our lives is lost, or worse - misunderstood, without effective communicators to help us understand it.