Reflections from a Year at the Center for Global Health
, by Tulika Singh
The Cancer Research Training Award (CRTA) Fellowship is a one-year fellowship, where a laboratory, a Center or a Division within the National Cancer Institute takes in a post baccalaureate trainee for a year. This trainee is typically someone who has completed their Bachelor's degree and is ready to put their knowledge into useful action as they chart out their career and future education. After graduating from the University of Wisconsin – Madison and serving for a year with AmeriCorps, I started my CRTA Fellowship in July 2015 at the Center for Global Health (CGH). Now as I wrap up my training, I am turning over my experiences from numerous projects and consolidating nuggets of experience and wisdom that will guide my way forward.
The First Few Months
Transitioning from a low-income neighborhood school's kindergarten classroom setting through my service with Dudley Promise Corps to training in a government office has been both interesting and challenging. Instead on being on my feet in a classroom full of children, I sat on my computer meticulously addressing emails to our collaborators, team-mates and global partners. Instead of navigating children's socio-emotional development, I was navigating teleconferences and group projects that expanded across the world. And instead of adapting to a playful version of myself with dramatic teacher-like intonations and gestures, I adapted to thoughtfully shaping my comments in meetings and exhibiting my more "professional" side. There are possibly only a few times in life that one faces such drastic changes in work environment after specializing in a field, so I am grateful to have such diverse exposures early-on.
Despite the differences, there were many ways for me to translate my experience as a teacher to contribute to developing international cancer control programs at CGH. Here are some examples of how I repurposed my skills:
Communication: In the classroom and the Center alike, I had to be more intentional about understanding where people were coming from. To do this, I needed to consider what might influence the decisions and choices of my students or collaborators, or how to present my ideas clearly and respectfully. While I had to put myself in the mind of a 5-year old to respond empathetically to my students, I made efforts to understand the cultural and organizational context of our global partners. Similarly, I applied my ability to break down information for students to present programs and concepts in a more streamlined manner.

Flexibility: Teachers everywhere know that the best laid plans often go awry as a result of diverse personalities in the classroom or a lesson plan not resonating with the kids. When this happens, flexibility and creativity must kick-in to change course productively. Likewise, I realized quickly that the Center is a very dynamic place. Whether our role is one step in the process to hand-off a project to the next person, or we are simultaneously contributing pieces to the bigger goal, everybody is responding to different pressure points in their work-flow. Being able to flexibly work with team members' ebbs and flows is an important part of progress within large national and international teams.

Thriving in a fast-paced work environment: This is the classic 21st century job qualifier. While multitasking can be a tad dizzying in reality, it is valuable to recognize that real-world challenges are not neatly divided into focused academic disciplines that often define our training environments. I experienced this in the kindergarten classroom as multiple kids would talk to me while, simultaneously, an incident was occurring in the distance. This creates simultaneous competing priorities, and decisions have to be made quickly to determine the plan of action. Similarly, at the Center, a fast-paced environment means being involved in multiple projects simultaneously and having to identify and move forward time-sensitive action items.

Facilitation: Whether running a strategic planning session or teaching a lesson, effective facilitation goes a long way. Both situations need a facilitator to provide a purposeful introduction, engage participants, harness the strengths of the people in the room, manage the group to share talk-time equitably, and direct the conversations to achieve the end-result together.
Finding ways to translate existing skill sets and developing a strong relationship with my mentor, Dr. Brenda Kostelecky, gave me an entryway to take on diverse projects and grow in my new professional-home at the Center.
Focusing on Cancer Control
Along with my mentor's Planning, Policy and Outreach team, I took on many different roles to support cancer control programs. At the most basic level, cancer control includes the myriad activities that use evidence and creative partnerships to reduce the burden of cancer in a population. These activities include research to discover new tools, surveillance to identify areas of high-burden, public health programs for prevention, clinical infrastructure to screen for cancer, tests to detect and diagnose cancer in a person, and health systems that enable people to get the treatment they need; and when treatment isn't enough, programs for survivorship, and palliative care to reduce pain and cope with the disease. Going through all these steps can be complicated to follow, making it challenging for patients to access cancer care and even more so in low-resource settings. To enable people in all walks of life to have the information they need to make smart choices about their health, as well as access the health care they need, partnerships among organizations along this continuum need to be strong and seamless. In order to create these systems, it is critical to chart out plans for cancer control. Since the Center is focused on Global Health, we are tasked with understanding the limitations and unique opportunities of cancer control in low-resource settings and providing leaders with key evidence, so that they can save the most lives possible with every dollar spent.

Figure 1: The cancer control continuum.
Another reason that cancer control requires planning is that there are many different types of cancer, all with diverse causes. While research has found several risk factors and identified some causes with great certainty, there is a lot that we do not yet know. With everything from sun exposure, to genetics, to exercise, to diet, and human papilloma viruses "causing" different cancers, it can be challenging to figure out which one matters the most and what we should reasonably do to control these risk factors. Especially in communities that have a very limited budget for cancer control, it can be hard to determine which program will do more to save lives.
Besides limited resources, a key challenge to working in a global environment is that no single organization can feasibly develop interventions to address all these diverse risk factors. While governments can implement policies to control inappropriate tobacco marketing, community organizations might be better equipped to encourage physical fitness. To effectively control cancer, it is essential that people from very different backgrounds work together. This includes non-profits, policy-makers, healthcare professionals, laboratory pathologists, researchers, private sector, universities, public health departments, and governments. In order to motivate stakeholders and promote cooperation towards a common goal, planning a system that strengthens effective partnerships is absolutely essential.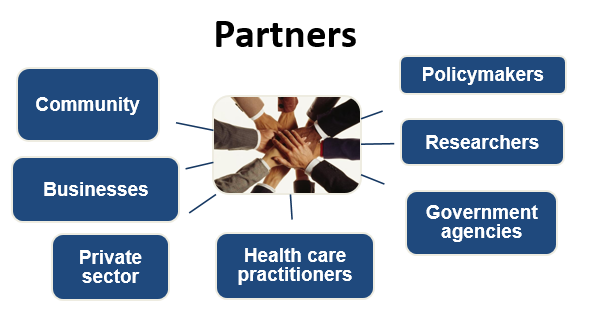 Figure 2: Stakeholders involved in cancer control programs and planning.
Cancer Control Planning - this is where my mentor, our team, and I come in. One of my biggest areas of contribution this year has been to the International Cancer Control Leadership Forums program (ICCLF). The Forum is a two- to three-day workshop that introduces seminar modules on how specific cancer control priorities can be addressed through planning efforts, and interactive sessions for each country to develop their own action plan. The goal is to increase the capacity of participating countries from a region to initiate or enhance cancer control planning and implementation in conjunction with their regional partners. Over the year I've contributed to four leadership forums; thus, I've been involved in a variety of roles including writing contracts, developing materials to build the program, reaching out to our global partners to gauge their needs, organizing schedules, implementing the Asia-Pacific Phase II Leadership Forum, and following up with countries to provide technical support.
I am excited to contribute to this program because I believe that this program fills a critical gap, in that it provides a venue for partners from different sectors to meet, even if they may not be able to do so in their current leadership roles. This helps countries and leaders move beyond the limitations of their current cancer control infrastructure and plan to build something greater. The ICCLF program highlights a variety of knowledge, addressing each aspect of the cancer control continuum. This broad focus is special because it breaks down siloes of expertise and brings different professionals together to tackle multidisciplinary issues. Participants harness this opportunity to learn from other countries in the region who are facing similar challenges, and share practical solutions with each other. As a result, the program facilitates the communication and integration among cancer researchers, policy-makers from Ministries of Health, non-profit leaders, and nurses. These collaborations allow each member to understand the needs, pressure points, and aspirations of key leaders and stakeholders, creating an ideal environment to launch a working relationship. I hope that my contribution and support of these interactions has helped to lay the groundwork for effective cancer control infrastructure, and allow members to leverage novel resources.
Partnerships
Over time I have gained a much deeper understanding and respect for the groundwork needed to establish and fuel effective global partnerships for cancer control. While teamwork and partnership have become buzz words and sound like obvious ideas, in reality there are many factors influencing the success of partnerships and no "magic bullet" to making an impact together.
Reflecting upon the many partnerships I've observed here and elsewhere, I believe successful partnerships are marked by a combination of characteristics, including organizational will, addressing true need, reliable support, mutual investment, shared vision, actionable goals, and regular communication. Although it takes some time and effort to work together with others as partners, I think that ultimately it is time and effort well-spent when programs are better able to target a genuine need in the community, and participants are more accountable to achieving outcomes as a result of their early engagement.
 "If you want to go fast, go alone. If you want to go far, go together" – African Proverb
Throughout this year, I've dedicated a vast portion of my time to communicating with our partners. I've been on international phone calls at night in order to work through the time difference with colleagues across the world in Southeast Asia, written carefully crafted letters representing CGH to foreign dignitaries, and taken the time to navigate barriers in order to include our partner's views and interests. I've witnessed moments of synergy, as well as learned from my mentor's example in how to respectfully and tactfully work through differences. I have gained a greater appreciation for how empathy, compromise and purpose can sustain a partnership through challenging moments and result in a more resilient organizational relationship.

Figure 3: Conference hall and attendees of the Asia-Pacific Phase II Leadership Forum in Singapore on March 18, 2016.
During my fellowship year, the moment when I most tangibly witnessed the value of an effective partnership was when I went to Singapore to support the Asia-Pacific Phase II Leadership Forum this past March. I am honored to have had the opportunity to meet our invited country team members from Southeast Asia and the Pacific in-person. Meeting our partners in real-life made the countless email exchanges, documentation, reporting, and iterative revising more than just that, it allowed me to see how our small actions translate to a big impact. Our sessions provided valuable information to our participants, which would spark discussions and lead to the development of evidence-based cancer control programs, which would in turn lead to very real improvements in the lives of cancer patients. To show this through an example, I am reminded of a conversation in the morning session that made a big impression on me: A Pacific country representative noted their recent successes with launching a cancer registry, and in response a country team representative from Southeast Asia nearly leapt up with enthusiasm to discuss strategies to improve their own cancer registry. As they discussed the challenges and shared best-practices specific to the region, I began to imagine the potential this conversation could have: learning from the Pacific country representative, the Southeast Asian country would be able to improve their cancer registries, and improved registries mean that the cancer burden would be tracked more accurately. Empowered with this information, national leaders in the Southeast Asian country would be able to make knowledgeable decisions on how to invest scarce resources. When scare resources are placed in the area of greatest need, more people would be served. With the provision of critical healthcare services, someone in Southeast Asia would successfully prevent or treat their cancer. This cascade could go on, as a survivor would live, she would leave the hospital healthy, she would go back to her family, raise her children, sustain her job, and have a beautiful second-chance that we all deserve. While I may never get a chance to meet this survivor, I feel grateful to have a small part in launching this very important cascade.
As I attended to the details of implementing the conference, co-facilitated a roundtable on cancer policy and led an action planning session, it became more clear to me that having the "right" partners at the table, and creating an environment conducive to strategic collaboration would ultimately create order in the flurry of disjointed activities to serve cancer patients, and lead to a more efficient system that will someday make a real difference for people.
While this may seem like a far-away goal, I believe that being able to envision how our small actions build on each other to get to the ultimate goal helps us find the partners we need; and with effective partnerships, we can accomplish more together. Building global relationships with movers-and-shakers in the field and learning about how to do this has been absolutely fundamental to my growth at the Center.
As my fellowship wraps up, I have an exciting opportunity to look at partnerships through yet another lens. While I know experientially what a successful partnership looks like, I am presently conducting a social network analysis to use evidence to assess partnerships, pinpoint critical factors to our success, and highlight ways our partners can move forward with greater productivity. I am eager to complement my experiences of partnership with the lens of quantitative evidence.
Charting my Journey
Bringing these experiences to my PhD program in Molecular Genetics and Microbiology, starting this fall at Duke University, I am hoping to connect my interest in science to my commitment to better health for people globally. With doctoral training, I will be able to understand diseases mechanistically, investigate my hypotheses, and design evidence-based interventions. I am interested in investigating translational research questions where research links to outcomes of clinical or public health relevance. This degree will equip me with the analytic and investigative capacity to address tomorrow's health challenges.
As I look forward, I am deeply grateful to CGH for giving me this wonderful opportunity for personal growth and professional development. The lessons I have learned here have truly shaped my career vision and aspirations. In particular, I am immensely thankful to my dedicated mentor, Dr. Brenda Kostelecky, who coached me, challenged me to grow in this fellowship and taught me to achieve more through her example. Brenda's openness to discussing my ideas and flexibility in always making time for me has made a big difference to me. I am truly grateful for Brenda's mentorship, and the opportunity to work with some phenomenal colleagues at the Center for Global Health.