A short narrative - Challenges and opportunities in expanding research in the Middle East, North Africa Region
May 18, 2016, by Hedieh Mehrtash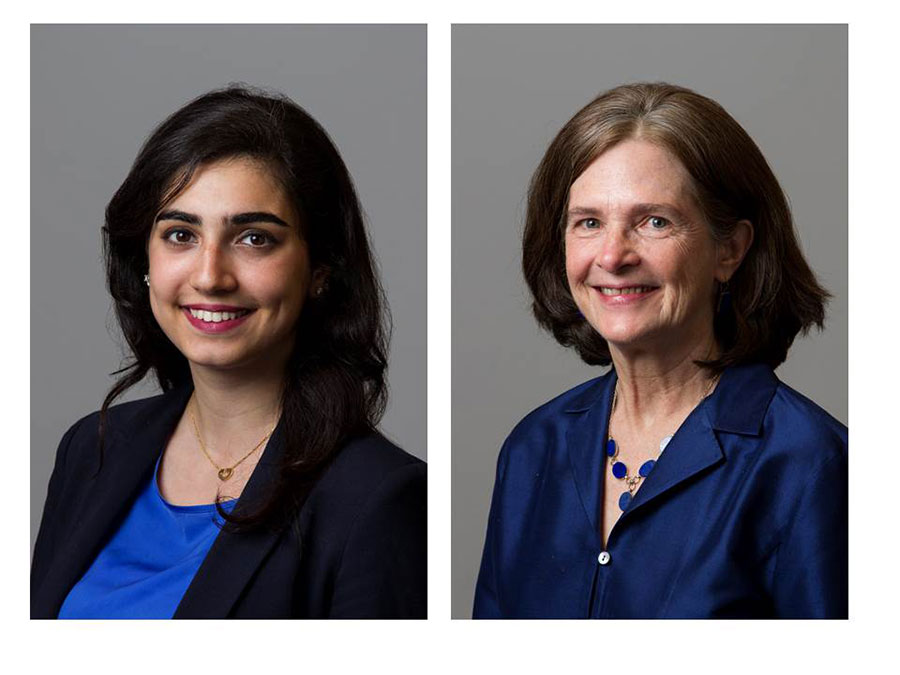 Born in Iran, raised in the United Arab Emirates, and educated in Boston, I have experienced very diverse cultures and global settings. I am grateful for the opportunity provided by Center for Global Health at the National Cancer Institute to explore ways to expand cancer research globally, particularly in the broader Middle East.
During my stay at NCI I've had the pleasure of meeting a variety of experts, including Dr. Marie Ricciardone who works with a network of partners in the Middle East and North Africa (MENA) region. I recently asked her to draw on her experiences in the region for advice about the challenges and opportunities ahead as I advance my own career as a researcher in the MENA region.
Q: How have your past experiences prepared you for your current position?
MDR: My background is in science and diplomacy. Given my husband's diplomatic career, I've had opportunities to work as a research scientist, university professor and development program officer in several countries, including Turkey, Egypt, Libya, Afghanistan, Iran, and the Philippines. These experiences expanded my awareness not only of foreign cultures, but also my own American culture. I've found that an empathetic appreciation of our similarities and differences is absolutely essential to successful collaboration in international projects. My experiences in science and diplomacy enable me, In my current role at CGH, to better understand the health needs of other populations and plan how American and foreign scientists can better collaborate to advance global research and best practices with respect to NCDs.
Q. Which recent publication(s) about MENA region have influenced your thinking and approach?
MDR: Until now, communicable diseases have claimed priority for global health attention and resources. However, we all realize – at some level – that the challenges presented by NCDs are present now, and growing. The recent publications of Chris Murray and the Institute of Health Metrics and Evaluation (IHME) on the Global Burden of Diseases, and the Council on Foreign Relations (CFR) Task Force Report on The Emerging Global Health Crisis: Non-communicable Diseases in Low- and Middle-Income Countries provide convincing data for dramatically increasing emphasis on non-communicable diseases (NCDs). Their evidence also underscores the urgency of CGH's mission to reduce the cancer burden in LMICs through improved research collaboration. CGH has the capabilities and standing to help rally world attention and the resources to help advance the scientific research needed to address these problems.
Q: Which aspect(s) of your work in this field do you enjoy most?
MDR: I especially enjoy the human element of communicating and collaborating with health professionals in the Middle East, North Africa, and Turkey who are committed in their own countries to the great global effort against cancer. It is gratifying to share research results and evidence-based practical actions that have worked in the United States. With such evidence, they can advocate more effectively in their own settings for effective steps towards cancer prevention and control. This can transform national public health policies as well as research. Many health professionals in the region tend to have a treatment-focused approach. But the American experience demonstrates that preventive measures like tobacco control and early diagnosis can yield dramatic results.
Q: Finally, I am interested in growing my public health career in the MENA region. What advice can you give me as I begin my journey?
MDR: Continue exactly what you are doing. I would suggest working abroad – to connect with researchers in country, who can give you a real sense of the magnitude of the policy and healthcare issues. I would also recommend maintaining an understanding of the economic and geopolitical dynamics within the region. Understanding the cultural environment is critical as you expand your efforts to develop effective research programs.
* * *
I'd like to sincerely thank Dr. Ricciardone for sharing her insight and expertise about her work in the MENA region, and for encouraging me to stay engaged.
As a junior researcher and investigator, I am excited to enter the research space not only to serve as an advocate for bolstering public health research across the region, but also to continue developing my skills in the area of cancer prevention, particularly tobacco control, in order to better address the needs of the population.