NCI and the Chinese National Cancer Center pursue new collaborations in cancer research
June 6, 2016, by Isabel Otero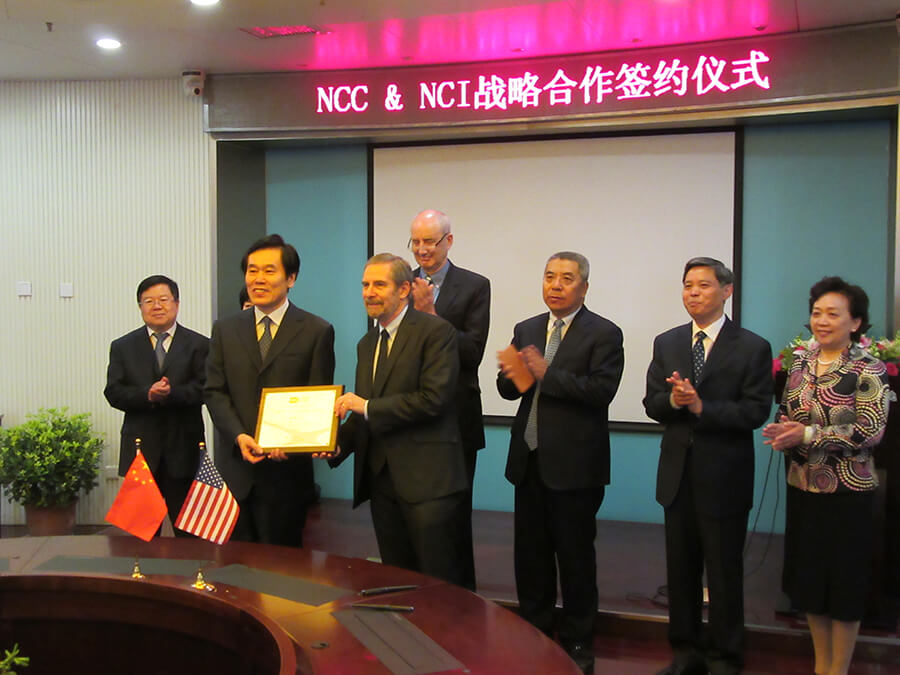 The NCI Center for Global Health (CGH) has been working closely with the Chinese government, including the Chinese National Cancer Center (NCC), to strengthen cancer research in the U.S. and China.
CGH Director, Dr. Ted Trimble, and East Asia Program Director, Dr. Ann Chao, traveled to Beijing with Mr. Matthew Brown from the Department of Health and Human Services Office of Global Affairs to attend the Joint Meeting of the NCC and the U.S. NCI, held on April 22nd. This joint meeting occurs annually and alternates between the United States and China. This year the group discussed cooperation in the areas of colorectal cancer screening, microbiome research, and joint clinical research activities in immunotherapy.
During their visit, Drs. Trimble and Chao attended the 14th Annual Meeting of the National Cervical Cancer Consortium and Symposium of Cervical Cancer Prevention in China. They were joined by the Acting Director of the NCI, Dr. Doug Lowy, who delivered a keynote address on precision medicine to prevent HPV-associated cancers. Dr. Trimble gave the keynote lecture on the treatment of HPV associated pre-cancers and neoplasia. The U.S. delegation met with the leadership of the Cancer Institute and Hospital, Chinese Academy of Medical Sciences (CICAMS) to discuss a joint clinical research workshop and several research areas to pursue in collaboration. The discussions were followed by the signing of a Statement of Intent between the NCI and NCC to reinforce collaboration efforts between the two research institutions.
In addition, Drs. Trimble and Chao participated in the Roundtable discussion on Comprehensive Prevention of Cervical Cancer in China. Dr. Trimble served as co-chaired for the roundtable, organized by CICAMS, leading discussions on the current situation, new developments, and next steps for achieving comprehensive cervical cancer prevention in China. The topics focused on the HPV vaccine, behavioral education, screening, diagnosis, treatment, and economic considerations in relations to women's health. Drs. Trimble and Chao met with the leadership of the International Health Exchange and Cooperation Centre to explore the opportunity for joint activities in sub-Saharan Africa.
In order to help promote NCI's work in China, I had the pleasure of working with the Deputy spokesperson for the U.S. Embassy in Beijing, Ms. Mary Beth Polley, to facilitate media coverage surrounding the trip activities. This included an interview with Dr. Trimble in Sanlian, a leading Chinese print outlet. In addition, Dr. Trimble participated in an Embassy video shoot for the series, "What "X" Means to Me", which gets posted on Chinese social media platforms with Mandarin subtitles. Finally, media coverage included a discussion between Dr. Lowy and the editor from Guokr, a prominent Chinese online blogger for the science community. The U.S. Embassy posted about these events on its social media platforms for its 2M+ followers. Please visit our website in a few weeks for a link to the Embassy video.
.