Healthy Kids; Healthy World - Take Your Child to Work Day 2016
May 10, 2016, by Tulika Singh & Catherine Hidalgo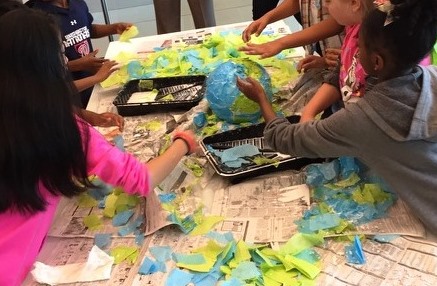 Take Your Child to Work Day had all of CGH saying "Healthy Kids; Healthy World!" CGH staff and K-5th grade students learned about healthy choices, linked together get well wishes, and even got in some hands-on time working around the globe.
On April 28th CGH joined several NCI offices at the Shady Grove campus to celebrate Take Your Child to Work Day 2016. Volunteers hosted three activity stations, each offering creative fun with a message: With healthy kids, we can create a healthier world.
The first activity station offered students an opportunity to share words of encouragement with kids staying at the NIH Children's Inn during treatment. Heartfelt messages, embellished with stickers, stamps and drawings, were captured on construction paper and chained together to form Get Well Links.
It was all fun and games at the second activity station as kids challenged each other to a game of Stop Cancer BINGO. Clues were read aloud as everyone raced to pair the message with the picture, match three in a row, and be the first to shout BINGO!
Finally, things got a little messy as kids learned it takes teamwork from around the world, working together to bring an end to cancer. The last activity station brought enthusiasm to the table as everyone pitched in to create Hands Around the World paper mȃché globes.
The Healthy Kids; Healthy World hands-on activity stations featured creative ways for kids to help stop cancer in their own communities and around the world. Thank you to all of the CGH staff volunteers for a successful Take Your Child to Work Day 2016!