Grantee Spotlight: Community Health Educator Antoinette Ayers, Helps VA Residents Become More Proactive about Managing Their Health
January 10, 2014, by CRCHD Staff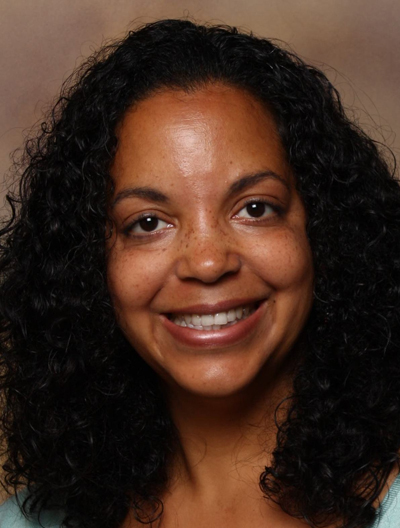 Community health educator (CHE), Antoinette Ayers, has been working tirelessly to make health services more accessible to the people of Petersburg, VA. And by all accounts, she and her colleagues at the Virginia Commonwealth University's Massey Cancer Center, which specializes in cancer prevention and treatment for the underserved, have made a real difference by bringing a health resource center to the city's historic public library.
As the saying goes, good things come in small packages. Physically, the resource center is little more than a bookshelf or two filled with books, magazines, and videos on a range of health topics, and a desk staffed by information specialists who have received Consumer Health Information Specialization training from the National Library of Medicine at NIH.
The library was determined to make space for this initiative, because the Petersburg Public Library Healthy Living and Learning Center, as it is known, was viewed as the start of addressing the health issues facing the community of Petersburg—a city named the unhealthiest place to live in Virginia, according to a recent study by The Robert Wood Johnson Foundation. The study showed the city's premature death rate as being more than double the state average and four times higher than the county average. Petersburg also scored worst on socioeconomic factors, such as education, unemployment, and poverty, and in unhealthy behaviors, such as adult smoking, obesity, and physical inactivity.
Launched as a partnership among the city of Petersburg, Massey Cancer Center, and the Crater Health District, with funding from the National Library of Medicine and the local Cameron Foundation, the resource center connects residents to health resources within the community and provides them with reliable and accurate information about their health concerns—all presented in language they can understand. Health literacy is an important concern of the center because it can impact health outcomes and costs. "Sometimes patients go to their doctor and are afraid to admit they don't understand what the doctor told them or understand the seriousness of their situation," says Ayers, an NCI/CRCHD National Outreach Network (NON)-supported CHE who has worked in health education and communications for many years. "We attempt to provide the information in a format that is best for the patient and share resources in support of their care."
It can be difficult for some individuals to see a doctor when the cost of medical care and the fear of treatment are so high. A library, on the other hand, is an excellent safe haven to learn about important health issues, such as cancer, and to find doctors or treatment centers for themselves or family members. Although programs like this do exist in many hospitals, Ayers has found that underserved individuals are generally more comfortable learning about their health in more neutral settings such as a library, where information and assistance are more easily accessible and free.
Staff provide resource center visitors with access to computers and show them how to do systematic searches to obtain health information and local healthcare resources. They also make available simplified graphics that are useful in helping people understand, for example, where their cancer is located in the body.
The goal is for community members to become more proactive in their health management. So far, Ayers says the number of people coming to the center has been gratifying. Approximately 65% of underserved residents using the center to gain information are aged 34 – 64 (58% are women) and 60% are obtaining the information by themselves. The center refers approximately 30% to other health resources, including doctors, local hospitals, and clinics.
"Sometimes patients have transportation issues and we lead them to community organizations to help provide that trip to the doctors," says Ayers. Many residents are unaware that organizations, such as The American Cancer Society (ACS) and the American Red Cross, have transportation programs that use volunteers to drive patients, especially elderly and those with vision or other handicaps, to medical appointments.
Ayers regularly organizes lectures by physicians and nurses for the public on myriad health topics, including preventive cancer screenings and treatment. There are also discussions promoting healthy lifestyles covering topics such as diet and physical activity.
Ayers, who also conducts community education and outreach with cancer survivors, recently developed an educational photovoice booklet about a breast cancer survivor's journey, as well as founded "Pink Challengers," a survivors' social group.
The Community Physicians Communications Team is another initiative of Ayers, the mandate of which is to open lines of communication with local physicians' and offer up-to-date cancer resources and local wellness programs. The team is also working with the physicians to encourage them to refer their patients to the center for further information that clarifies and/or expands upon their discussions with their patients.
Ayers is not one to give up on trying to find new ways of engaging as many Petersburg residents as possible and urging them to become more involved in taking better care of their health. Thanks to her, the resource center is now "on the road." She has been working on the idea of a mobile resource center to reach out to individuals who may not be able to get to the library, and is developing partnerships with local food banks, county social services offices, and the housing department to set up additional resource centers at locations underserviced individuals frequent.
Ayers and her colleagues' efforts are paying off. The Healthy Living and Learning Center already has been cited by the Virginia General Assembly and the state library as a program to follow.