Grantee Spotlight: Julie Dang, M.P.H. - Personalizing Outreach to Address Asian Cancer Health Disparities
May 15, 2014, by CRCHD Staff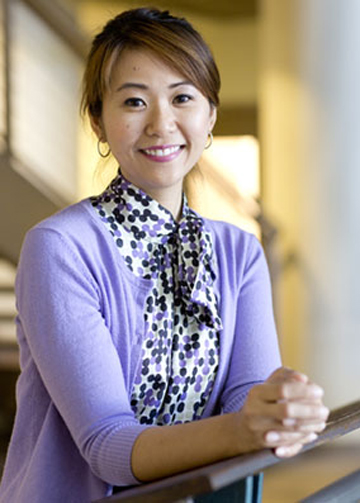 The Asian American Network for Cancer Awareness and Training (AANCART) is now offering culturally sensitive cancer education brochures and videos for the Asian public in a variety of Asian languages. AANCART's educational efforts are part of the UC Davis Comprehensive Cancer Center's ongoing work to reduce cancer health disparities through community-based participatory education, training, and research. AANCART, designated by NCI as the National Center for Reducing Asian American Cancer Health Disparities, is funded under a U54 grant by the NCI Center to Reduce Cancer Health Disparities.
"Working closely with the Asian American community, it took us about three years to produce the videos," says Julie Dang, M.P.H., Administrative Core Director and Community Health Educator for AANCART.
The brochures and videos are available to the public in Cantonese, Hmong, Korean, Mandarin and Vietnamese. (see videos and links below). The five-minute videos were designed to inform Asian Americans about the importance of getting involved in cancer research. One of AANCART's major goals is to increase Asian Americans' awareness of clinical trials and the importance of biospecimen donation, such as blood, saliva, or tissue.
As a result of AANCART's formative research, "we learned that physicians want to approach patients, but language and culture barriers hindered effective patient/provider communication," Dang says. "We would like to see health systems throughout the United States utilize our materials because these communities would want to participate in cancer research."
According to Dang, "Asian Americans' involvement in clinical trials and biospecimen donation is crucial because Asian Americans are consistently underrepresented in cancer research." Studies have shown that language barriers, mistrust of the medical system, and cultural differences create misunderstandings about the nature and purpose of clinical trials and biospecimen donation, which have discouraged participation.
UC Davis researchers found less than five percent of all clinical trials in the U.S. include participants from racially/ethnically diverse populations. They also discovered that less than two percent of clinical cancer research studies focus on non-white ethnic or racial groups, and biospecimen collection among diverse populations is lagging far behind that of non-Hispanic whites.
"We have made enormous strides in obtaining biospecimens from within the Asian community," Dang says. Since AANCART began studying the attitudes and perceptions of Asian Americans, more than 1,000 biospecimens from Asian Americans have been collected.
Now, with the assistance of an NCI/CRCHD U54 Supplement, Dang and her colleagues are currently meeting directly with Asian American patients at the UC Davis Comprehensive Cancer Center and showing them the DVDs and brochures to raise their awareness of the importance of clinical trials and biospecimen collection. They also hand out DVDs to interested individuals who want the educational material for Asian community events.
The one-on-one educational sessions with patients provide detailed information about research opportunities. Patients eligible to participate in a trial after discussing it with their doctor are then assigned a bilingual "patient navigator" who helps them through every step of the clinical trial.
Dang earned her B.A in English at the University of California, Davis and her M.P.H. at San Jose State University. She is also a Certified Health Education Specialist.
Watch AANCART videos in Asian languages with English subtitles, and read more about AANCART's research. You may also read a recent article published by AANCART researchers titled Enhancing minority participation in clinical trials (EMPaCT): Laying the groundwork for improving minority clinical trial accrual.