Grantee Spotlight: Nathan Ellis, Ph.D. Seeks Molecular Basis of Colorectal Cancer Disparities in African Americans
March 28, 2014, by CRCHD Staff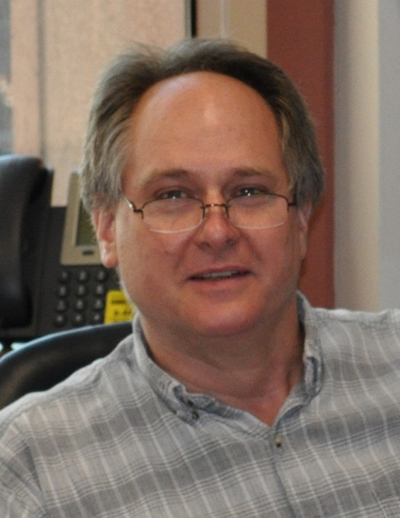 Colorectal cancer (CRC) death rates have been declining steadily overall; however, the same has not been true among African Americans (AA). While access to healthcare may be a partial explanation, there is the possibility that genetic differences between AA and non-AA populations explain some of the discrepancy.
Genetic risk factors are known to contribute to CRC susceptibility in whites but these risk factors have not been studied in AAs. That is precisely where Nathan Ames Ellis, Ph.D., internationally renowned geneticist and CRCHD U01 grantee is focusing his energy. Using comparative population-genetic analysis, he hopes to shed new light on cancer susceptibility and the biological basis of CRC health disparities in AA.
Ellis, who is Faculty Director of the Genomics and DNA Sequencing Facilities in the Research Resources Center, University of Illinois at Chicago (UIC), has dedicated his career to understanding the functional consequences of genetic variation in humans. His work spans multiple areas of human molecular genetics, including sex chromosomes, sex determination, DNA repair, evolution and population genetics, and the relationship between maintenance of genome integrity and cancer susceptibility.
African populations are more diverse genetically than other populations. Ellis' recent work has shown that, although some genetic risk variants are shared between AAs and whites, there are others that are found only in AAs. These unique genetic variants could turn out to be important risk factors when assessing CRC susceptibility in AAs.
It has long been known that AAs have a higher risk of developing CRC than whites, as well as poorer outcomes and the highest mortality rates. It is also noteworthy that AAs develop more cancers on the right side of the colon than do whites. CRC on the right side is typically both harder to detect and more aggressive, which might contribute to AAs' lower post-treatment survival rates, according to Ellis.
From 2009 through 2012, Ellis and his colleague at UIC, Xavier Llor, M.D., Ph.D., received funding from the American Cancer Society (ACS) to examine CRC in AAs. The ACS grant, in addition to the U01, supported the establishment of the Chicago Colorectal Cancer Consortium (CCCC), a group of physicians and researchers from Chicago-area hospitals conducting research to identify CRC biomarkers and determinants of disparities. CCCC has also started a biospecimen bank to enhance their research efforts.
With the support of a grant from the American Institute for Cancer Research and his U01, Ellis is also examining the relationship between serum vitamin D levels and genetic polymorphisms in AA patients with CRC. His findings suggest that low vitamin D levels in AAs explain, in part, disparities in CRC incidence. Vitamin D supplementation could compensate for this difference and potentially reverse some of the disparities in CRC morbidity and mortality.
Ellis, who additionally holds an associate professorship in the Department of Pediatrics at the Institute of Human Genetics, UIC, is also widely recognized for other research—cloning the gene mutated in Bloom syndrome, a rare inherited disorder seen more frequently in Ashkenazi Jewish children, and characterized by an increased risk of cancer, among other health problems. In 1998, he was awarded a U.S. Patent for "Methods for the Diagnosis of Bloom's Syndrome."
Ellis earned his B.A. in philosophy and mathematics from St. John's College in Annapolis, Maryland, and his Ph.D. in genetics from the University of Washington, Seattle. He did his postdoctoral training at the Laboratory of Human Molecular Genetics, Imperial Cancer Research Fund (now known as Cancer Research UK) in London, England.