Grantee Spotlight: Shawna Hudson, Ph.D. - Helping Cancer Survivors EXCEL
June 5, 2014, by CRCHD Staff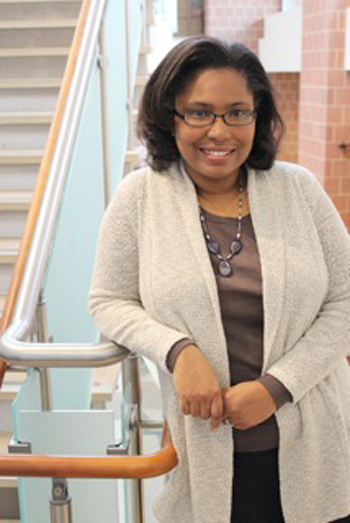 Access to care for cancer disparity populations, such as the elderly and racial/ethnic groups, is improving when it comes to treating their primary cancer. But, when it comes to follow-up care or prevention of secondary cancers, these and other patients continue to fall through the cracks. "Cancer survivors do not always receive screenings at recommended intervals nor comprehensive chronic disease management." That is why medical sociologist Shawna Hudson, Ph.D., is trying to find ways to make these patients more aware of the need to stay in touch with their physicians and have regularly scheduled tests to check whether their cancer has returned.
Hudson is Associate Director for Research for the Division of Family Medicine and Community Health at Rutgers Robert Wood Johnson Medical School, in Somerset, New Jersey. Her research focuses on disparities in cancer treatment and screenings in primary care settings, as well as organizational factors in primary care practices that facilitate increased use of evidence-based guidelines.
According to the NCI, there are nearly 13.7 million cancer survivors in the US. "Many of these survivors older and have multiple chronic diseases that require management," says Hudson. All the more reason to help survivors better understand their healthcare needs and be more proactive in managing them. And with a projected shortage of oncologists by 2020, that means primary care providers are increasingly being called upon to manage survivors' follow-up and care.
Hudson, who is also Associate Professor of Family Medicine and Community Health at Rutgers University, received an NCI/CRCHD K01 Career Development Award to examine survivors' lives after cancer and their transitions from specialists to primary care. The goal of her research was to explore survivors' preferences for receiving care from oncologists versus primary care physicians, and to examine how patients think about these options for care, their decision-making processes, and the impact of these factors on receiving follow-up care. She found that patients who knew less about follow-up and were less active in their care seeking were those who were poorer, had limited decision-making skills, and experienced top-down rather than collaborative relationships with their treatment teams.
"Many cancer survivors treated for breast or prostate cancers often don't realize they need to be screened for other cancers too, such as colorectal cancer," said Hudson. "They focus mainly on the primary cancer and recurrence." She found that there was a definite need to improve survivors' transition from active cancer treatment by cancer specialists to long-term, coordinated screening and surveillance by primary care physicians.
Since completing that study, Hudson has gone on to receive two other NCI grants (R01 and R03) to study survivorship. Her R03 study was an expansion of her previous examination of survivors' decision-making around use of cancer specialists and primary care providers for follow-up care.
Hudson's current R01 study will follow more than 400 breast, prostate, and colorectal cancer patients over a five-year period in their primary care practices. Hudson's EXCELS (Extended Cancer Education for Longer-term Survivors) intervention involves follow-up health coaching phone calls, data tracking, the creation of a patient Web site, and smart phone apps with education and decision support materials—all intended to get these survivors engaged in self-care and back on schedule with appropriate follow-up care.
Some of Hudson's most profound experiences regarding cancer survivorship are related to her own parents' responses. Her mother is a lung cancer survivor and her father is a prostate cancer survivor. "Now that they have been introduced to smart phones, my parents can't wait to try the new apps and see the new Web site we are designing," she said.
Hudson earned her B.A. in 1992 from Rutgers College and her Ph.D. in Sociology from Rutgers University in 2001. She completed her postdoctoral fellowship training at the Rutgers Cancer Institute of New Jersey with funding from the New Jersey Commission on Cancer Research. She has also participated in the Moffitt Cancer Center Cancer, Culture and Literacy Institute and the NCI Cancer Prevention and Control Summer Institute. Hudson is the recipient of several honors and awards. Her research has been published in a number of journals, and in 2012, Hudson was appointed Associate Editor, Journal of Cancer Survivorship.