Dr. Dinah Singer: Increasing Diversity in Cancer Research: One Lab at a Time
March 27, 2015, by CRCHD staff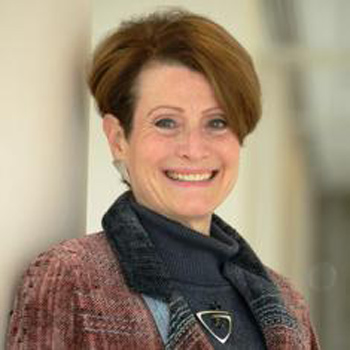 As part of the feature series on "Increasing Diversity in Cancer Research," this month we spoke with Dr. Dinah Singer, Director of the NCI's Division of Cancer Biology, about her insights on training and mentorship, and the role it plays in attracting and retaining talented students, trainees, and new/early state investigator underrepresented in the biomedical cancer research enterprise. Two of Dr. Singer's underrepresented mentees, Dr. Chanelle Case Borden and John Campbell, were also asked to offer their perspectives on mentorship.
When it comes to scientific research and guiding the careers of young investigators from underrepresented backgrounds, Dinah S. Singer, Ph.D., Director of NCI's Division of Cancer Biology (DCB), believes that life's limitations are only bound by one's imagination. Being open to opportunity and never living too close to one's comfort zone provides inspiration for her and how she approaches the many students and fellows with whom she interacts and mentors.
As a Senior Investigator and Chief of the Molecular Regulation Section of the Experimental Immunology Branch, NCI's Center for Cancer Research (CCR), in addition to serving as Director of DCB, Singer conducts research in regulation of gene transcription and its role in cancer, gene expression and molecular immunology. In her role as an intramural researcher, she has trained a large number of post-doctoral fellows, post-baccalaureate students and high school students, including those from diverse backgrounds, who have gone on to successful scientific careers. "Mentoring students and fellows both inspires and energizes my life and research," said Singer.
On Mentoring
"Strong mentorship is key to helping instill and nurture students' interest in science and cancer research," Singer said. "If students are passionate about science, mentorship is easy. However, sometimes a student's interest will get deflated along the way, and good mentoring can help rekindle that passion."
"I provide the same kind of mentorship and have the same expectations for all my students regardless of their background," Singer said. "Good mentorship involves a lot of time. I meet with my mentees on a weekly basis. We talk about their research project, the current literature, and review different papers on cancer research."
Key to any young investigator's success is "challenging students to think critically in math, English, physics, history – as well as in the biological sciences," said Singer. "Mentoring often involves helping students to rethink their experiments and find new approaches and solutions to problems so they can pull it apart critically in a thoughtful, organized, and structured way."
Mentoring from Underrepresented Mentees' Perspectives
"Many qualities signify an outstanding mentor: compassion, wisdom and humbleness; and being forthright, patient, and honest; as well as knowledgeable, generous and genuine," said John Campbell, a post-baccalaureate fellow in Singer's lab. Dr. Singer, he said, has helped him become "a stronger thinker and communicator."
"The skills I've learned in her lab are transferable to career paths outside of basic science research, and contribute to the investigative tools I've gained - to address unfamiliar situations, ask the right questions, and carryout the proper follow-up," Campbell said.
Chanelle Case Borden, Ph.D., a postdoctoral fellow in Singer's lab, agrees. "Dr. Singer has helped me to learn how to think like a Principal Investigator," Case Borden said. "The most important quality (of a good mentor) is that they take a genuine interest in you, and see you as a whole person, not just as a 'cog in the wheel,' or a 'pair of hands,' " Case Borden said.
Underrepresented students, fellows and investigators can often experience unique challenges in the research environment, and good mentoring can provide critical support in one's growth and career development.
"As a black male," said Campbell, "those who look like me are underrepresented in every discipline of science. But, I have always been determined not to allow negative stereotypes and preconceived notions to be excuses for missed opportunities for my growth."
Case Borden adds "I've had a fair share of challenges and was concerned about my ability to pursue a Ph.D., but having people in my corner who supported me really helped me to believe that I could achieve my dreams" (see Case Borden's video spotlight).
NCI's Intramural Research Program
Within the NCI community, the NCI Intramural Research Program was established to support the work of scientists working at the NIH Clinical Center, offices, and laboratories located in Bethesda, Maryland. NCI's intramural researchers and programs are supported by the Center for Cancer Research (CCR) and the Division of Cancer Epidemiology and Genetics.
Today, CCR supports about 250 principal investigators, 800 postdocs and clinical fellows, and over 100 staff scientists and staff clinicians conducting research in basic, clinical, and translational sciences. The Center's researchers pursue high-risk, high-impact research, and translate their discoveries into clinical applications using the infrastructure provided by the NIH Clinical Center. In addition to research, CCR is also committed to supporting and training the next generation of cancer researchers.
Several of the NCI's intramural training programs have been established to support students from disadvantaged backgrounds and/or groups that are underrepresented in biomedical research learn more about scientific careers. These include the Introduction to Cancer Research Careers, which sponsors highly-qualified students on a 2-day-visit to the NIH campuses to tour the facilities, listen to and network with research fellows, and potentially interview for an internship, and the CCR Cancer Research Interns (CRCI) program, a summer internship program which places students with cancer-related research interests into labs and branches across the CCR for hands-on research experiences.
Additional NCI intramural supported training opportunities and post-baccalaureate internships can be found here. As an NCI intramural fellow or young investigator, resources also include the CCR Fellows & Young Investigators Association, which fosters communication among fellows and the CCR research community and serves as a liaison to CCR senior management on programs affecting the training experience. Opportunities for tenure track investigators include the Earl Stadtman Tenure-Track Investigators and Lasker Clinical Research Scholars initiatives.
Taken altogether, the training programs within the NCI Intramural Research Program provide a rich training environment for enhancing workforce diversity. There will be many advantages to this, for as Dr. Singer stated, "the more diversity we have, the more diverse ways we have at looking and thinking about problems, which in the end will benefit the science."
According to Sanya A. Springfield, Ph.D., Director of NCI's Center to Reduce Cancer Health Disparities (CRCHD), "good training, good mentoring and the science of health disparities go hand in hand."
"In order for us to achieve our vision – of eliminating cancer health disparities in the U.S. – we must ensure that the biomedical workforce is as diverse as the people we serve," Springfield said. NCI is strongly committed to improving diversity in its intramural research and training environment. To that end, a recently formed taskforce, appointed by Dr. Varmus, is currently exploring, developing, and implementing novel strategies for enhancing workforce diversity within the intramural research and training landscape of NCI.