Grantee Spotlight: Dr. David Turner - Investigating the Role of Nutrition in Cancer Growth for African Americans Living with Prostate Cancer
February 20, 2015, by CRCHD staff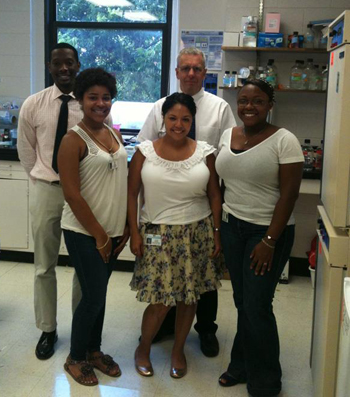 Cancer is a complex disease. Various factors (including genetic, environmental, and socioeconomic) contribute to its causes. One of these factors is that what you eat can affect your cancer risk.
David Turner, Ph.D., a lead researcher in CRCHD's Partnerships to Advance Cancer Health Equity (PACHE) partnership between South Carolina State University and Medical University of South Carolina, is studying the role of nutrition in cancer growth among African Americans with prostate cancer.
In the U.S., African Americans have the highest death rate and shortest survival of any racial and ethnic group for most cancers (American Cancer Society). Within this population group, there is a dramatic prostate cancer disparity. One in five African American men will be diagnosed with prostate cancer within their lifetime and will die from the disease at a rate twice that of non-Hispanic white men (NCI/CRCHD).
Research shows that there is a strong association between obesity and cancer risk and this is an especially deadly relationship for African Americans. Nearly half of African Americans living in the U.S. are at or below the poverty line, and low income often means meals that are inexpensive and promote obesity (high in fat, sodium, and sugar). Cheap and processed foods that comprise much of today's poor diets accumulate higher concentrations of advanced glycation end-products (AGE), natural end-products from foods that store in our bodies and that are "associated with virtually every human disease associated with growing older , including diabetes, heart disease, and cancer," Dr. Turner explains.
According to Dr. Turner, a "sedentary lifestyle and poor diet promotes disease and a higher accumulation of AGEs, which throughout one's lifetime, can increase the risk of cancer." In a preliminary study, Dr. Turner and team found higher concentrations of AGE metabolites in African American men with prostate cancer when compared to European American men (see "AGE Metabolites: A Biomarker Linked to Cancer Disparity?" in Cancer Epidemiology, Biomarkers & Prevention, October 2014 23; 2186).
"It is becoming increasingly apparent that racial disparity in cancer exists due to molecular and genetic differences in tumor biology as well as socioeconomic and standard of care issues," Turner says. "A family tradition of southern foods with a heavy use of fat, sugar, and sodium, together with a less active lifestyle can promote elevated AGE levels in African Americans – and increase their cancer risk."
To address the cancer disparity in his community, Dr. Turner participated in a multi-disciplinary study called "Goal"(Getting On-board to an Active Lifestyle) to help inform cancer patients of dietary and lifestyle interventions. For the breast cancer patients in the study, their aim was to reduce breast cancer recurrence and slow down AGEs in their body.
Dr. Turner plans to conduct a more comprehensive study on the role of AGEs in African American cancer patients, and their contributions to cancer disparities as potential biomarkers. He is currently an assistant professor at the Medical University of South Carolina, Department of Pathology & Laboratory Medicine.
Resources: