Grantee Spotlight: Jennie Williams, Ph.D. - Investigating Genetic Biomarkers for Colon Cancer in African Americans
April 9, 2015, by CRCHD staff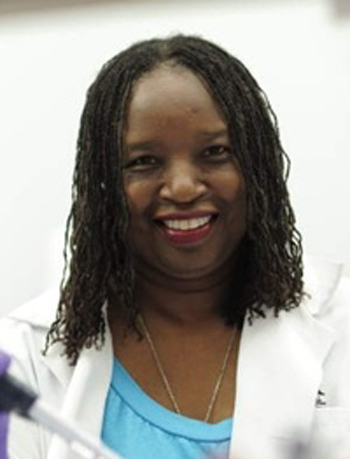 At Stony Brook University on Long Island's North Shore, Jennie Williams, Ph.D., Associate Professor of Medicine in the Department of Preventive Medicine, is determined to learn what role molecular genetics plays in the initiation of colon cancer in African-Americans and cancer health disparities.
Dr. Williams is currently investigating, through an NCI-supported R01 grant, "epigenetic markers to pinpoint which African Americans will develop colon cancer and whether those patients will respond to conventional chemotherapy treatments that inhibit colon tumors."
While colon cancer mortality rates have dramatically declined in the general U.S. population, and a recent report shows a decrease in African Americans (as reported in the recently released Annual Report to the Nation), death rates in African Americans remain on the rise. African Americans have the highest mortality and incidence rates for colon cancer compared with all other racial and ethnic groups (NCI/CRCHD).
According to Dr. Williams, African Americans with colon cancer "tend to have genetic mutations not specifically seen in white populations. African Americans tend to have more right -sided colon cancer than whites, which are often more aggressive in nature and deadlier.". Moreover her research has found that Black patients "are less likely to respond to certain types of anti-cancer drugs than whites," she said. And the reason may lie in a person's genetics makeup.
By studying single nucleotide polymorphisms (SNPs), which affect gene function, Dr. Williams hopes to locate genes that are associated with cancer in African Americans. She has observed that African Americans possessed unique SNPs within the p53 gene, which is the gene responsible for assisting the cell in correcting DNA mutations to mitigate cancer. SNPs are DNA sequence variations in which a single nucleotide (A, T, C, or G) in a genome deviates from the norm.
Dr. Williams hopes to predict an individual's response to certain drugs, their susceptibility to environmental factors such as toxins, and risk of developing particular diseases.
She has identified miRNAs (microRNAs) that she believes are responsible for the initiation of colon cancer. "I have analyzed miRNA, RNA and protein expression levels of target genes implicated in colon cancer. These studies have permitted me to determine genetic biomarkers in human colon carcinoma associated with poorer clinical outcome," Williams said. In order to perform her research Williams has "generated African American cell lines she obtained from New York area hospitals."
She also identified an additional clue in an observed link between "phosphosulindac, miRNAs, and cancer racial disparity." Dr. Williams believes these identified miRNAs may help to explain the disproportionate incidence of colon cancer in African Americans.
In addition, Dr. Williams is investigating variations in treatment responses among diverse populations. She found that African American patients were less likely to respond to conventional chemotherapy treatments that inhibit colon tumors, such as 5-fluorouracil, a chemotherapeutic drug used to treat colon cancer.
Dr. Williams is currently testing the use of non-steroidal anti-inflammatory drugs for colon cancer prevention. Where aspirin has been widely cited as a possible preventive drug against colon cancer, it is known to cause serious internal bleeding in some individuals. As an alternative, Williams has tested p-ibuprofen—which she believes is a potential effective drug for long-term use in colon cancer prevention in African Americans. She believes that p-ibuprofen may cause less toxicity and bleeding in African-Americans.
Her research is part of the latest trend to initiate personalized cancer treatment to ethnic minorities in a new discipline that researchers call "precision medicine." In precision medicine, a person's genes, proteins, and environment are used to help develop therapies for treating certain types of cancer.
A better understanding of cancer health disparities is one way we can remove unequal burdens of cancer in our society. With the help of investigators like Dr. Williams, combined with her passion to advance health equity for historically medically underserved communities, we are making progress in our battle against cancer and in ending cancer health disparities.
Dr. Williams received her Ph.D. from Purdue University and completed postdoctoral work at Harvard University before joining Stony Brook University.
Resources