Program Spotlight: Twenty Years of Professional Development and Mock Review Workshops
, by CRCHD Staff
To successfully eliminate the unequal burden of cancer, it is essential that we increase the number of well-trained, competitive researchers from backgrounds typically underrepresented in biomedical and cancer research. CRCHD's Continuing Umbrella of Research Experiences (CURE) program offers a holistic, approach to providing training and career development opportunities aimed at enhancing and increasing diversity in the cancer and cancer health disparities research workforce.
CRCHD's Professional Development and Mock Review Workshop is a critical component of CURE. This year's workshop took place on the NIH main campus and brought together close to 100 CURE scholars—primarily young and early stage investigators—to learn about NCI career development and funding opportunities and to enhance skills needed to build a successful career in cancer and cancer disparities research.
A Promising Future Built on a Strong Past
This year was the twentieth Professional Development Workshop and Mock Review. Dr. Springfield, CRCHD Director, shared her thoughts on the importance of this workshop, "A competitive career in cancer research can only be achieved through experiences gained across many years and many different educational institutions. For 20 years, these workshops have been helping ensure that the next generation of scientists reflect the diversity of our nation and that they have the opportunities and skills they need to be competitive researchers. Ultimately, this will help us to address the health needs of all Americans and eliminate cancer health disparities."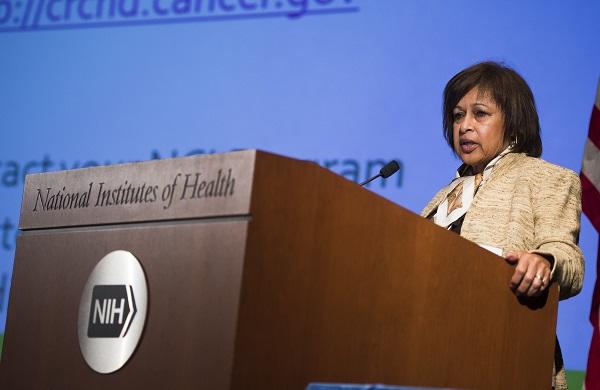 Highlights from the 2016 Professional Development and Mock Review Workshop
This year's theme, "Securing and Sustaining Research Independence: Skills for Success," was featured in interactive presentations led by NIH and NCI program director and through open discussions among attendees.
Dr. Hannah Valantine, NIH Chief Officer for Scientific Workforce Diversity, delivered an inspiring and informative keynote address. Her presentation, "Planning for Success: The Importance of Mentoring and Networking in Biomedical Research" highlighted some of the barriers to success in biomedical sciences among underrepresented investigators, as well as the importance of mentoring and networking in overcoming these barriers and establishing a path for a competitive career in cancer research.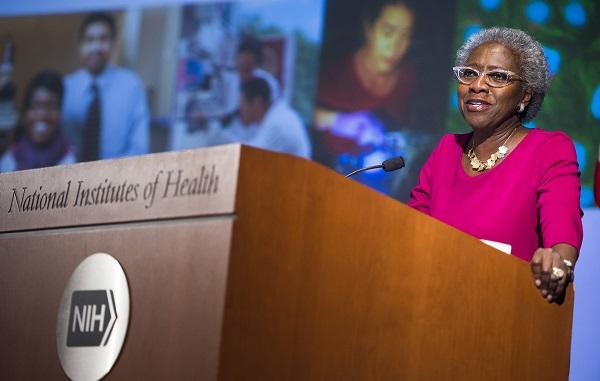 Over the course of two days, sessions featured updates on NCI funding opportunities, planning for career satisfaction, the health disparities calculator (HD*Calc), NIH's policy on rigor and reproducibility, writing successful grant proposals, and the NIH peer review process. Attendees also had the opportunity to participate in a competitive poster session which allowed presenters to share their research findings and receive feedback from NIH staff and their peers. The poster session also provided an excellent forum for enhancing networking skills, a key objective of the workshop.
New to the workshop this year, were two interactive sessions designed to enhance networking skills. Attendees were grouped by research discipline and geographical region, and participated in several team science activities promoting engagement and collaboration around pressing science topics.
Special sessions for new investigators showcased various NCI-supported intramural fellowship and training opportunities using a small group, interactive setting. Attendees heard from NCI staff from several NCI divisions and centers including, the Division of Cancer Control and Population Science, the Division of Cancer Epidemiology and Genetics, Center for Cancer Research, and the Cancer Prevention Fellowship Program.
Mock Review
The workshop culminated with a Mock Review. This year's session, led by Dr. Robert Freund of the NIH Center for Scientific Review, enabled participants to experience first-hand a mock grant review. Sixteen scientists, including 13 CURE scholars, served as reviewers and walked through each of the steps of a grant review. This session provided valuable insights—both for those serving as reviewers and for observers—into the review process and highlighted characteristics of successful grant submissions so that they are better prepared when writing their own grant applications.
Key Takeaway: It Takes a Team
CRCHD's Dr. Peter Ogunbiyi, in closing statements, emphasized a key take away lesson from the workshop: the value of making and maintaining key contacts and mentors who can assist and provide invaluable coaching as one builds a competitive, independent career in cancer and cancer disparities research. Throughout the application preparation and submission process, he noted, "NCI's staff—including scientific review officers, program officers, and grants management specialists—are available to assist and support."  
Dr. Tasleem Padamsee, a K01 awardee and two-time attendee, echoed Dr. Ogunbiyi's message as she reflected on the workshop, "The Professional Development Workshop is energizing. Spending two days around people who care about what you do make participants feel like they [NCI] really are invested. You aren't doing this on your own, there are people here to help."