3-Dimensional Retinal Organoid Platform for the Study of Retinoblastoma
Retinoblastoma is a developmental tumor of the retina, it is the most common pediatric eye cancer, and a significant contributor to pediatric cancer death worldwide. Ironically, while the discovery of RB1 as the first tumor suppressor gene was a watershed event that has had a sweeping impact on many types of cancer, this breakthrough has had virtually no impact on the treatment of retinoblastoma itself. After decades of research, virtually nothing is known about the early molecular events in oncogenesis, or the determinants underlying tumor progression. Studies of pre-malignant lesions and tumor progression have been very limited due to the fact that these tumors originate in-utero while the retina is still developing, small tumors are difficult to detect, and early-stage disease is managed medically unless eye removal becomes necessary. Similarly, there is no laboratory model available, animal or otherwise, that recapitulates the biology and clinical manifestation of human retinoblastoma (Rb) tumors. This deficiency has been the primary barrier to progress in developing targeted therapies to improve outcomes in children with this cancer. 
This collaborative project seeks to change that by developing the first in-vitro platform in which human retinoblastoma can be studied reproducibly at all developmental stages. Using human induced pluripotent stem cells (iPSC), we have established a retinal organoid culture technique in which stage-wise differentiation leads to the correct temporal presentation of all retinal phenotypes. We have further demonstrated that we can use inducible gene editing to introduce the mutations that lead to retinoblastoma in humans into this retinal organoid system at controllable developmental phases and analyze the resulting alterations in normal retinal differentiation programs. Finally, we have designed and prototyped a novel tissue culture bioreactor that allows us to modulate several critical parameters of the microenvironment surrounding the developing retina, which are instrumental to our understanding of how retinoblastoma tumors hijack normal developmental programs to progress and disseminate. Taken together, the incorporation of all these cutting-edge technologies with single-cell resolution genetic analytical techniques, will constitute a novel 3-dimensional platform for the study of retinoblastoma, and the only laboratory platform available in which the human nuances of the disease can be elucidated from a pre-malignant state through its most aggressive and lethal manifestations.
Investigators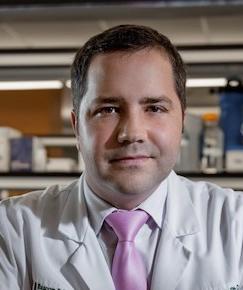 Daniel Pelaez, Ph.D.
Daniel Pelaez is an Assistant Research Professor in the Department of Ophthalmology, Biomedical Engineering, and Cell Biology of the University of Miami. He obtained his undergraduate degree in Biomedical Engineering from Tulane University in 2005, and a Master's and Doctoral Degrees in Biomedical Engineering from the University of Miami in 2007 and 2011, respectively. He completed postdoctoral training in the Veterans Affairs Healthcare System focusing on neurogenic induction of human pluripotent stem cells prior to joining the faculty of Bascom Palmer Eye Institute in 2014.
Dr. Pelaez has expertise in stem cell biology, biomaterials and tissue engineering, mechanobiology, neurogenic specification and differentiation, and retinal biology. He has published on the design and use of custom bioreactor systems and biomaterial designs to elicit or enhance the differentiation of stem cells down multiple tissue lineages. His research team combines tissue engineering, molecular, developmental and stem cell biology, as well as bioinformatics to study neuronal biology and retinal dysfunction.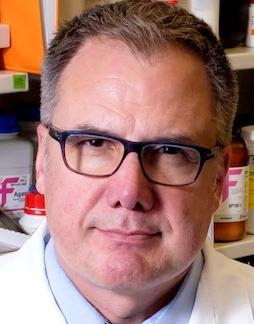 J. William Harbour, M.D.
Dr. Harbour is a Professor in the department of Ophthalmology, Director of the Ocular Oncology Service and Vice Chairman for Translational Research in Bascom Palmer Eye Institute. He is also Associate Director for Basic Research of the Sylvester Comprehensive Cancer Center of the University of Miami. He earned his undergraduate degree in biochemistry at Texas A&M University. Harbour then attended medical school at Johns Hopkins, earning his MD degree in 1990, followed by ophthalmology residency at the Wills Eye Hospital in Philadelphia, clinical fellowship in vitreoretinal diseases and surgery at the Bascom Palmer Eye Institute, and ocular oncology fellowship at the University of California, San Francisco. 
Dr. Harbour has over 30 years of experience in the field of ocular oncology and has published extensively on uveal melanoma and retinoblastoma. His laboratory team focuses on the molecular genetics driving oncogenesis, progression, and metastasis of uveal melanoma and retinoblastoma, as well as on translational studies into novel therapeutic avenues for these eye cancers.