Engineering Personalized Micro-Tumor Ecosystems
Being able to select the most effective therapy for each individual cancer patient remains the Holy Grail in cancer treatment. In today's precision medicine, this selection is made based on molecular and genetic profiling of biomarker expression. However, when multiple driver mutations exist, how do we prioritize the first target?
To address this limitation of today's precision medicine, we propose to engineer a 'micronized tumor ecosystem' that conserves the patient tumor characteristics with high fidelity, and integrated with a novel machine learning algorithm can accurately predict anticancer drug responses. Analogous to how antibiotics are prescribed to patients after a bacterial sensitivity culture, the micronized tumor ecosystem can be used to choose the most effective therapy for a patient before initiation of treatment.
Our goals are:
engineer microfluidics-based cancer ecosystem-on-a-chip using tumor explants and characterize the physicochemical contribution of each component on the fidelity of the system to copy the parental tumor, using comprehensive biological analyses;
develop a novel multiple instance-machine learning algorithm, which can overcome the challenges of tumor heterogeneity in precision medicine, and make our predictions more accurate based on learning functional read-outs; and
validate the predictive accuracy of breast cancer ecosystems using patient-derived tumors.
We envisage a future where genetic testing will highlight the targets, while a functional-testing platform will prioritize the most effective treatment regimen for the cancer patients.
Investigators
The Engineering Personalized Micro-Tumor Ecosystems project consists of researchers from Brigham and Women's Hospital, Massachusetts General Hospital, and the University of Pennsylvania.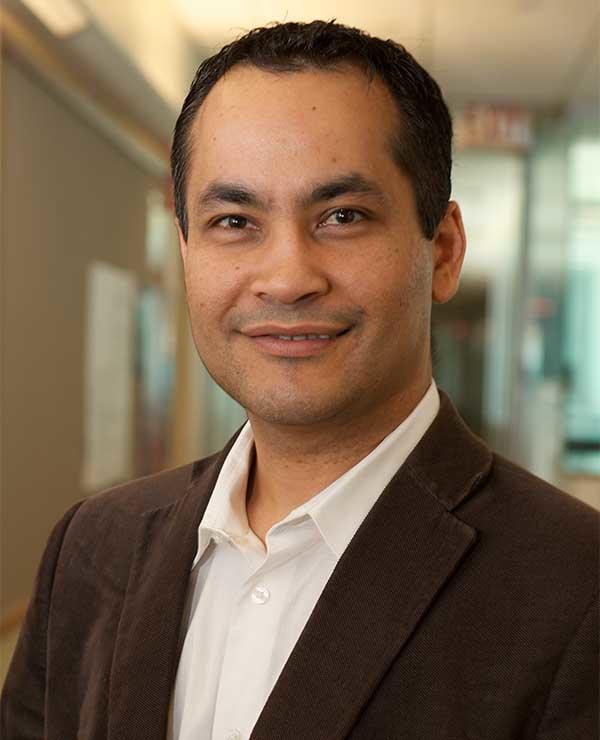 Ali Khademhosseini, Ph.D.
Khademhosseini Lab
Professor Ali Khademhosseini is the Director of Biomaterials Innovation Research Center, a Professor at Harvard Medical School (HMS), a faculty member at Harvard-MIT's Division of Health Sciences and Technology (HST), Brigham and Women's Hospital (BWH), and an associate faculty at the Wyss Institute for Biologically Inspired Engineering. He is also an eminent scholar at Konkuk University in Korea, as well as a Hi-Ci Professor at King Abdulaziz University in Saudi Arabia.
Dr. Khademhosseini's research is based on developing micro- and nanoscale biomaterials to control cellular behavior with particular emphasis in developing engineered materials and systems for tissue engineering. He is also developing 'organ-on-a-chip' systems that aim to mimic human response to various chemicals in vitro. In addition, his laboratory is developing technologies to control the formation of vascularized tissues with appropriate microarchitectures as well as regulating stem cell differentiation within microengineered systems. He has also pioneered various high performance biomaterials for medical applications that are currently being pursued for clinical translation.
Professor Khademhosseini is widely recognized. He has given over 250 invited seminars and keynote lectures, and authored over 450 peer-reviewed journal articles, editorials, and review papers, over 60 book chapters/edited books, and over 20 patent/disclosure applications. His work has been published in leading journals and routinely highlighted in international media. He has been cited approximately 32,000 times and has an H-index of 93.
Shiladitya Sengupta, Ph.D.
Sengupta Laboratory at Harvard medical School and MIT
Professor Shiladitya Sengupta is the Director of the Laboratory of Nanomedicine at BWH, an assistant professor of medicine at Harvard Medical School, and a faculty member at the Harvard-MIT Division of HST and Principal Investigator at Dana Farber Cancer Institute. Professor. Sengupta received his Ph.D. from the University of Cambridge and was fellow in biological engineering at MIT.
Dr. Sengupta's laboratory researches the interactions between tumor stromal and cancer cells using an engineering approach. The research is primarily focused on three main directions:
Understanding the mechanisms underlying chemotherapy failure, especially to be able to predict outcomes better;
Understanding early events of metastasis, especially the communications between tumor and endothelial cells; and
The use of nanotechnology to modulate the tumor and stromal cell interactions, especially in next-generation immunotherapy.
Shivani Agarwal, Ph.D.
Shivani Agarwal Research
Professor Shivani Agarwal is a Rachleff Family Associate Professor in the Department of Computer and Information Science at the University of Pennsylvania. Her research focuses on machine learning and statistical learning theory, applications of machine learning to data-driven problems in the life sciences, ranking and choice models, and connections between machine learning and other disciplines such as economics, operations research, and psychology.
Prior to joining Penn, Dr. Agarwal was the 2015-16 William and Flora Hewlett Foundation Fellow at the Radcliffe Institute for Advanced Study at Harvard University. She has previously been a faculty member and Ramanujan Fellow at the Indian Institute of Science, where she led the Machine Learning and Learning Theory Group and co-directed the Indo-US Joint Center for Advanced Research in Machine Learning, Game Theory and Optimization; prior to this, she was a postdoctoral lecturer and associate at MIT. She received her Ph.D. in computer science from the University of Illinois at Urbana-Champaign in 2005 and a B.A. with honors in computer science from the University of Cambridge in 2000.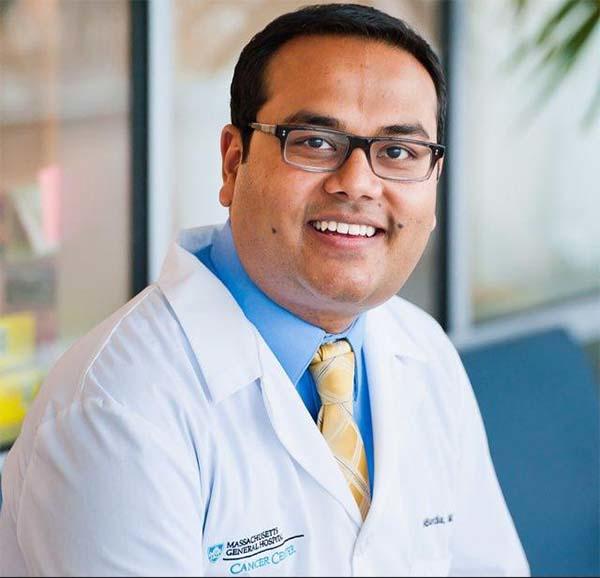 Aditya Bardia, M.D., M.P.H.
Dana-Farber/Harvard Cancer Center - Aditya Bardia
Dr. Aditya Bardia is a board-certified medical oncologist, an Attending Physician at Massachusetts General Hospital Cancer Center, and Assistant Professor at Harvard Medical School, Boston. As the Director of Precision Oncology Program at the MGH Center for Breast Cancer, Dr. Bardia is interested in integrating precision diagnostics and precision therapeutics to significantly improve the outcomes of patients afflicted with breast cancer. He is the principal investigator of several clinical trials related to novel therapies in breast cancer, including selective ER degraders, CDK 4/6 inhibitors, and antibody drug conjugates such as sacituzumab (IMMU-132). In collaboration with the Haber lab, Dr. Bardia has led the clinical application of circulating tumor cells as "liquid biopsy" in breast cancer.
Dr. Bardia has received various research awards including Outstanding Award for Research Excellence at Mayo Clinic, Young Investigator Award from ASCO, and Douglas Family Foundation prize for Excellence in Oncology Research at MGH. He is the editor of precision medicine clinic section of The Oncologist, co-leader of the Molecular and Precision (MAP) tumor board at MGH, and editorial board member of ASCO molecular oncology tumor board.