Success Stories
Research advocates are vital to progress in cancer research and their contributions to NCI research activities have made a real difference. Below are personal stories and experiences from researchers, professional groups and representatives, and the public that show how advocates engage and contribute to the research process.
Addressing Barriers to Pediatric Cancer Drug Development
For years, little progress has been made in the research and development of new treatment options for pediatric cancer patients—an issue which prompted the NCI Director's Consumer Liaison Group (DCLG) to devote its February 2014 meeting to Barriers to Drug Development in Pediatric Cancer Research. The meeting, held on the NIH campus in Bethesda, Maryland, provided DCLG members and more than 30 attendees an opportunity to hear from clinicians, researchers, and advocates. They spent the entire day discussing the current state of pediatric cancer research and the role advocates can play in addressing the challenges involved in developing better treatments for children with cancer. The meeting provided a forum for DCLG members and the larger cancer advocacy community to engage in a dialogue around potential solutions.
Advocate Involvement
David Arons, DCLG member and Senior Director of Public Policy at the National Brain Tumor Society, brought forth the idea for the DCLG to focus on pediatric cancer research. "Pediatric brain tumors are the leading cause of cancer death in children under ten years old," said Arons. "As an advocate for this vulnerable population, it was wonderful to see NCI and the DCLG devote significant attention to addressing the barriers to pediatric cancer drug development."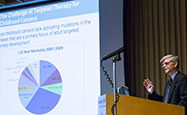 The gathering included several dozen NCI representatives, advocates, and others, including a number of parents of children who have survived or succumbed to cancer. "With NCI's top pediatric cancer leaders in the room working with the advocates, we believe the meeting was seminal and has the potential to launch the kind of bigger and bolder initiatives needed to accelerate pediatric cancer research," said Arons.
One of the presenters, Dr. Peter Adamson of the Children's Oncology Group, pointed out that it is unacceptable what children have to endure during their treatments. For example, he noted that for high-risk cancers, four out of five children experience severe, life threatening, or fatal toxicities in their treatments and half of the children who are cured carry a lifelong burden. "For childhood cancer," he said, "advocacy must become more global."
Outcome and Benefit
In light of the conversations and discussion of next steps during the meeting, the DCLG plans to consider pediatric issues proactively in all of its discussions. Members agreed that there is much to learn from pediatric advocacy groups and that the Office of Advocacy Relations (OAR) has a role to play in moving forward. Various activities and follow-on discussions are currently underway.
---
Providing Perspective on Post-Treatment Challenges
Post-treatment challenges often bear physical, emotional, and social burdens on cancer survivors. In 2012, the National Cancer Institute, American Cancer Society, Livestrong Foundation, and Centers for Disease Control and Prevention held a survivorship conference about Cancer Survivorship Research: Translating Science to Care. Its aim was to close the gap between survivors and researchers by emphasizing the importance of turning scientific discoveries into clinical and behavioral interventions. Held from June 14 to 16 in Arlington, Virginia, this conference featured workshops and plenary sessions about the best methods for improving survivors' lives.
Advocate Involvement
Twenty advocates received travel scholarships to attend the event through a competitive application process. The conference program committee worked with the Office of Advocacy Relations (OAR) to identify an experienced advocate to serve as liaison for the other advocates, many of whom had never before attended an academically oriented research conference.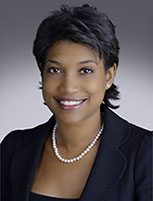 NCI Director's Consumer Liaison Group (DCLG) member Joya Delgado Harris, Director of Research Integration at the American Cancer Society, was chosen to carry out this role. "I think we helped each other," said Harris of her work with the other advocates. "Although I helped answer their questions, we all benefited from hearing each other's stories of life with cancer."
"Advocates served a critical role at this annual meeting because they brought a unique perspective," says Dr. Lynne Padgett, a Program Director in NCI's Behavioral Research Program who led the planning efforts for the conference. "This biannual meeting has a long history of including advocates and we are excited about opportunities to continue."
Outcome and Benefit
Program planners believe the researchers who attended the conference appreciated hearing the advocates' perspective regarding issues of broad concern to cancer survivors. Harris recalls many of them thanking the advocates for sharing cancer survivorship stories. "[The scientists] seemed to be really engaged… They fed off the stories they heard. It [makes] them more committed to their research."
"Advocates help us see how our research impacts the daily lives of cancer patients. The fact that they have a different perspective can help us think differently about the research issues we are confronting," says Padgett. "Their perspective is often that of patients but also of caregivers or advocates for access to research and that perspective helps us find new ways to get our research out to patients everywhere."
---
Simplifying NCI Proteomics Messaging
When the NCI Office of Cancer Clinical Proteomics Research (OCCPR) sought to communicate its mission to non-scientific audiences, Dr. Henry Rodriguez turned to research advocates for a fresh take on his office's work.
As Director of OCCPR, Dr. Rodriguez has an interest in promoting one of his more complex programs, the Clinical Proteomic Tumor Analysis Consortium (CPTAC). CPTAC not only helps reduce delays in protein biomarker discovery, it also supports the identification of comparable, reliable, reproducible biomarkers that allow doctors to find and treat cancer earlier. "Ultimately, we need to ensure that our targets have relevance to the patient," says Dr. Rodriguez. "Advocates help by bringing their unique perspective to our research."
Advocate Involvement
Dr. Rodriguez initiated his involvement with the advocacy community by inviting research advocates to serve on the CPTAC board. "I needed to know what their needs were," he explains. It was important to have the advocates discuss their own experiences with cancer. In addition, Dr. Rodriguez asked advocates to assist OCCPR in developing a brochure to help patients better understand proteomics and the importance of peer reviewed research. "If someone claims that they have discovered some protein or biomarker for a disease, I want patients to ask… how [we] know that this biomarker is valid," says Dr. Rodriguez.
The Office of Advocacy Relations (OAR) collaborated with Dr. Rodriguez, matching him with advocates that helped translate the language in the brochure and improve overall readability among general audiences.
Outcome and Benefit
"I assumed everyone would understand the language, but OAR came back to me and told me that it was way too technical," recalls Dr. Rodriguez. "I never could have tailored the complicated program brochure into something of value to the average individual if it weren't for the advocates and the Office of Advocacy Relations."
Thanks to the direction, focus, and commitment from advocates dedicated to promoting patient perspectives, a streamlined five-page brochure, Clinical Cancer Proteomics: What It Means and What It Means for You, is now available to the public. Today, Dr. Rodriguez is able to describe the critical role of groundbreaking research to a wider community, expressing its value to patients and scientists alike.