Grantees or Grant Applicants Submitting Data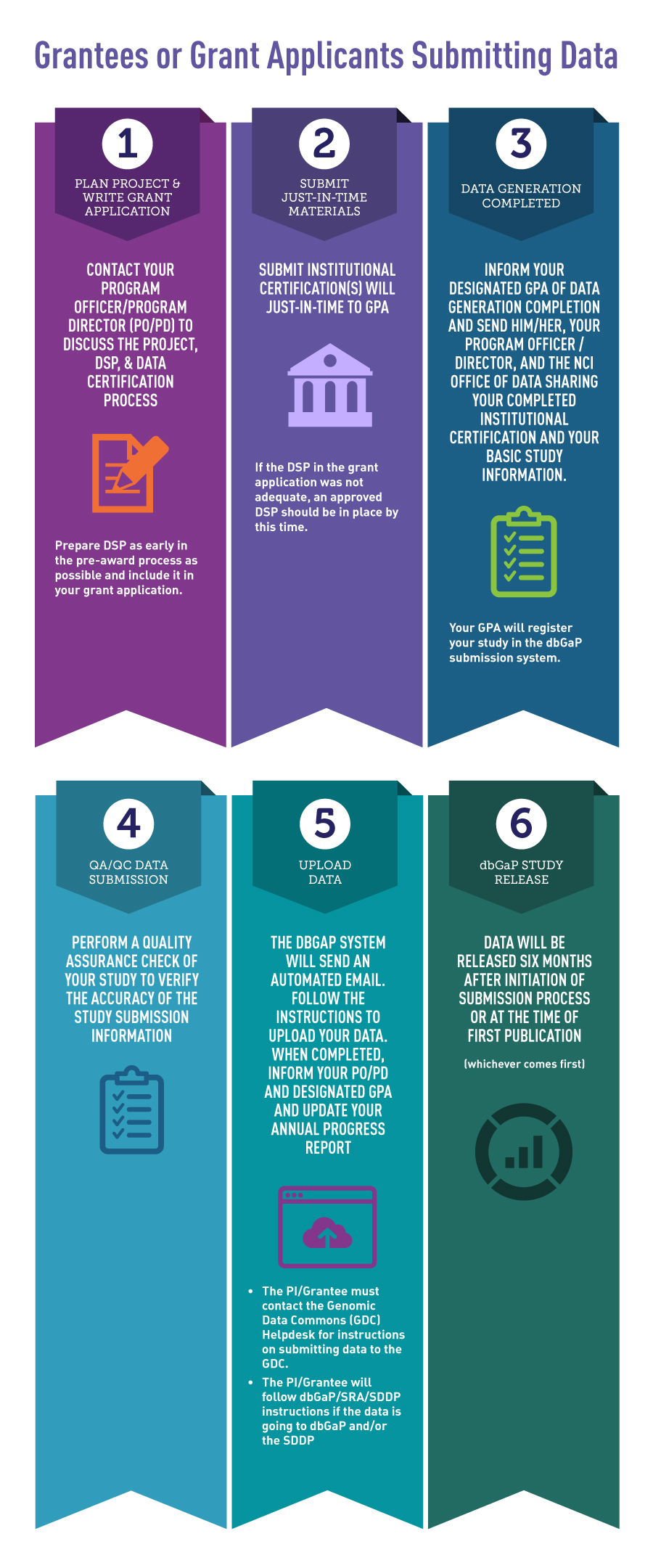 In order to be compliant with the GDS policy, extramural investigators should use the following to guide their steps through the grant life-cycle process. For more information on data sharing expectations, expectations for data submission formats, data sharing plans (DSPs), and Institutional Certification, see Data Submission.
1. Plan Project and Write Grant Application
Contact your program officer/program director (PO/PD) to discuss the project, DSP, and data certification process. Extramural investigators should prepare their DSP as early in the pre-award process as possible (e.g. at the time of awaiting receipt of application (ARA) submission), and must include it in their grant application in the "Resource Sharing Plan" section.
2. Submit Just-in-Time Materials
Submit completed Institutional Certification(s) with Just-in-Time to GPA. If the DSP in the grant application was not adequate, an approved DSP should be in place by this time.
3. Data Generation Completed
Inform your designated GPA of data generation completion and send him/her, your Program Officer/Director, and the NCI Office of Data Sharing your completed institutional certification and your basic study information.
4. QA/QC Data Submission
Once registered, you should perform a quality assurance check of your study to verify the accuracy of the study submission information.
5. Upload Data
The dbGaP system will send an automated email with instructions for submitting your files to the repository using the submission portal. Accept the invitation to the submission portal, and begin submitting your data immediately. Once you have completed data upload, inform your PO/PD and your designated GPA, and include this information in your annual Progress Report. Assignment of an accession number generally takes a few days once the required fields have been received by dbGaP staff.
The PI/Grantee must contact the Genomic Data Commons (GDC) Helpdesk for instructions on submitting data to the GDC.
The PI/Grantee will follow dbGaP/SRA/SDDP instructions if the data is going to dbGaP and/or the SDDP
6. dbGaP Study Release
Data will be released six months after initiation of submission process or at the time of first publication (whichever comes first).
If your grant does not fall under the policy but you still wish to submit data from your grant, please obtain an Institutional Certification and complete the Basic Information form, and submit these two documents to your PO/PD. The PO/PD will work with the GPA, who will register the study in the dbGaP system. Data will be uploaded in a similar manner as the grants process above, and data will be released immediately.