NCI's Douglas R. Lowy and John T. Schiller awarded Sabin Medal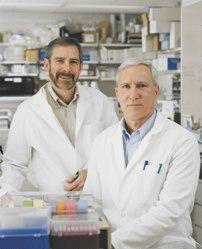 NCI scientists whose discovery provided the technology for commercially developed HPV vaccines were honored with the prestigious Albert B. Sabin Gold Medal Award at a ceremony held at the Sabin Vaccine Institute, May 18, 2011. Douglas R. Lowy, M.D., and John T. Schiller, Ph.D., of the Laboratory of Cellular Oncology, Center for Cancer Research, are the first and second inventors on government-owned patents for HPV vaccines licensed to Merck & Co., Inc. and GlaxoSmithKline. As a direct result of Lowy and Schiller's research, vaccines now exist that safely protect against some of the most prevalent HPV strains that cause cervical cancer in women and anal and oral cancers in both sexes, as well as HPV strains that cause sexually transmitted genital warts in both sexes. The award, given annually, acknowledges extraordinary contributions made by scientists in the field of vaccinology and commemorates Albert B. Sabin, M.D., the founder of the oral vaccine for polio.
For nearly three decades, Lowy and Schiller have devoted their careers to understanding and preventing human papillomavirus (HPV) infection.  In 1992, they discovered that a single protein, L1, of an animal model papillomavirus could self-assemble into non-infection virus-like particles (VLP) and that antibodies raised against these particles were very effective at preventing viral infection of cultured cells. They subsequently determined that the L1's of the major cancer-associated HPVs behaved similarly, provided that the L1 genes were derived from virus producing lesions.  They also developed widely employed tests for measuring HPV infection-inhibiting antibodies and conducted the first controlled clinical trial of an HPV VLP vaccine.  Today, Lowy and Schiller are working with colleagues at the World Health Organization and other organizations to find ways to distribute HPV vaccines to those in need.  In other work, they have partnered with pharmaceutical manufacturers in emerging countries in efforts to produce several second generation HPV vaccines that may be cheaper to manufacture and/or easier to deliver to underserved populations.