A Story of Discovery: NCI's SEER Program Harnesses Cancer Data for Discovery
Key Points
Over 40 percent of men and women in the United States will be diagnosed with cancer at some time in their lives. Include friends and families of these patients and nearly all Americans will be touched by cancer at some point.
The National Cancer Institute (NCI) supports the Surveillance, Epidemiology, and End Results (SEER) Program, a premier source of national data on cancer epidemiology, research, and monitoring.
Today, NCI and the cancer research community use SEER data to identify rapidly emerging cancer issues and study factors that lead to cancer. SEER data are also used to study disease progression and patient survival.
The SEER Program is essential. Without it, we would have little understanding of how cancer affects Americans.
Pathway to Discovery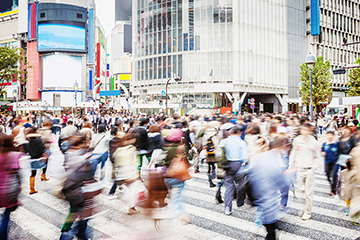 Collecting usable data on the over 100 different types of cancer seemed nearly impossible. Prior to 1973, there was no coordinated system in place to provide a representative snapshot of cancer nationwide. In 1973, NCI created the Surveillance, Epidemiology, and End Results (SEER) Program, a research resource to comprehensively collect and publish population-based cancer data.
SEER is an NCI-supported program of strategically placed population-based cancer registries. These registries routinely gather information on a range of key cancer indicators about patients and their cancers. This information includes such variables as patient demographics, primary tumor site, and tumor morphology. Registries also collect data on the stage at diagnosis and first course of treatment, while protecting patient privacy. Armed with this information, members of the research and health communities use this information to improve the quality of health through effective cancer prevention strategies and public health interventions. Through the SEER Program, NCI helps provide the necessary information to translate research into productive public health policy, more effective health care practices, and a better quality of life for those living with cancer.
SEER: A Tale of Two Studies. The SEER Program grew out of two earlier NCI studies that attempted to obtain data on the occurrence of cancer in the United States. The first program, called the Ten Cities Study, was conducted in 1937 and measured how cancer affects the nation by collecting data from 10 U.S. cities. This study later became known as the First National Cancer Survey and was repeated in 1947 and 1969. The second study, called the End Results Group, collected cancer survival data from 1956 to 1972 on patients diagnosed or treated at a select number of U.S. hospitals.
With the passage of the National Cancer Act in 1971, the nation mobilized cancer research by creating a national cancer data bank. NCI's SEER Program was born by merging the ongoing National Cancer Survey with the Ends Results Group studies. Today, SEER remains one of the foremost authoritative resources for both population-based cancer incidence and survival data.
SEER: A premier source of cancer data. The SEER Program began collecting data on January 1, 1973, through a network of cancer registries managed by the North American Association of Central Cancer Registries. At that time, SEER registry sites were located in nine geographical areas. Since then, SEER has expanded numerous times to increase coverage of minority, rural, and other populations whose cancer incidence had been underreported. Currently, SEER collects and publishes cancer data on approximately 28 percent of the U.S. population.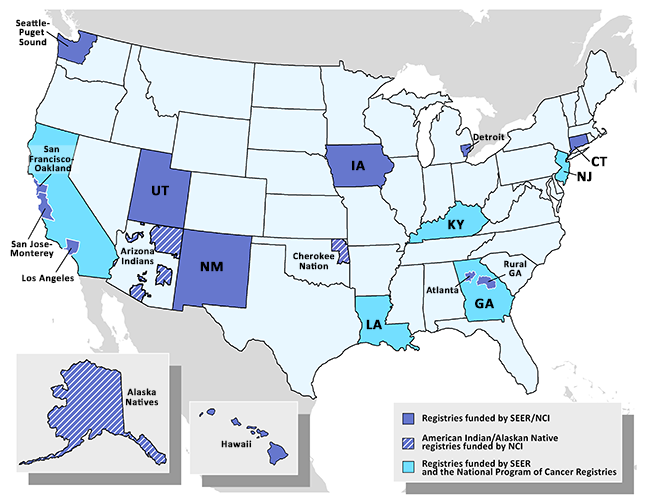 Most SEER data are available to the research community and to the public in a variety of print and electronic formats. SEER provides a unique opportunity for researchers, clinicians, and public health officials to access data and reports to better understand cancer and to explore and explain cancer trends through its data and data analysis tools.
SEER builds partnerships. The SEER network extends beyond the walls of NCI. By partnering with public and private organizations that share SEER's commitment to providing accurate and timely cancer data, the SEER Program ensures that high-quality data are reported and that common standards are maintained among cancer surveillance systems. NCI and SEER collaborate with diverse public and private organizations, such as the Centers for Medicare & Medicaid Services (CMS), the American Cancer Society, the Centers for Disease Control and Prevention, and the North American Association for Central Cancer Registries. These partnerships have produced invaluable repositories of population-specific cancer statistics and trends. The SEER partnership with CMS produced the SEER-Medicare Database, which provides detailed hospitalization and treatment data for more than 1.6 million people with cancer over the age of 65. Other partnerships produced the National Longitudinal Mortality Study database and the widely anticipated Annual Report to the Nation on the Status of Cancer. SEER also supports the ACS Annual Cancer Facts and Figures.
SEER has been a vital source of information for tracking the use of recommended cancer cure in the community. It is the foundation for many studies evaluating a number of diverse issues among cancer patients and survivors, including quality of life, health behaviors, and treatment outcomes.
SEER's Living Legacy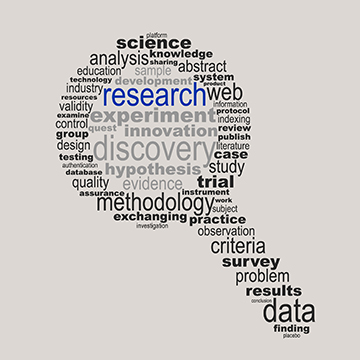 The SEER legacy is built upon data that support exciting scientific advancements in cancer care and treatment. SEER data are also instrumental in studying cancer disparities and shaping health policy, and increasing our understanding of risk factors and cancer genetics.
Since 1998, NCI has collaborated with other leaders in the cancer surveillance community to produce the Annual Report to the Nation on the Status of Cancer. This report updates cancer incidence, death rates, and trends in cancer outcomes. Each year, it also highlights a special cancer-related topic for in-depth analysis. The Annual Report to the Nation on the Status of Cancer, 1975-2010, focused on the impact of comorbidity on survival from the most common cancers: lung, colorectal, breast, and prostate. This special feature demonstrates SEER's ongoing commitment to providing data that builds upon our understanding of the relationship between cancer survival and other medical conditions.
Three Pillars for Success: Surveillance, Epidemiology, and End Results
Seated at the intersection of cancer data and discovery, SEER is a rich resource that supports and advances cancer research through a three-part strategy of surveillance, epidemiology, and end results:
Surveillance. Cancer surveillance is the foundation of the SEER network. By monitoring trends in cancer incidence, the extent of disease, and survival, SEER is the primary means of measuring how cancer affects the nation. SEER also serves as a critical resource for cancer research.
Epidemiology. Changes in cancer incidence and death rates are vital indicators that trigger epidemiologic studies and shed insight on the potential causes of disease. SEER is a key resource to better understand the relationship between cancer and environmental exposures and other determinants of disease.
End Results. Trends in cancer survival and mortality and other outcomes provide critical benchmarks to help researchers measure the nation's progress against cancer.
Opening Doors to Policy, Planning, and Practice
SEER is continually opening new doors to ongoing and emerging issues in the field of cancer and cancer-related care. SEER data have contributed to a range of major research findings that inform public health policy, planning, and practice. Some of the landmark studies that used SEER data include:
National Bladder Cancer Study (NBCS). Prompted by the U.S. Food and Drug Administration's need to know whether consuming saccharin (an artificial sweetener) increased the risk of bladder cancer, the NBCS used SEER's network of cancer registries to examine this question. The NBCS, the first study to use the SEER network, prompted wide use of SEER data to inform population-based cancer research.
Health Disparities in Underserved Populations. This series of studies in the 1980s discovered differences in lung cancer incidence based on smoking patterns between populations. It also showed that poverty, work or trade-based travel, and limited access to health care caused increased cancer deaths, despite lower incidence rates. Collectively these studies encouraged further research into environmental carcinogens and underscored the need for better cancer prevention and early detection programs, especially for cancers that can be treated effectively if diagnosed in time.
Patterns of Care (POC). Each year, NCI selects different cancer sites and cases to include in POC studies. These studies are vital to developing educational programs that equip clinicians and other health care providers with new and emerging state-of-the-art cancer treatments. This information improves the quality of cancer care and decreases disparities in treatment and survival among different populations.
These and other studies are featured in NCI's Historical Landmark Studies report produced as part of SEER's 30th anniversary celebration.
"The impact of SEER on science, policy, and practice reflects both the quality of the data collected and the creative expertise of the many scientists who use it."
More recent research using SEER data includes:
Residual Tissue Repository, Biospecimen Research. The use of electronic health networks for pathology and medical record reporting has put registry-based biospecimen studies within our reach. This research underscores the need for SEER biospecimen resources and identifies several key goals for future registry-based biospecimen research. When these resources are completed, they will spur additional research on rare cancers and address other important cancer research questions about specific populations.
Human Papilloma Virus (HPV) and Oropharyngeal Cancer Study. This study examined tissue specimens obtained from the SEER Residual Tissue Repository and confirmed that overall increases in oropharyngeal cancer are caused by HPV infection. It also showed that HPV-negative oropharyngeal cancers have declined. These findings have important public health and clinical implications and may change how clinicians treat this type of cancer.
Bilateral Mastectomy Study. Increasingly, bilateral mastectomy (surgical removal of both breasts) is used to treat unilateral breast cancer (cancer in one breast). This study provided the first direct comparison of breast cancer surgeries and showed that breast cancer patients that have both breasts removed do not have better survival rates compared with patients who undergo lumpectomy followed by radiation therapy. These findings advance our understanding of breast surgery and overtreatment, and inform a growing body of research to improve the quality of cancer care.
What's Next for the SEER Program?
Looking forward, SEER envisions an information-rich future strengthened by new virtual research tools, better data, and more customized reporting.
To extend and enrich data collection beyond traditional methods, SEER is working to identify and develop innovative and strategic partnerships. These partnerships create opportunities to collect new cancer data through electronic health records, where all personal information has been de-identified or removed to protect patient privacy. Examples include:
Electronic Pathology Reports and Electronic Treatment Data. SEER's cancer registries routinely receive electronic pathology reports that describe the cells and tissues examined under a microscope. These reports provide a unique opportunity to capture new cancer data such as the size, shape, and appearance of specimens. SEER continues to look for ways to best use these reports, such as allowing researchers to conduct retrospective studies to examine compliance with guidelines and quality of care.
SEER is also exploring the use of claims or billing data from inpatient cancer treatment, such as radiation and chemotherapy. Treatment data are key to better understanding outcomes among subgroups in the population. SEER is also working to establish partnerships to access electronic claims and other data, and to examine opportunities for using transaction pharmacy databases to access oral chemotherapy data.
SEER-Linked Virtual Tissue Repository. SEER's Residual Tissue Repository has successfully supported research on biomarkers for cancer development and progression since 2003. Building on a similar concept, SEER is working to develop a virtual tissue repository that offers a one-stop shop for researchers. Pilot studies are underway to develop a central data repository using electronic pathology reports. If successful, the virtual tissue repository will provide researchers with a resource to access population-based tissue specimens, opening a door to better understanding the differences in subpopulations and rare outcomes.
Research to Practice: NCI's Role
SEER is an indispensable, dynamic program that is integral to advancing cancer research. As part of its role as leader of the National Cancer Program, NCI supports the SEER Program in its mission to provide resources to the research community and high-quality cancer data through cancer registries and linkages with other databases.
NCI's unique role and exemplary leadership have given rise to an exceptional public health resource that supports cancer research, equips the nation with comprehensive cancer data, and enhances cancer control and prevention efforts.
Key Takeaway
NCI's SEER Program harnesses data to advance cancer research, to contribute to landmark discoveries, and to improve cancer control and prevention efforts.
Selected Resources
Begg CB, Riedel ER, Bach PB, Kattan MW, Schrag D, Warren JL, Scardino PT. Variations in morbidity after radical prostatectomy. N Engl J Med. 2002;346(15):1138-1144. [PubMed Abstract]
Castelao JE, Yuan JM, Gago-Dominguez M, Yu MC, Ross RK. Non-steroidal anti-inflammatory drugs and bladder cancer prevention. Br J Cancer. 2000;82(7):1364-1369. [PubMed Central]
Chaturvedi AK, Engels EA, Pfeiffer RM, et al. Human papillomavirus and rising oropharyngeal cancer incidence in the United States. J Clin Oncol. 2011;29(32):4294-4301. [PubMed Central]
Harlan LC, Abrams J, Warren J, Clegg L, Stevens J, Ballard-Barbash R. Adjuvant therapy for breast cancer: practice patterns of community physicians. J Clin Oncol. 2002;20(7):1809-1817. [PubMed Abstract]
Hoover RN, Hartge P. Non-nutritive sweeteners and bladder cancer. Am J Public Health. 1982;72(4):382-383. [PubMed Central]
Humble CG, Samet JM, Pathak DR, Skipper BJ. Cigarette smoking and lung cancer in 'Hispanic' whites and other whites in New Mexico. Am J Public Health. 1985;75(2):145-148. [PubMed Central]
Kurian AW, Lichtensztajn DY, Keegan TH, Nelson DO, Clarke CA, Gomez SL. Use of and mortality after bilateral mastectomy compared with other surgical treatments for breast cancer in California, 1998-2011. JAMA. 2014;312(9):902-914. [PubMed Abstract]
Schairer C, Hartge P, Hoover RN, Silverman DT. Racial differences in bladder cancer risk: a case-control study. Am J Epidemiol. 1988;128(5):1027-1037. [PubMed Abstract]
Silverman DT, Hoover RN, Mason TJ, Swanson GM. Motor exhaust-related occupations and bladder cancer. Cancer Res. 1986;46(4 Pt 2):2113-2116. [PubMed Abstract]