Helping to Prevent Skin Cancer: The Melanoma Risk Assessment Tool and ABC Method
Key Points
Malignant melanoma, a type of skin cancer, can first appear as a benign mole and go undetected for years. Clinicians have been seeking a way to diagnose melanoma earlier to prevent its spread to other organs and tissues.
Researchers supported by the National Cancer Institute (NCI) played a key role in developing the Melanoma Risk Assessment Tool (MRAT) to better assess a patient's risk of having melanoma.
NCI also supported the development and testing of the ABC (Addressing Behavior Change) method to alter sun-exposure behavior.
Used together, the MRAT and the ABC method have the potential to change how melanoma can be prevented.
Pathway to Discovery
Melanoma, a type of skin cancer, can first appear as a benign mole and escape detection for years. Between 1992 and 2004, in the face of overall falling cancer rates, melanoma cases increased about three percent per year. The increase occurred across all socioeconomic groups. This increase concerned doctors because among patients who are diagnosed early, survival rates were as high as 98 percent; while in patients that were diagnosed after melanoma had metastasized (spread to other organs or tissues), the five-year survival rate fell to 16 percent. This difference brought prevention and early detection efforts into focus.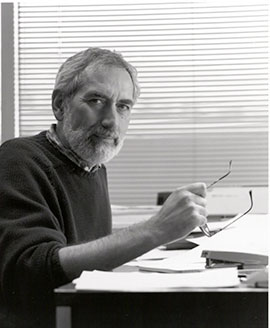 Clinicians needed a way to predict which patients are likely to develop the disease to allow for closer monitoring and early detection. While primary care physicians often screened individuals with a family history of melanoma, routine screening of all individuals was not common practice.
Scientists understood the need to reduce the risk of developing metastatic melanoma, but conducting large prevention studies would be difficult and costly. Instead, primary care physicians and researchers worked together to develop a tool to identify patients potentially at high risk for melanoma.
Researchers at NCI, including Thomas Fears, Ph.D., along with colleagues at the University of Pennsylvania, the University of California, San Francisco, and the Memorial Sloan-Kettering Cancer Center worked together to develop the Melanoma Risk Assessment Tool (MRAT) so that clinicians could better predict the likelihood of developing melanoma. In addition, NCI researcher Kimberly Mallett, Ph.D., and colleagues developed the ABC (Addressing Behavior Change) method to help motivate patients to change their sun-exposure behaviors.
The MRAT
The MRAT focuses on known risk factors that contribute to melanoma, such as age, skin color or tone, tanning/burning history, family history of the disease, geographic location, and the presence of moles. Clinicians then use this information to calculate a patient's chances of developing skin cancer within five years of the exam.
The MRAT can also help identify patients who would benefit from screening interventions such as frequent skin examinations, counseling on reducing sun exposure, and participating in prevention studies. Through these early interventions, possible melanoma lesions can be identified before they spread to other organs or tissues, which will increase overall survival rates.
The ABC Method
With early intervention in mind, NCI researchers also developed easier and more effective ways for clinicians to talk with patients about prevention. While high-risk patients may know about sun-exposure prevention strategies, they often do not use this information to make behavior changes. To address this challenge, in 2008, Dr. Mallett and colleagues created the ABC method. This method can enhance patients' motivation to reduce their ultraviolet (UV) ray exposure and melanoma risk.
The ABC method is based on motivational interviewing— a patient-centered, therapeutic approach aimed at enhancing readiness for change by helping patients explore and resolve contradictory attitudes or feelings about change. Using a brief set of questions, physicians can quickly assess UV risk, use of sunscreen, and obstacles to using sunscreen.
This approach also outlines an easy way to remove barriers and help patients find sun-protection methods they can easily work into their lifestyles. The approach allows physicians and patients to review sunscreen strategies together and find ways to reduce the risk of developing melanoma.  
Enhancing Cancer Care
The MRAT allows clinicians to more closely evaluate patients and determine if they are at high risk of developing melanoma. It also helps clinicians and patients talk about prevention strategies. In addition, it may allow clinicians to monitor and diagnose melanoma at an earlier stage, which will help to increase a patient's chances for survival.
According to initial studies, patients are open to using the ABC method to improve sun-exposure behavior. The method may also improve communication between patients and health care providers. When clinicians have used the ABC method during office visits, patients view them as caring and interactive professionals who actively listen to them.
NCI-supported follow-up studies are currently looking at whether this method will improve patients' prevention behaviors and reduce the development of melanoma.
Turning Discovery into Health
Although the MRAT allows clinicians to detect melanoma in its early stages, researchers continue to search for biomarkers and other identification tools that will increase detection. This discovery could help decrease both the number of new cases of and deaths from this type of skin cancer.
The impact of the ABC method on patient outcomes is still being studied. As more clinicians incorporate it into routine practice and as more patients modify their sun-exposure behaviors, researchers will be better able to determine how effective this method is in helping patients reduce their risk for developing melanoma.
Research to Practice: NCI's Role
NCI researchers played a fundamental role in developing and implementing the MRAT. NCI also funded the development and testing of the ABC method to alter sun-exposure behavior. Currently, NCI is supporting research to learn more about the causes of melanoma and to identify better detection, diagnostic, and treatment tools for melanoma and other forms of skin cancer.
Key Takeaway
The development of the Melanoma Risk Assessment Tool and the Addressing Behavior Change method give clinicians important new options in the fight against cancer. Both help clinicians intervene earlier to diagnose high-risk patients and prevent melanoma from spreading to other organs and tissues.
Selected Resources
Fears TR, Guerry D, Pfeiffer RM, et al. Identifying individuals at high risk of melanoma: A practical predictor of absolute risk. J Clinical Oncology. 2006;24(22):3590-3596. [PUBMED Abstract]
Linos E, Swetter SM, Cockburn MG, Colditz GA, Clarke CA. Increasing burden of melanoma in the United States. J Invest Dermatol 2009;129:1666-1674. [PUBMED Abstract]
Mallett KA, Turrisi R, Guttman K, Read A, Billingsley E, Robinson J. Assessing dermatologists' ability to deliver a novel intervention to improve patients' use of sun protection: The ABC Method of physician-patient communication.Arch Dermatol. 2011;147(12):1451-1453. [PUBMED Central]
National Cancer Institute. Cancer topics: Melanoma. 2013  
National Library of Medicine, PubMed Health. A.D.A.M. Medical Encyclopedia: Melanoma. 2012. http://www.ncbi.nlm.nih.gov/pubmedhealth/PMH0001853/
Society of Dermatology Physician Assistants. Dermcast TV. The ABC Method of physician-patient communication [Pilot study]. September 8, 2011. http://www.dermcast.tv/abc-method-physician-patient-communication-pilot-study
WebMD. Melanoma/Skin Cancer Health Center. 2013. http://www.webmd.com/melanoma-skin-cancer/default.htm
Williams LH, Shors AR, Barlow WE, et al. Identifying persons at higher risk of melanoma using self-assessed risk factors. J Clin Exp Dermatol Res. 2011;2(6):1000129.[PUBMED Central]