Lenalidomide and Radiation for Children with Brain Cancers
Name of the Trial
Phase I Study of Lenalidomide and Radiotherapy in Pediatric Patients with Diffuse Intrinsic Pontine Gliomas or High-Grade Gliomas (NCI-10-C-0219). See the protocol summary.
Principal Investigators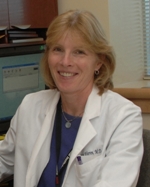 Dr. Katherine Warren and Dr. Sean Hipp (Lead Associate Investigator), NCI Center for Cancer Research
Why This Trial Is Important
Children with aggressive malignant brain tumors, such as high-grade gliomas or diffuse intrinsic pontine gliomas (DIPGs), have very few treatment options. These cancers tend to grow quickly and are usually resistant to treatment. Consequently, most children with these tumors die within a year or two of diagnosis.
Children with high-grade gliomas can undergo surgery, but often their tumors cannot be completely removed (resected). In contrast, DIPGs, which are the most common type of brain stem tumor in children and usually occur between the ages of 5 and 10 years, are inoperable because they involve portions of the brain stem that affect many necessary body functions, such as heart rate and breathing. Treatment for DIPG and high-grade gliomas usually involves radiation therapy to the affected portions of the brain.
Very little is known about the biology of DIPG, in part because the disease is typically diagnosed on the basis of magnetic resonance imaging (MRI) scans without a biopsy to collect tumor tissue. Consequently, there has been little tumor tissue available for study. Recently, however, researchers have begun studying some DIPG tissue obtained at autopsy.
"The problem with studying autopsy tissue is that, while it gives us some biological information, it's after the fact," said Dr. Warren. "Most of the children have received some sort of treatment already, and that alters the biology of the tumor in some way, so the autopsy tissue may not represent the tumor at diagnosis."
Many children with DIPG enroll in clinical trials of experimental therapies so they can receive treatment after radiation therapy or concurrently with it. However, to date, no chemotherapy agent has demonstrated an effect against DIPG, and there have been no advances in the treatment of this disease since the introduction of radiation therapy more than 30 years ago. Despite these disappointing results, doctors hope that newer molecularly targeted drugs may improve the outcome for these children
Lenalidomide (Revlimid) is an immunomodulatory drug that stimulates immune cells, inhibits angiogenesis, and triggers cell cycle arrest and apoptosis. Additionally, it is related to the drug thalidomide, which is known to sensitize cancer cells to radiation therapy. In a previous phase I study of lenalidomide alone in pediatric brain tumor patients, researchers were able to administer much greater doses of the drug than can be tolerated by adult patients but did not determine the maximum tolerated dose. Because DIPG and high-grade gliomas are treated with radiation therapy and lenalidomide may enhance the effectiveness of radiation treatment, there is a good rationale for combining these therapies in patients with these cancers.
In this trial, patients up to age 18 who are newly diagnosed with DIPG or who have other high-grade gliomas that could not be completely resected will undergo radiation therapy 5 days a week for 6 weeks and receive oral lenalidomide at increasing doses daily for 6 weeks. Thereafter, the patients will receive oral lenalidomide daily for the first 21 days of each 28-day treatment cycle, for up to 28 treatment cycles in the absence of disease progression or unacceptable toxicity. Doctors want to determine the maximum tolerated dose and safety of lenalidomide combined with radiation therapy in these patients.
"We're hoping that lenalidomide will improve the effectiveness of the radiation and that the drug's immunomodulatory characteristic will have a greater effect in newly diagnosed patients, whose immune systems haven't yet undergone the assault of multiple anticancer treatments," Dr. Warren explained.
For More Information
See the lists of entry criteria and trial contact information or call the NCI Clinical Trials Referral Office at 1-888-NCI-1937. The call is toll free and confidential.