Refining Preoperative Therapy for Locally Advanced Rectal Cancer
Name of the Trial
PROSPECT: Chemotherapy Alone or Chemotherapy Plus Radiation Therapy in Treating Patients With Locally Advanced Rectal Cancer Undergoing Surgery (Alliance N1048). See the protocol summary.
Principal Investigator
Dr. Deborah Schrag, Alliance for Clinical Trials in Oncology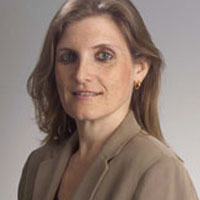 Why This Trial Is Important
Approximately 40,000 people receive a diagnosis of rectal cancer each year in the United States. Usually, the cancer has penetrated into or through the muscle wall of the rectum but has not spread to distant sites by the time it is detected. This is called locally advanced rectal cancer.
The current standard of care for locally advanced rectal cancer is presurgical chemoradiation therapy, in which radiation therapy is combined with a radiosensitizing drug such as fluorouracil, followed by surgery and then adjuvant chemotherapy. Chemoradiation therapy reduces the likelihood that cancer will recur in the pelvic region (local recurrence), whereas adjuvant chemotherapy is given to reduce the chance of metastatic tumors developing elsewhere in the body.
Although proven to reduce local recurrence, radiation therapy to the pelvis is associated with short- and long-term toxic effects, including increased likelihoods of urinary and fecal incontinence, sexual dysfunction, infertility, and pelvic fractures. Some doctors now question whether chemoradiation therapy is needed by all patients who have locally advanced rectal cancer. Giving combination chemotherapy before surgery (known as neoadjuvant chemotherapy) may prevent local recurrence just as effectively as neoadjuvant chemoradiation therapy, they suggest. Furthermore, the earlier administration of systemic therapy may be more effective in delaying or preventing the spread of cancer to other parts of the body.
Researchers have tested this hypothesis in a small clinical trial of combination chemotherapy before rectal cancer surgery, with chemoradiation therapy added only if a patient's tumor did not shrink. They recently reported in the Journal of Clinical Oncology that, among 30 patients who received neoadjuvant FOLFOX chemotherapy, all experienced tumor shrinkage and underwent successful surgical resection without chemoradiation treatment. Two additional trial participants who were unable to undergo FOLFOX chemotherapy received chemoradiation and underwent successful resection. None of the 32 patients in this trial experienced local recurrence in the pelvis, and only three developed distant metastases after 4 years of follow-up.
In the current clinical trial, dubbed PROSPECT, patients with locally advanced rectal cancer amenable to surgical resection will be randomly assigned to receive either standard neoadjuvant chemoradiation therapy or neoadjuvant FOLFOX chemotherapy, with chemoradiation reserved for those patients who cannot tolerate or do not respond to FOLFOX chemotherapy. All patients will then undergo a surgical procedure known as low-anterior resection with total mesorectal excision. Patients may also receive adjuvant chemotherapy and/or adjuvant chemoradiation therapy at their doctors' discretion. Study researchers want to see if the time to local recurrence and disease-free survival rates for patients who receive neoadjuvant FOLFOX chemotherapy are comparable to those for patients who receive neoadjuvant chemoradiation therapy.
"Pelvic radiation decreases the likelihood of local recurrence, but most patients who succumb to rectal cancer do so because the disease spreads, and what prevents the disease from spreading is systemic chemotherapy," Dr. Schrag said. "The current paradigm gives [systemic] therapy at the end of treatment.
"Instead of a one-size-fits-all approach, we are trying to develop a more tailored approach in which we give radiation therapy selectively and chemotherapy earlier. If a patient responds to the chemotherapy, maybe we don't need to irradiate them, but if they don't respond to chemotherapy, then they probably do need radiation," she explained. "So we're really just changing the sequencing of well-established therapeutic modalities."
Researchers also hope to define molecular and biological characteristics that might identify which patients are likely to respond better to chemotherapy or to chemoradiation, as well as determine how each treatment affects patients' quality of life.
For More Information
See the lists of eligibility criteria and trial contact information or call the NCI's Cancer Information Service at 1-800-4-CANCER (1-800-422-6237). The toll-free call is confidential.