Adjuvant Everolimus for Resected Kidney Cancer
Name of the Trial
Phase III Randomized Study of Everolimus versus Placebo in Patients with Renal Cell Carcinoma Who Have Undergone Nephrectomy or Partial Nephrectomy (SWOG-S0931). See the protocol summary.
Principal Investigator
Dr. Christopher Ryan, Southwest Oncology Group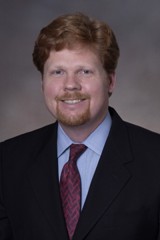 Why This Trial Is Important
Renal cell carcinoma is the most common type of kidney cancer diagnosed in adults. People diagnosed with localized renal cell carcinoma are usually treated with surgery to remove the affected kidney (nephrectomy) or just the portion of the affected kidney that contains the tumor (partial nephrectomy). For many patients, tumor resection leads to long-term survival and likely cure. However, about 30 percent of patients treated with potentially curative resection have their cancer recur and ultimately succumb to metastatic disease.
Current standard practice is to monitor patients for recurrence after nephrectomy, but not to treat them with postsurgical, or adjuvant, therapy. Over the past several years, however, a number of new drugs and biological agents have helped delay disease progression, improve survival, or both in patients with advanced or metastatic renal cell carcinoma.
Everolimus (Afinitor) is a targeted drug that blocks the activity of a protein called mTOR, which normally helps control cell growth, proliferation, and survival. Alterations in the signaling pathway that includes mTOR are common in cancer. Research has shown that treatment with everolimus can block tumor cell proliferation and tumor angiogenesis, which is the growth of new blood vessels to a tumor.
In 2009, everolimus was approved by the Food and Drug Administration (FDA) to treat metastatic kidney cancer that has progressed after treatment with either sorafenib or sunitinib. The FDA approved those two targeted agents earlier for the treatment of unresectable or metastatic renal cell carcinoma. Now, doctors would like to know if these new targeted therapies will also be effective adjuvant treatments for patients with resected kidney cancer. Sorafenib and sunitinib are currently being compared in a phase III adjuvant study conducted by the Eastern Cooperative Oncology Group.
In this clinical trial, patients who have undergone partial or complete nephrectomy will be randomly assigned to take everolimus tablets or matching placebo tablets daily for 54 weeks. Doctors will follow the patients for 10 years to determine recurrence-free survival and overall survival. They will also study tissue and blood samples to determine how everolimus affects certain molecular biomarkers important in the biology of renal cell carcinoma.
"Patients with resected kidney cancer continue to have a significant risk of recurrence, and for now, there are no effective adjuvant therapies available to them," said Dr. Ryan. "Recent studies have established mTOR inhibition as a clinically relevant strategy for advanced renal cancer, so there is a good rationale for studying its potential in the adjuvant setting.
"For patients to participate in this study, they must be able to start their assigned study treatment within 84 days of surgery, so it's critically important that urologists who are performing the surgeries on these patients are aware of the trial and refer patients within that timeframe," he explained.
For More Information
See the lists of entry criteria and trial contact information or call the NCI's Cancer Information Service at 1-800-4-CANCER (1-800-422-6237). The toll-free call is confidential.