Defining Therapy for Recurrent Platinum-sensitive Ovarian Cancer
Name of the Trial
Phase III Randomized Study of Adjuvant Chemotherapy Comprising Carboplatin and Paclitaxel With Versus Without Bevacizumab and/or Secondary Cytoreduction Surgery in Patients With Platinum-Sensitive Recurrent Ovarian Epithelial Cancer, Primary Peritoneal Cavity Cancer, or Fallopian Tube Cancer (GOG-0213). See the protocol summary.
Principal Investigators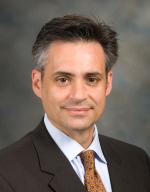 Dr. Robert Coleman, Dr. Scott Eisenkop, Dr. Deborah Armstrong, Dr. Thomas Herzog, and Dr. Paul Sabbatini, Gynecologic Oncology Group.
Why This Trial Is Important
Ovarian cancer is one of the most common gynecologic cancers and is expected to strike more than 21,000 U.S. women in 2008. Primary peritoneal cancer and fallopian tube cancer are similar diseases that often respond to the same treatments used for ovarian cancer.
Typically, ovarian cancer is treated with surgery to remove the cancer, followed by combination chemotherapy with a platinum-containing drug (carboplatin or cisplatin) and a taxane, such as paclitaxel. Ovarian cancer that responds to chemotherapy with a platinum-containing drug is called platinum sensitive. Even if it recurs after treatment, platinum-sensitive ovarian cancer may respond again to treatment with a platinum-taxane combination.
While this common therapy does help some women live longer, doctors are eager to find better ways to treat recurrent ovarian cancer. One method under investigation is the addition of the biological agent bevacizumab to combination chemotherapy. Bevacizumab works by blocking the development of new blood vessels to tumors. Another approach, called secondary cytoreductive surgery, is performing another operation to remove the recurrent tumors.
In this phase III clinical trial, women with platinum-sensitive, recurrent ovarian epithelial, fallopian tube, or primary peritoneal cancer will be assessed first to determine whether or not they are candidates for secondary cytoreductive surgery. Surgical candidacy will be determined by whether or not there is a high likelihood of complete tumor removal, based on clinical evaluation and imaging. Women found to be candidates for this surgery will be randomly assigned to undergo it or not. These women will then be randomly assigned to receive combination chemotherapy with carboplatin plus paclitaxel or the same chemotherapy plus bevacizumab, followed by maintenance bevacizumab therapy after the chemotherapy is completed.
Women who are determined to not be candidates for secondary cytoreductive surgery at the start of the trial will immediately be randomly assigned to receive carboplatin plus paclitaxel chemotherapy or the same chemotherapy plus bevacizumab, which will also be followed by maintenance bevacizumab.
"At this point, the optimal therapy for women with recurrent, platinum-sensitive ovarian cancer is not well defined," said Dr. Coleman. "We have seen positive results from both of these experimental therapies in early stage clinical trials, and with this trial, we are hoping to establish their benefits for women with these cancers."
For More Information
See the lists of entry criteria and trial contact information or call the NCI's Cancer Information Service at 1-800-4-CANCER (1-800-422-6237). The toll-free call is confidential.