CGH Spotlight Blog
This blog features content and images to showcase the great work from the Center for Global Health.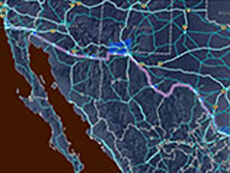 The United States-México border region constitutes an area defined as 62 miles north and south of the United States-México border, approximately 2000 miles in length, and is considered the largest border region in the world. It includes 80 towns (municipios) in six Mexican states and 48 counties in four U.S. states. It is also a very challenging place when it comes to global health needs, as it  includes both non-communicable (particularly breast & cervical cancer, diabetes, etc) and infectious diseases, as well as mental, child, and reproductive health issues and a high incidence of trauma deaths and violence. In an attempt to address these pressing bilateral health issues, the U.S.-Mexico Border Health Commission launched the Healthy Border 2020 at the Mexican Embassy in the United States on June 24, 2015. This new initiative aims to strengthening what was accomplished on the previous plan of action entitled Healthy Border 2010.
The launch of Healthy Border 2020 was held at the Embassy of Mexico in Washington DC and was attended, among many others, by Ambassador Jimmy Kolker, Assistant Secretary for Global Affairs at the U.S. Department of Health and Human Services (DHHS), the Mexican Ambassador to the U.S., the Secretary of Health from New Mexico, Secretaries of Health from four Mexican states, as well as other HHS senior officers and senior representatives from the Mexican Secretariat of Health.  During the launch of Healthy Border 2020, the objectives, plan of action, and priorities for the Healthy Border 2020 were described, including a roadmap for its implementation in both countries.