CGH Spotlight Blog
This blog features content and images to showcase the great work from the Center for Global Health.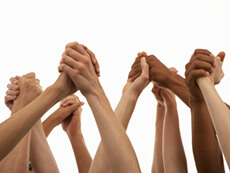 Breast and cervical cancers are two leading causes of death among women worldwide. Countries in the northern Andean region face the highest mortality and incidence ratio for these cancers in Latin America. Poor outcomes in low- and middle-income countries have been attributed to a lack of awareness on the benefits of early detection and treatment, late stage detection, and limited access to cancer-related treatment.
In early spring the Center for Global Health saw the opportunity to better support Peru's efforts in bringing attention to the role of education and advocacy in breast and cervical cancer prevention and control.  Through partnerships with the Peruvian Ministry of Health and the Pan American Health Organization (PAHO) regional office, the first Women's Cancer Summit was held in Lima, Peru. This unique training workshop brought primary-level health care providers from 26 districts together with patient advocates and survivors from Peru, Bolivia, Colombia, and Ecuador.