CGH Spotlight Blog
This blog features content and images to showcase the great work from the Center for Global Health.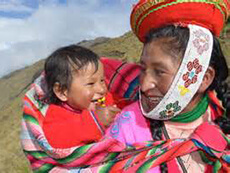 Addressing global challenges such as cancer control requires partnerships and diplomacy. Following that vision, Ambassador of Peru to the United States, Luis Miguel Castilla, visited the Center for Global Health (CGH) at the National Cancer Institute (NCI) a year ago with the objective of strengthening collaboration between US NCI and the Instituto Nacional de Enfermedades Neoplasicas (INEN) of Peru and Ministry of Health of Peru. As part of this partnership, Ambassador Castilla convened a Roundtable dinner at the Peru Embassy to discuss "The need for creating and implementing comprehensive cancer control plans in the Latin America region" on April 5th. The aim of the Roundtable meeting was to discuss and determine how the Latin American Embassies in Washington DC working together with NCI could contribute to current efforts in cancer prevention and control in the region. Representatives of six Latin American countries attended the Roundtable hosted by the Peru Ambassador including the Ambassadors of Argentina, Mexico, and Chile, and Deputy Chief of Mission from Embassies of Brazil, Colombia, and Uruguay. The group discussed ways of achieving more structured interactions between CGH and the Embassies' staff and the role of Embassies as key facilitators of scientific and health cooperation. The importance of engaging partners from all sectors from government, civil society, academia to private sector in all aspects of cancer control planning and implementation was highlighted throughout the conversations. Leveraging the expats scientific community living in the US as a strategy to strengthen relations between countries was also mentioned. All of the roundtable's participants agreed on the fact that science and health cooperation is a key tool to strengthen relationships among countries. This event builds on NCI's ongoing work to support country efforts to tackle cancer burden in the Latin America region such as the "Latin America Cancer Control Leadership Forum" that was held in Mexico on September 2015. The overall goal of the forum is to increase the capacity of countries to initiate or enhance cancer control planning and implementation through a multi-sectoral, evidence-based and regional approach.
One of the objectives of The Global Strategy of our Department of Health and Human Services is to advance health diplomacy. The increasing interconnectedness of our world requires that we at CGH, NCI engage in science diplomacy to fulfill our mission. Latin American countries and the US are coming together around a common interest through scientific collaboration: This collaborative regional approach around cancer control in the Americas is an important step towards the goal of improving cancer outcomes in the region.