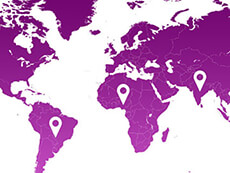 The National Cancer Institute (NCI), Center for Global Health (CGH) in collaboration with the Office of Cancer Centers, is pleased to announce the 2013 awardees of the Request for Proposals for Pilot Collaborations with Low- and Mid-Income Countries (LMICs) in Global Cancer Research or Global Health Research at NCI-Designated Cancer Centers.
In 2013, CGH and the Office of Cancer Centers developed a funding opportunity to promote research collaborations between NCI-Designated Cancer Centers with institutions in LMICs to stimulate cancer research pilot programs  and expand the reach of Cancer Centers in international settings. The scope of these pilot proposals was broad, and included a range of research projects, trainings, advanced technologies, development of clinical research networks, and other focus areas that support the development of cancer research capacity in LMICs.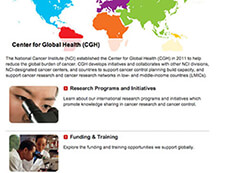 The Center for Global Health (CGH) is embarking on its third year within the National Cancer Institute (NCI), and I am pleased with the extraordinary progress and achievements made by our dedicated staff members.  CGH has established new, and strengthened ongoing, initiatives and programs with great success, including the regional Leadership Forums for Cancer Control Planning, the United States – Latin America Cancer Research Network, and the regional Grant Writing Workshops.  We have also developed several funding opportunities in collaboration with partners across NIH and our stakeholders.  I feel that one of our greatest accomplishments is the partnerships we have forged across the globe to support mutual interests in cancer research and help advance the worldwide fight against cancer.
Our newly redesigned website features the CGH Spotlight, a blog forum for CGH staff members to share stories and information about CGH events, news, and happenings. We have also enhanced our site navigation and overall content to tell a more holistic story about who we are, what we do, and the importance of supporting global health.