HPV Vaccines
HPV vaccines protect against HPV infection and the types of cancers and genital warts caused by HPV infection. There are two HPV vaccines, Gardasil® and Cervarix®. Both vaccines protect against infection with the types of high-risk HPV (types 16 and 18) that cause 70% of cervical cancer. Gardasil also protects against infection with the two types of low-risk HPV (types 6 and 11) that cause 90% of genital warts.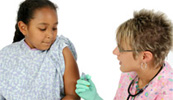 "Visit your local clinic or call your child's doctor to learn how the HPV vaccine can protect your son or daughter."
The two vaccines are:
Gardasil
This vaccine is approved to prevent:
Cervarix
This vaccine is approved to prevent:
Because these vaccines do not prevent infection with all HPV types that may cause cervical cancer, it's important to have regular cervical cancer screening even if you have been vaccinated. Also, the vaccines are not used to treat HPV infection, abnormal cervical cells, or cervical cancer.
Commonly Asked Questions About the Vaccine
At what ages should the vaccine be given?
Vaccination is recommended for children who are 11 or 12 years old. It may be given at age 9.
How many doses should be given?
The vaccine is given in three doses over a 6-month period.
What if someone didn't get all three doses at the recommended age?
For those who did not complete the three-dose series at a younger age, vaccination is also approved for:
females ages 13-26 for Gardasil and ages 13-25 for Cervarix
males ages 13-21 (and, for males with a weakened immune system, through age 26)
Learn More About HPV Vaccines
Human Papillomavirus (HPV) Vaccines: A fact sheet about human papillomavirus (HPV) vaccines for the prevention of infection with certain types of HPV, which is the major cause of cervical cancer.