Screening Guidelines: When to Get Screened
Cervical Cancer Screening Guidelines for Most Women
Cervical screening recommendations have recently been updated by the United States Preventive Services Task Force (USPSTF) and other organizations, based on:
Research showing that HPV-caused changes in cervical cells happen slowly and often go away on their own, especially in younger women
More effective screening tests
Research showing the harms of overtesting and overtreatment for cervical changes that would have gone away on their own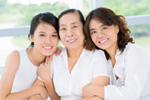 "Talk with your health care provider to find out how often to have cervical cancer screening. The guidelines have recently changed."
Talk with your health care provider about when to start screening, how often to be screened, and what screening test to have. These ages and times between screenings apply to most women, as long as they have normal test results. The guidelines do not apply to women with certain medical conditions. See the Exceptions to the Guidelines section for a list of these conditions.
Age 21 Years
Women should get their first Pap test at age 21. Even if a woman is already sexually active, Pap tests are not recommended until the age of 21.
Age 21-29 Years
Pap testing every 3 years is recommended for women in their 20s. Women in this age group should not have routine HPV testing because HPV infections at these ages tend to last only a short time before going away by themselves. However, if a woman in this age group has an abnormal Pap test result, follow-up testing may include an HPV test.

"My patients who are over 30 years old can get both the Pap and HPV tests together. This is called cotesting. It means they may only need to be screened every 5 years, as long as their test results are normal."
Age 30-65 Years
It is recommended that women in this age group get both a Pap test and an HPV test (called cotesting) every 5 years or a Pap test alone every 3 years. This longer interval still allows cell changes to be detected in time to treat them if needed but reduces treatment of cell changes that would go away on their own anyway.
Older than 65 Years
Women in this age group should talk with their health care provider to learn if screening is still needed. If you have been screened regularly and your recent test results have been normal, your health care provider will probably advise you that you no longer need screening. However, if your recent test results were abnormal or if you have not been screened regularly, it is important to talk with your health care provider about screening.
Exceptions to the Guidelines
Depending on your medical history, your health care provider may recommend more or less frequent screening.
More frequent screening may be recommended for women who:
are HIV positive
have a weakened immune system
were exposed before birth to a medicine called diethylstilbestrol (DES), which was once prescribed to pregnant women
had a recent abnormal Pap test or biopsy result
have had cervical cancer
Screening is not needed for women who:
have had a hysterectomy for reasons not related to cancer or cervical cell changes. However, if your hysterectomy was related to cervical cancer, talk with your health care provider to learn what follow-up care you need.