Cancer Currents: An NCI Cancer Research Blog
A blog featuring news and research updates from the National Cancer Institute.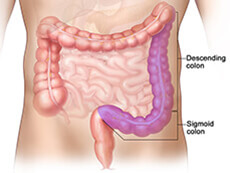 In patients with metastatic colorectal cancer, the location in the colon where the tumor originated appears to strongly influence how long patients live, according to a new study.
The study—a retrospective analysis of data from a large NCI-funded phase III clinical trial—found that patients whose cancer originated in the left side of the colon (distal colon) lived more than a year longer after initial treatment than patients whose disease originated in the right side of the colon (proximal colon).