A Snapshot of Cervical Cancer
Incidence and Mortality
Although cervical cancer incidence rates have declined 45 percent and mortality rates have declined 49 percent in the United States since 1980, the disease remains a serious health threat. Incidence rates in Hispanic women and American Indian/Alaska Native women are higher than in women from other racial/ethnic groups. Despite recent declines, mortality rates in African American women remain higher than women of any other racial/ethnic group in the United States. Cervical cancer mortality and incidence rates also vary with socioeconomic status and geographic location and cervical cancer screening rates vary across racial/ethnic, socioeconomic, and geographic groups.  
Researchers have identified certain types of human papillomavirus (HPV) that are transmitted through sexual contact as the cause of essentially all cervical cancers. Cervical cancer is preventable and curable if detected early. Important strategies to reduce cervical cancer deaths include screening with the Papanicolaou (Pap) test or with both the Pap test and a DNA test for HPV (cotesting). Another strategy is use of the HPV vaccine, which prevents infection with the HPV types that cause most cervical cancers. Standard treatment options for cervical cancer include surgery, radiation therapy, and chemotherapy.
Assuming that incidence and survival rates follow recent trends, it is estimated that $1.3 billion1 will be spent on cervical cancer care in the United States in 2014.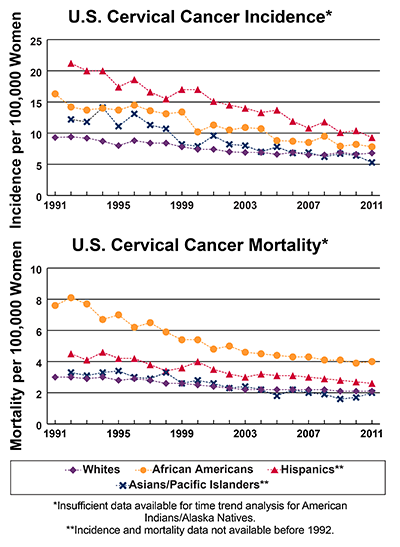 Examples of NCI Activities Relevant to Cervical Cancer
The Centers for Population Health and Health Disparities are supporting transdisciplinary research on interactions of the social and physical environments, behavioral factors, and biologic pathways that determine health and disease in populations. One center is focused on understanding why cervical cancer incidence and mortality are higher in Appalachian Ohio and West Virginia than in other areas of the United States.
The Division of Cancer Epidemiology and Genetics (DCEG) is conducting population and multidisciplinary research to discover the genetic and environmental causes of cancer and new approaches to cancer prevention, including studies addressing cervical cancer.
The Breast and Gynecologic Cancer Research Group conducts and supports research on the prevention and early detection of breast, cervical, endometrial, and ovarian cancers. 
The Population-based Research Optimizing Screening through Personalized Regimens (PROSPR) program is supporting multisite, coordinated, transdisciplinary research on cervical cancer screening to better understand how to improve the screening process, including recruitment, diagnosis, and referral for treatment. The cervical cancer project is comparing self-collection to provider-directed HPV primary screening; analyzing statewide cervical screening, diagnosis, and treatment failures; and comparing the effectiveness of alternative interventions.
The Molecular Profiling-Based Assignment of Cancer Therapy  for Patients With Advanced Solid Tumors (MPACT) trial is assessing whether choosing specific treatment options based on tumor mutations is more effective than standard cancer treatments. MPACT could identify patient subgroups that are likely to benefit from certain treatments and result in new treatments being developed quickly for some cancers.
The phase III Radiation Therapy With or Without Chemotherapy in Patients With Stage I or Stage II Cervical Cancer Who Previously Underwent Surgery trial is examining whether patients treated with chemoradiotherapy after surgery live longer without any signs or symptoms of cancer compared with patients treated with radiation therapy alone after surgery.
Selected Advances in Cervical Cancer Research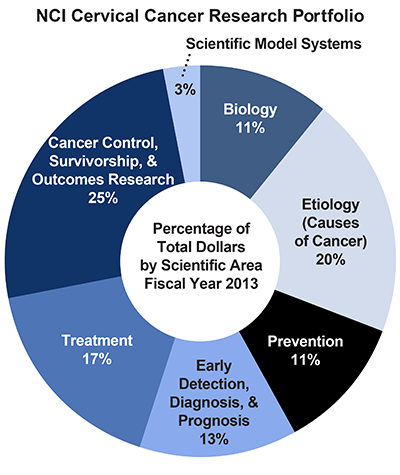 Trends in NCI Funding for Cervical Cancer Research
NCI's investment2 in cervical cancer research was $63.4 million in fiscal year (FY) 2013. In addition to the funding described in the graph, NCI supported $14.3 million in cervical cancer research in FYs 2009 and 2010 using funding from the American Recovery and Reinvestment Act.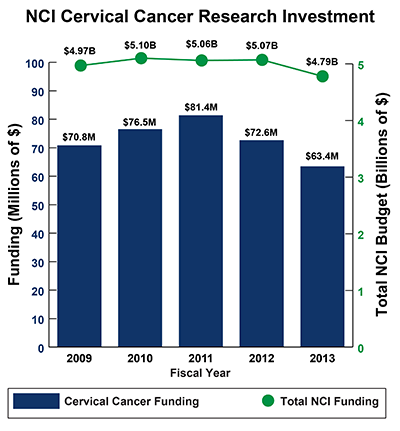 Additional Resources for Cervical Cancer
---
1 Cancer Prevalence and Cost of Care Projections, in 2010 dollars.
2 The estimated NCI investment is based on funding associated with a broad range of peer-reviewed scientific activities. For additional information on research planning and budgeting at the National Institutes of Health (NIH), see About NIH.