A Snapshot of Lung Cancer
Incidence and Mortality
Lung cancer is the second most common cancer and the primary cause of cancer-related death in both men and women in the United States. The overall mortality rate for lung and bronchus cancers rose steadily through the 1980s, peaked in the early 1990s, and has been slowly declining since 2001. Trends in lung cancer incidence and mortality rates have closely mirrored historical patterns of smoking prevalence, after accounting for a lag period. Because the prevalence of smoking peaked later in women than in men, lung cancer incidence and mortality rates began declining later for women than men. The incidence rate has been declining since the mid-1980s in men but only since the mid-2000s in women; the mortality rate began declining in 1991 in men and but not until 2003 in women.  Incidence and mortality rates are highest among African American men, followed by white men.
Although smoking is the main cause of lung cancer, lung cancer risk also is increased by exposure to secondhand smoke; environmental exposures, such as radon, workplace toxins (e.g., asbestos, arsenic), and air pollution. The risk of lung cancer can be reduced by quitting smoking and by eliminating or reducing exposure to secondhand smoke and environmental and workplace risk factors. The National Lung Screening Trial has shown that screening current or former heavy smokers with low-dose helical computed tomography (CT) decreases their risk of dying from lung cancer. Standard treatments for lung cancer include surgery, radiation therapy, chemotherapy, targeted therapy, laser therapy, photodynamic therapy, cryosurgery, endoscopic stent placement, and electrocautery.
Assuming that incidence and survival rates follow recent trends, it is estimated that $11.9 billion1 will be spent on lung cancer care in the United States in 2014.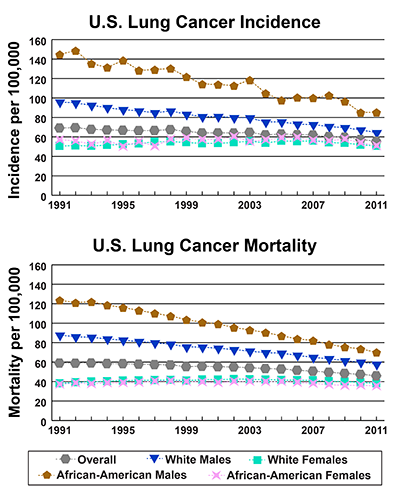 Examples of NCI Activities Relevant to Lung Cancer
Selected Advances in Lung Cancer Research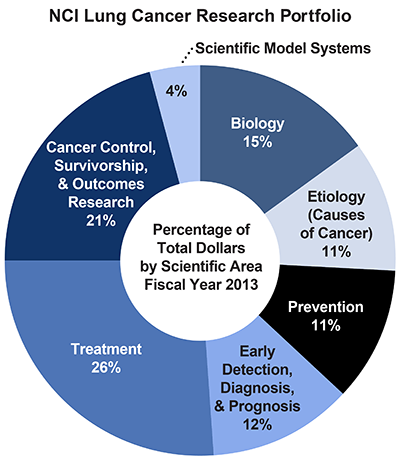 Trends in NCI Funding for Lung Cancer Research
NCI's investment2 in lung cancer research was $285.9 million in fiscal year (FY) 2013. In addition to the funding described in the graph, NCI supported $69.3 million in lung cancer research in FYs 2009 and 2010 using funding from the American Recovery and Reinvestment Act.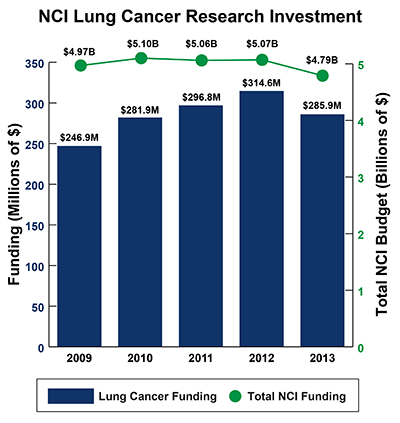 Additional Resources for Lung Cancer
---
1 Cancer Prevalence and Cost of Care Projections, in 2010 dollars.
2 The estimated NCI investment is based on funding associated with a broad range of peer-reviewed scientific activities. For additional information on research planning and budgeting at the National Institutes of Health (NIH), see About NIH.