A Snapshot of Stomach Cancer
Incidence and Mortality
Stomach (gastric) cancer is relatively rare as the 16th most common cancer in the United States.  The overall incidence and mortality of stomach cancer in the United States have both declined in the past 35 years. Incidence rates for stomach cancer fell on average 1.5% each year over the last 10 years. Mortality rates have fallen on average 3.0% each year since 2002. In 2014, it is estimated that over 22,000 Americans will be diagnosed with stomach cancer and nearly 11,000 will die of the disease.
The incidence and mortality rates of stomach cancer vary by race/ethnicity and by sex. Incidence rates are much lower among whites than among other racial/ethnic groups in the United States. Incidence rates are highest in American Indians/Alaska Natives, followed by African Americans, Hispanics, and Asians/Pacific Islanders. African Americans and Asians/Pacific Islanders have the highest stomach cancer mortality rates, followed by Hispanics, American Indians/Alaska Natives, and whites. Men have much higher stomach cancer incidence and mortality rates than women.
Risk factors for stomach cancer include Helicobacter pylori (H. pylori) infection of the stomach, smoking, family history of stomach cancer, a diet high in salted or in smoked foods, and a diet low in fruits and vegetables. There is no standard or routine screening test for stomach cancer. Standard treatments for stomach cancer include surgery, chemotherapy, radiation therapy, chemoradiation and targeted therapy.
Assuming that incidence and survival rates follow recent trends, it is estimated that $1.8 billion1 will be spent on stomach cancer care in the United States in 2014.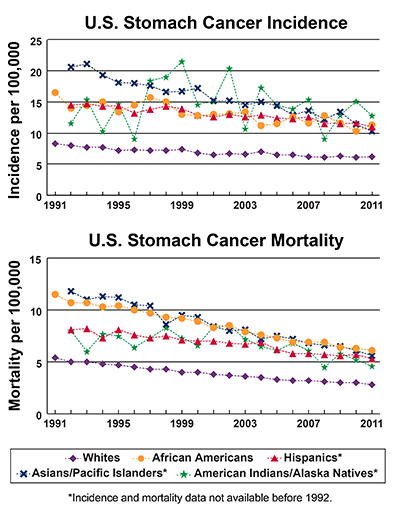 Examples of NCI Activities Relevant to Stomach Cancer
Selected Advances in Stomach Cancer Research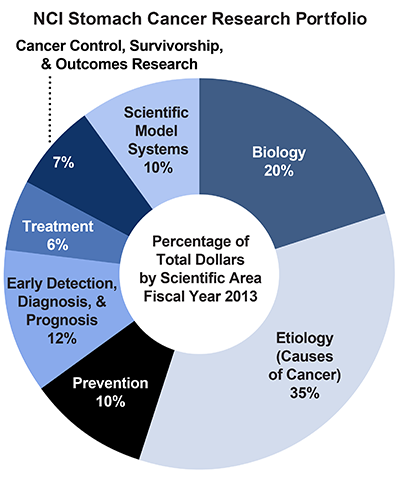 An analysis of genomic variation among two ancestrally distinct groups of patients who received endoscopy for indigestion and the H. pylori strains with which the patients were infected, revealed a reduced risk of gastric cancer when the pathogens had co-evolved with the host. Knowledge of host and pathogen ancestries may be useful for informing prevention efforts to eradicate H. pylori in those at greatest risk of gastric cancer.  Published January 2014. [PubMed Abstract]
Molecular and immunohistochemical analyses of gastric tissue samples from H. pylori-infected mice and from patients with a range of gastric disease stages identified a small number of proteins that act as key mediators of disease progression. Published February 2014. [PubMed Abstract]
In human gastric cells and in a mouse model of gastric cancer, overexpression of the transcription factor SOX11 suppressed gastric cancer cell migration and invasion. Higher SOX11 expression in human gastric cancer samples was associated with fewer malignant features and was an independent prognostic factor for improved survival in gastric cancer patients. Published March 2014. [PubMed Abstract]
A comprehensive analysis of 295 primary gastric adenocarcinomas identified four distinct subtypes, providing the basis for patient stratification and trials of targeted therapies. Published July 2014. [PubMed Abstract]
Trends in NCI Funding for Stomach Cancer Research
NCI's investment2 in stomach cancer research was $11.2 million in fiscal year (FY) 2013. In addition to the funding described in the graph, NCI supported $2.2 million in stomach cancer research in FYs 2009 and 2010 using funding from the American Recovery and Reinvestment Act.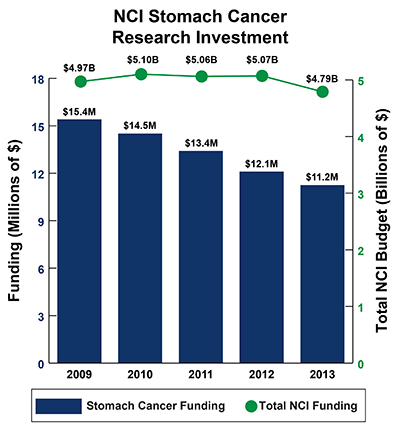 Additional Resources for Stomach Cancer
---
1 Cancer Prevalence and Cost of Care Projections, in 2010 dollars.
2 The estimated NCI investment is based on funding associated with a broad range of peer-reviewed scientific activities. For additional information on research planning and budgeting at the National Institutes of Health (NIH), see About NIH.